Alex Megos is a German climber who is considered one of the best climbers in the world.
He is known for his intensely disciplined training regime and significant first ascents such as two of the hardest climbs in the world, Perfecto Mundo and Bibliographie, both 9b+. 
On top of that he is known for his light-hearted and humble nature, topped off by his deep affinity for carrots!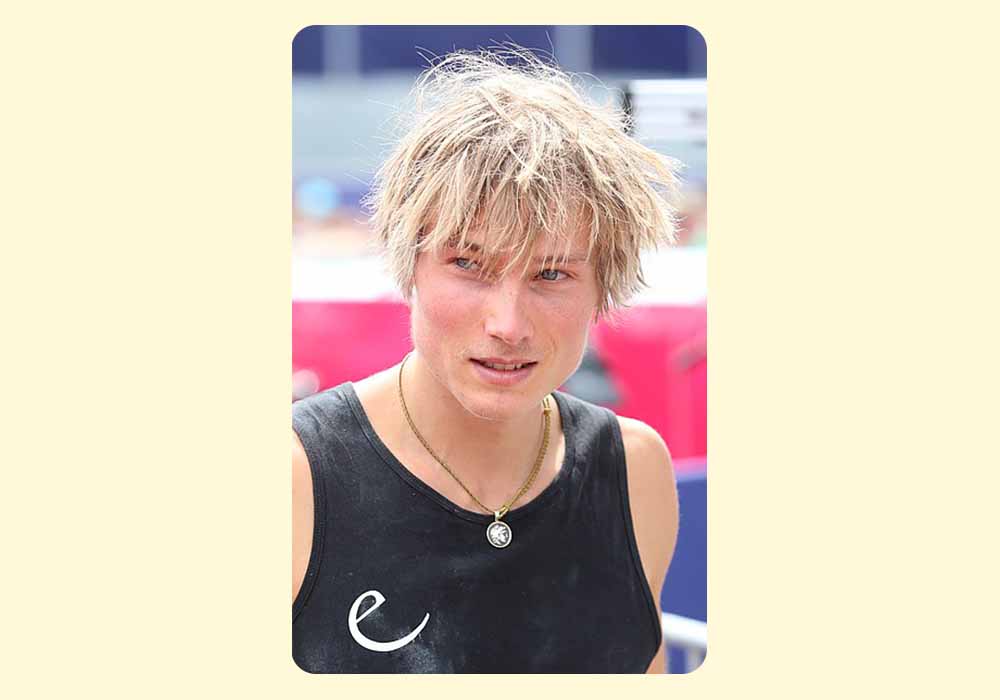 Born on August 12, 1993, Alexander Megos is from Erlangen, Germany. From a young age, Megos demonstrated a knack for climbing, inspired and influenced by his father, Jorgos Megos, a keen mountaineer himself.
This influence played a significant role in shaping Megos' future in climbing, instilling in him a passion for the sport and the outdoors that would later see him rise to international fame.
With his father he started climbing at the age of 6 as they started to regularly make long multipitch ascents and Megos slowly started climbing more and frequently.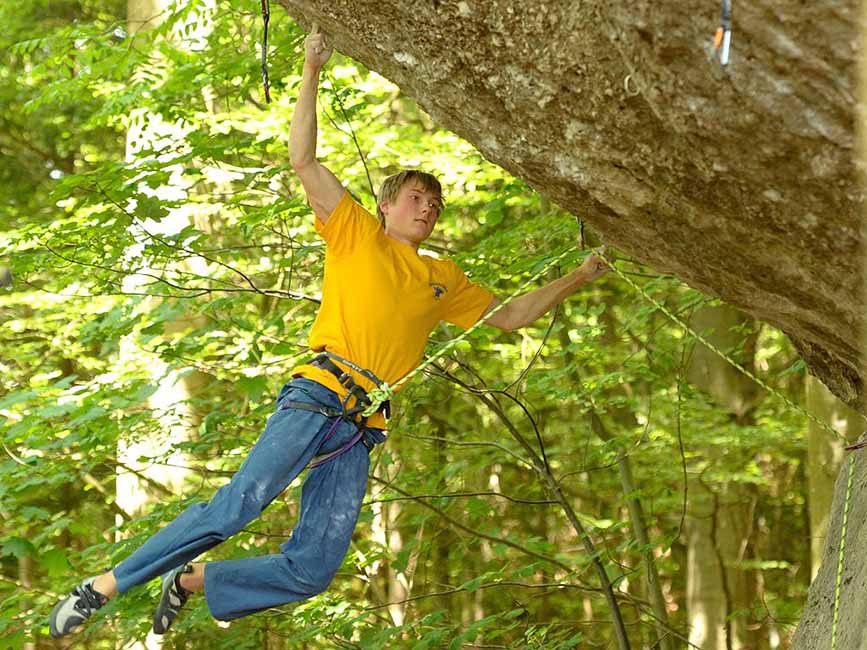 Alex Megos' journey began at Frankenjura, one of Europe's top sport climbing spots. A haven renowned for its pockets and short but intense style, it has formed some of the most notable climbers in history such as Wolfgang Gullich.
By 2007, at the age of 14, he had climbed his first 8a. This early accomplishment was a clear indication of his potential.
During the early years, Megos was also an active participant in youth climbing competitions. His competitive career began in 2006, when he was just 13, and by 2007, he was regularly redpointing hard sport routes. 
His climbing journey further picked up in 2009 with his notable ascent of Drive By Shooting, 8c, in Frankenjura, making his mark in the climbing community at a young age.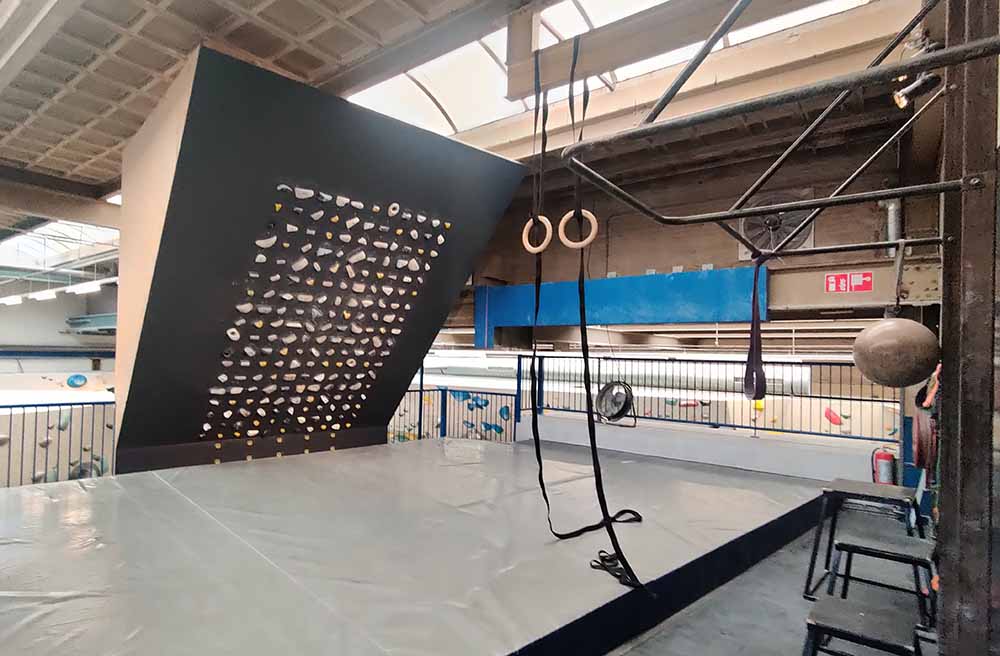 Alex Megos is known not just for his natural talent, but also his rigorous training regimen, which has been instrumental in shaping his professional career.
Standing at a height of 173 cm, Alex has a physique that is perfectly suited for climbing. His lean, muscular frame, coupled with his incredible grip strength and flexibility, are testament to his commitment to fitness and training.
In his early teenage years, Megos began training with the Bavarian state team. This was a significant move that set him on the path to professional climbing. By 2013, he had joined the German national team, further cementing his standing in the climbing community.
One particular aspect of his training that stands out is his focus on finger strength. Megos is known for his fingerboard routines, something that has earned him the nickname "The King of the Crimp." His finger strength is legendary in the climbing world, enabling him to tackle some of the world's most challenging routes.
Megos' training routine isn't just about physical endurance. He places high importance on mental preparation as well. He has been quoted saying, "Training is not just physical, but also mental. It's about getting your head in the right space and believing that you can do it." This holistic approach to training has undoubtedly contributed to his climbing success.
Key figures in Megos' training journey have been his coaches, Patrick Matros and Ludwig 'Dicki' Korb who still coach Megos to this day. Their guidance has been instrumental in honing Megos' skills and helping him navigate the challenges of competitive climbing. Together they are the authors of the popular training book "Gimme Kraft".
Overall, Alexander Megos' training routines, his dedicated coaches, and his commitment to physical and mental fitness have been key factors in his successful career.
Notable Climbs and Ascents
Throughout his career, Alex Megos has made a name for himself with his numerous remarkable ascents. His journey has seen him conquer some of the world's most challenging routes, from his early achievements in Frankenjura to the first ascents of some of the hardest climbs globally. 
He sent his first 9a, San Ku Kai, in Entraygues, France, in 2011.
Only two years later, in 2013, he made the first-ever 9a onsight when he sent Estado Crítico in Siurana, Spain. This achievement marked a significant milestone in climbing history.
Another notable first ascent established by Alex is Australia's first 9a sport route R.E.D, bolted back in 1999. He also added Fight Club, 9b, the hardest route in Canada to the list of routes he's opened around the globe.
Over the years he's taken on many of Chris Sharma's most notable sport routes and unfinished projects. He repeated First Round, First Minute, in Margalef, one of many notorious 9b routes and established the first ascent of Rastaman Vibrations, 9b in Ceuse, which Chris had bolted over a decade ago.
Another of Chris Sharma's unfinished lines which drew particular attention is Perfecto Mundo, 9b+. Despite attempts by many of the strongest climbs in the world, this project remained unsent. Alex got the first ascent in 2018, after only 15 days of climbing, further showcasing his ability. He mentioned that this was the "first hard route" he'd really tried.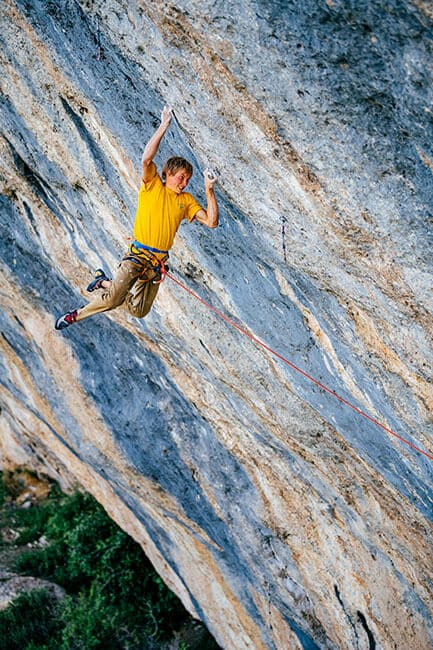 His crowning achievement, however, came in August 2020 when he, again, made the first ascent of Bibliographie, 9b+, in Ceuse, a route bolted by Ethan Pringle.
Although he initially graded it 9c, Stefano Ghisolfi suggested 9b+ after repeating it and finding slightly easier beta to which Alex Megos agreed. Even with the downgrade Bibliographie is still considered one of the hardest sport climbs in the world.
This incredible feat was followed by his quick repeat of Will Bosi's 9b+, King Capella in Spain, in just 9 days in 2021.
There are other notable ascents like The Finnish Line V15/8c, The Full Journey (9b), Era Vella (9a), La Capella (9b), Pure Imagination (which he flashed on his first trip) a 5.14c (8c+), and La Rambla (9a+) on only his second try (there are many other websites that confirm his ascents).
Addressing the question, "Has Alex Megos climbed 9c?". As of 2023, there are only two routes still considered 9c: Adam Ondra's Silence and Seb Bouin's DNA. Megos has not yet climbed either of these routes and both of them are unrepeated.
Some people ask "Is Silence harder than Bibliographie"? As Silence is considered 9c it is thus considered harder than Bibliographie, 9b+.
Alex Megos is not just an outdoor sending machine but also participates in the international competition climbing circuit.
His competitive career began in 2006 when he started competing at the tender age of 13. In the following years, he would make his mark in the IFSC Youth Series, securing a 70% podium success rate between 2008 and 2011. 
He won two European Youth Championship titles in 2009 and 2010. Following this he stopped competing for a while in order to focus on outdoor projects. He also states that at the time he did not particularly enjoy the competition circuit.
He entered the IFSC World circuit again in 2017 and won a silver medal in both the bouldering European Championships in Munich and the IFSC Lead World Cup in Kranj, Slovenia.
The following year, he won bronze at the Lead World Cup in Chamonix, gold in the Briancon Climbing World Cup, and bronze in the Lead World Championships.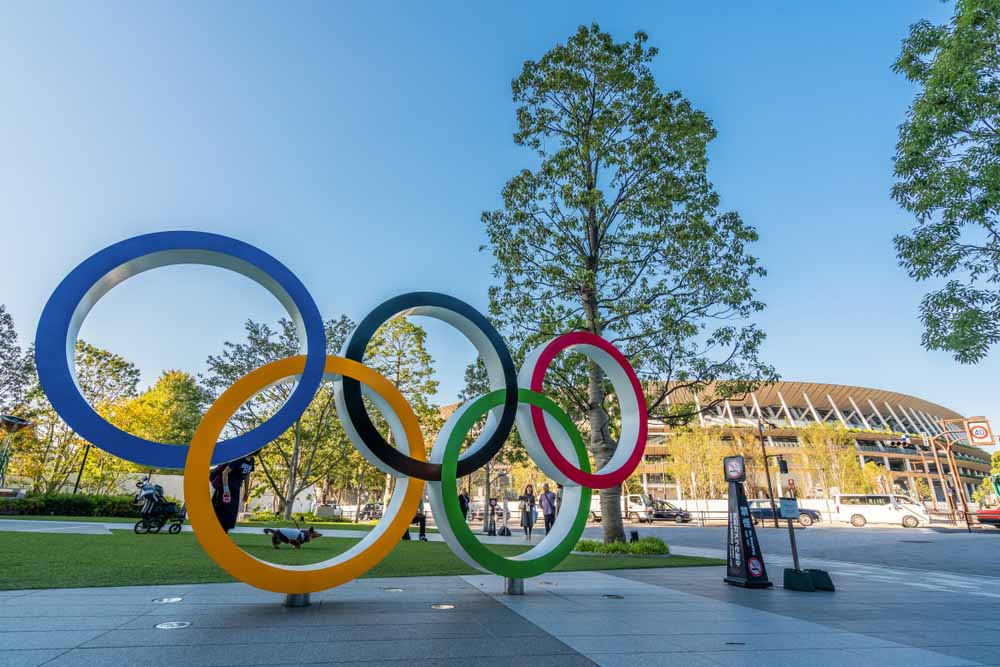 A significant moments in Alexander Megos' competitive career was his qualification for the Tokyo 2020 Olympic Games, which were postponed to 2021.
The Olympic inclusion of sport climbing was a historic moment for the sport, and Megos was right there in the mix. He qualified for the combined finals at the 2019 Lead World Championships, thus securing his place in the Olympics.
At the Olympic Games, despite a strong performance, Megos narrowly missed out on a place in the finals, finishing 9th.
In the world of rock climbing, comparisons between athletes are inevitable.
One of the most common comparisons is between Alex Megos and Adam Ondra, two of the leading climbers of their generation.
Both have climbed some of the world's hardest routes, and both have distinctive styles and approaches to climbing.
But who is better Alex Megos or Adam Ondra?
This is subjective and largely depends on the specific route, style of climbing, and personal preferences. While Ondra has climbed the world's only 9c route, Silence, Megos has his own set of impressive first ascents and quick repeats of hard routes, many of which Adam has not repeated.
Equally, they have not both worked the same routes making the comparison even more subjective.
They have a mutual respect for each other, often sharing the same crags and even working on projects together.
Personal Life and Other Interests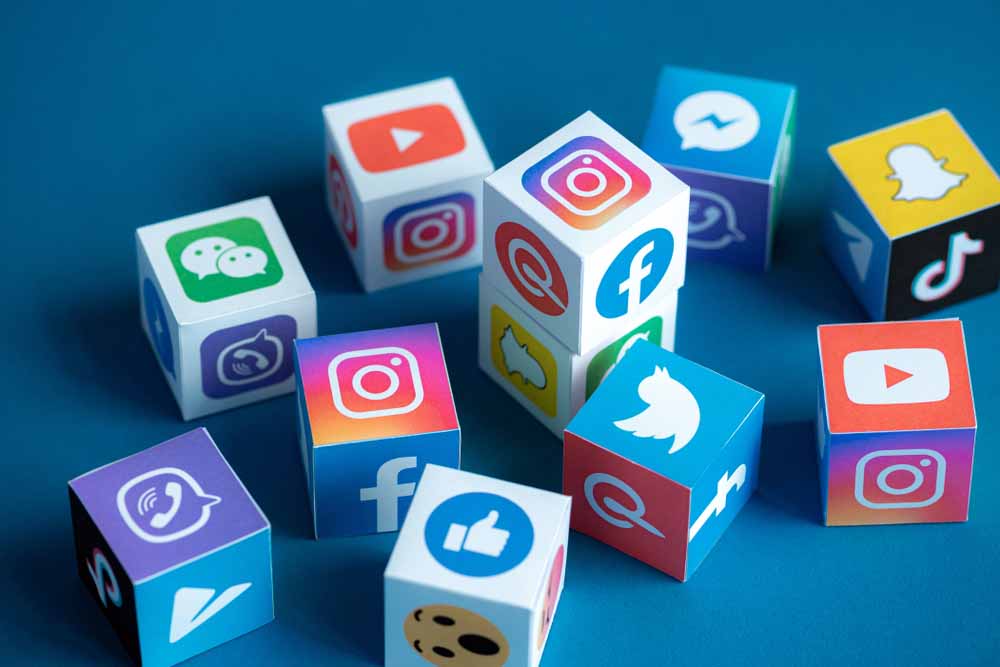 One aspect of Alex Megos' lifestyle that intrigues many is his diet. A self-proclaimed lover of carrots, Megos now follows a vegan diet.
His recipe and joke 'Carrots for Power', often amuses his fans and followers. The carrot theme even extended to his clothing, with a popular Alexander Megos t-shirt featuring the slogan. Proceeds from these sales were donated to various charities. 
Megos' social media presence, particularly on Instagram and YouTube, offers a glimpse into his day-to-day life. His posts often showcase his training routines, climbing trips, climbing shoes and gear, and casual moments. His YouTube channel features training videos, vlogs, and some fun challenges that he undertakes, further endearing him to his followers.
In the sphere of relationships, Megos had a relationship with Ukrainian climber Jenya Kazbekova. The pair appeared together on social media, although this is thought to be over now.
Apparently, due to his Greek-sounding surname, Megos often has to clarify that he is in fact German due to common misconceptions.
He enjoys unwinding with yoga, a practice that likely contributes to his flexibility, a key asset in climbing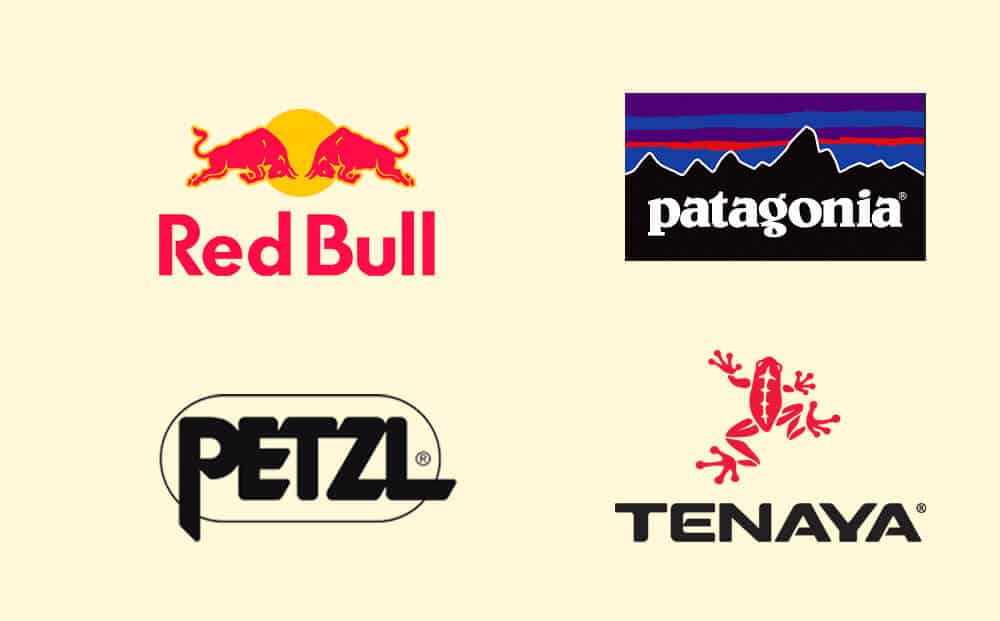 Megos' career is supported by a roster of respected sponsors, including Patagonia, Red Bull, Tenaya and Petzl. His partnerships allow him to pursue his climbing goals while also contributing to product development and marketing efforts.
Alex Megos is an undeniable force in the world of rock climbing. His impressive portfolio of ascents, his contributions to the sport, and his relentless pursuit of pushing boundaries have cemented his position as one of the world's top climbers.
From his earliest climbs in Frankenjura to his challenging first ascents like Perfecto Mundo (route bolted by Chris Sharma), 9b+, and Bibliographie, 9b+, Megos has continually proven his prowess, and commitment and has established himself as one of the top climbers in the world.
As Megos continues to push the boundaries of what is possible, his future in the sport looks promising. With his dedication to training, natural talent, and love for the sport, there is no doubt that he will continue to make significant contributions to the climbing community. 
Featured image: ©Lena Drapella/IFSC