A big wall of rock like El Capitan is impressive by itself. So impressive that for the majority of the human population, El Capitan is only for looking at. However, for a smaller sample of the population, El Capitan is more than just something to observe from the Valley floor.  
El Capitan first became an object of fascination for climbers in the 1950s. Since then, climbers of El Capitan have regarded the formation as the pinnacle of rock climbing. And now, It's one of the proudest and most sought-after pieces of rock any climber can hope to touch one day.
By now, many climbers have successfully summited El Capitan (and many more have failed) via repeating established routes. But only a few were brave enough to cast off climbing El Capitan on groundbreaking first ascents. 
Below I review some of the most significant climbers of El Capitan. I should mention that this is only a small selection and that many more climbers played an important in progressing big wall climbing on El Cap.
Note: If you want more information on the different routes of El Capitan, their difficulty and some of the history behind them you can also check out our post on The Routes of El Capitan.
The Golden Age of Rock Climbing in Yosemite
The Golden Age of climbing on El Cap lasted roughly from the 1950s to the late 1970s. Back then, climbers primarily used aid climbing techniques to establish new routes on the Capitan's impressive walls. 
John Salathé
John Salathe and Yvon Chouinard.Tom Frost, CC BY 3.0, via Wikimedia Commons
John Salathé began climbing in Yosemite in the late 1940s with his first ascent of the Southwest Face of Half Dome. Later, he made the first ascent of the Lost Arrow Spire in 1947 with his partner Anton "Ax" Nelson. 
Besides being a climber, Salathé was also a blacksmith. He forged his own carbon steel pitons that assisted him on his daring first ascents, such as the Steck-Salathé route up the formidable Sentinel Rock.
Because of his climbing prowess and commitment to helping pave the way for future generations of rock climbers, the Southwest face of El Cap, also known as the Salathé Wall, was dedicated to John to honor his achievements in pioneering rock climbing in the Valley. 
Royal Robbins
Tom Frost, CC BY-SA 3.0, via Wikimedia Commons
Royal Robbins is largely regarded as "the grandfather" of rock climbing in Yosemite Valley. In 1957, Robbins, along with his partners Mike Sherrick and Jerry Gallwass, finished the first ascent of the Northwest face of Half Dome. 
In 1960, Robbins and his team completed the second ascent of The Nose on El Capitan in a single push over the course of seven days.
Besides his notable climbing feats, Robbins is well known for his ethical contributions to climbing. Most notably, he supported clean aid climbing, where the climber should attempt to damage the rock as little as possible during their ascent. 
Robbins also is largely responsible for "capsule style" climbing, an ethic and style of climbing where climbers leave the ground with everything they may need and continue climbing to the top without returning to the ground via fixed ropes until they reach the top in a single push. 
Robbin's climbing ethics and style varied greatly from his counterpart Warren Harding. 
Warren Harding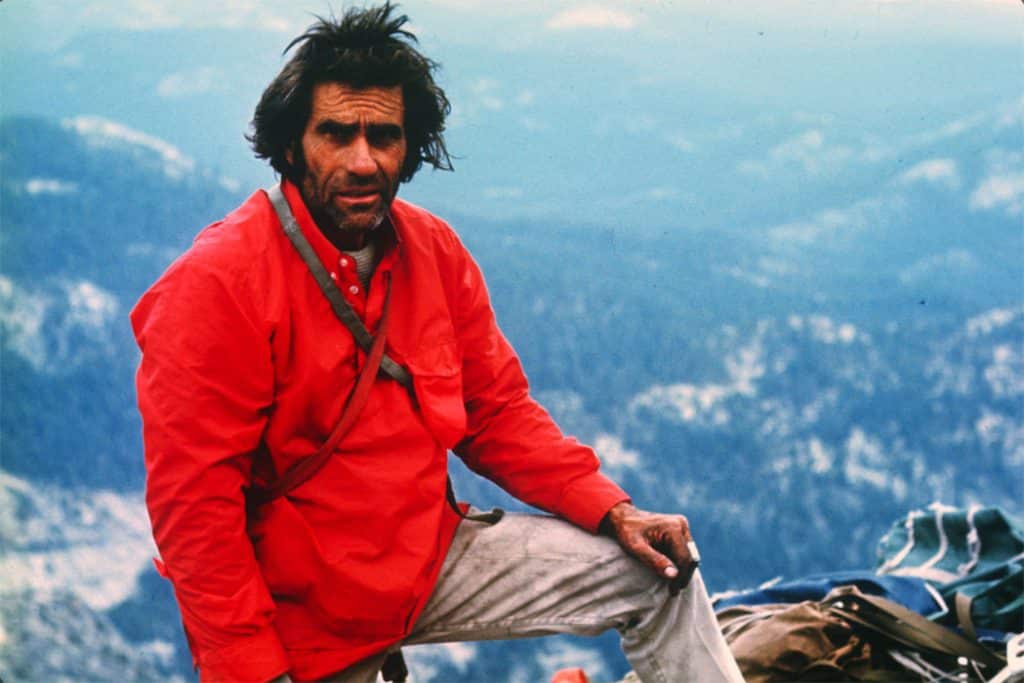 Photo by Galen Rowell/Mountain Light
Warren Harding is another prominent character from the Golden Age of El Capitan climbing. In large part, Harding was the opposite of Royal Robbins. He didn't abide by the same climbing ethics and focused more on "having fun" (drinking a lot of booze and partying) while rock climbing. 
Eventually, Harding's antics and stubbornness paid off. After beginning to climb The Nose on El Cap in 1957, Harding and his crew were shut down by exhaustion and bad weather. The following season, in 1958, Harding returned to the Valley to finish what he started.
After a total of 45 days on the wall deploying "siege-style" climbing tactics, Harding and his team finally inched their way onto the summit of El Capitan, establishing one of the most famous rock routes in North America, if not the world and establishing himself as one of the key climbers of El Capitan.
The Stone Masters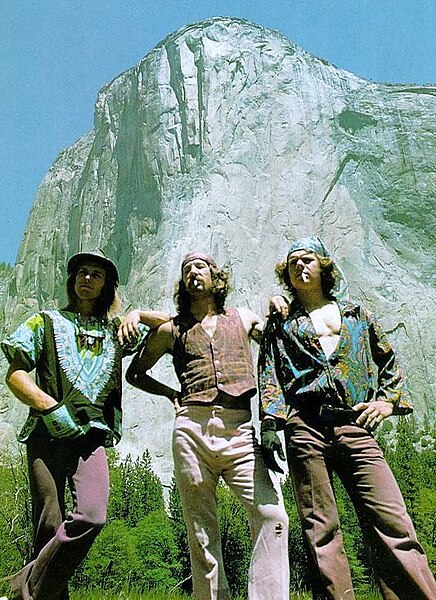 StoneMastersPress, CC BY-SA 3.0, via Wikimedia Commons
The Stone Masters took the Valley by storm in the 1970s and 80s. They were a rag-tag group of mega-strong climbers who came to the Valley to push the limits of rock climbing. 
In particular, they were interested in free-climbing old aid routes and establishing new first ascents using only their sheer strength and technical prowess, no aid climbing techniques. 
Jim Bridwell
Pat Ament, CC BY-SA 4.0, via Wikimedia Commons
Early on, Jim was an apprentice to Royal Robbins and Warren Harding. Later, he was the unofficial leader of the Stone Masters.
He is credited with over 100 first ascents in Yosemite Valley. Some of his most renowned first ascents are the Pacific Ocean Wall, Sea of Dreams, and Zenyatta Mondatta. 
In 1975, Bridwell and his partners John Long and Billy Westbay completed the first one-day ascent of The Nose on El Cap. 
John Bachar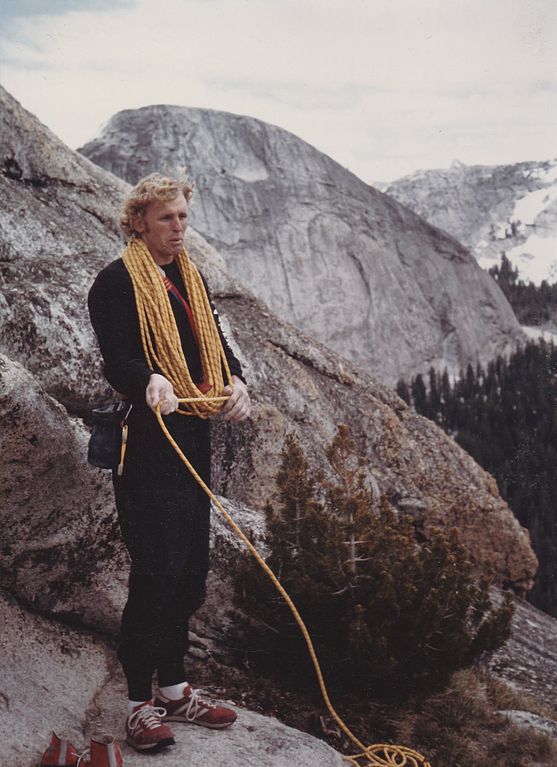 Pat Ament, CC BY-SA 4.0, via Wikimedia Commons
John Bachar, also known as the "punk monk" because of his monk-like and solitary lifestyle living out of a red Volkswagon in Joshua Tree, California, was one of the original Stone Masters. 
Climbing-wise, Bachar is most well known for his daring ascent of the Bacher-Yerian Route (5.11r/x) in Tuolumne Meadows and his 1986 link-up of El Capitan and Half Dome that he accomplished with Peter Croft.
Bachar is also well regarded as being one of the cutting-edge free soloists of Yosemite. For Bacher, soloing was the ideal form of climbing, where you do "the most with the least" reliance on equipment. It was his way of getting as close to perfection as humanely possible. 
Ron Kauk
Don Endicott, CC BY-SA 2.0, via Wikimedia Commons
Ron Kauk is another of the original Stone Masters that made his mark in Yosemite Valley. In 1975, he made the first free ascent of the Washington Column with John Long and John Bachar, which they later renamed Astroman (5.11c).
In 1978, Kauk established one of North America's most iconic boulder problems, Midnight Lightening (V8), situated in Camp4 and tested by many future climbers of El Capitan.  Over a decade later, Kauk was still climbing hard. In 1996, Kauk established Magic Line. At the time, Ron graded it 5.14b, making it one of the Valley's hardest finger cracks 
As a tribute to this ascent, Ron's son, Lonnie, made the second ascent of Magic Line in 2016. After finishing the climb, Lonnie upgraded it to 5.14c. 
John Long
John Long has had a long and successful climbing career. Before getting to the Valley, Long cut his teeth in Joshua Tree and  Tahquitz Rock, California, where he became well known for popularizing free soloing. 
Later on, in the Valley, Long became one of the first to free climb the East Face of Washington Column with Ron Kauk, which later became known as Astroman, "the world's greatest free climb." A year later, Long and his partner Pete Livesey free climbed an old Chouinard and Herbert route on Sentinal Rock.
However, one of his proudest achievements is a one-day ascent of The Nose, which he completed in 1975 with Jim Bridwell and Billy Westbay. 
Lynn Hill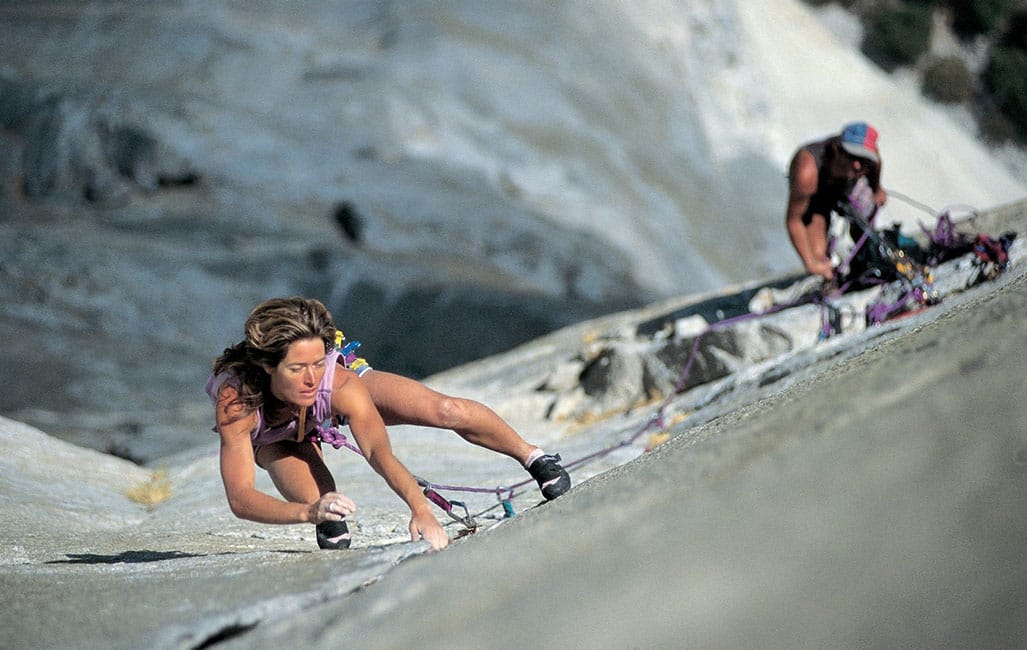 © Lynn Hill
Lynn Hills is widely regarded as one of the best big wall climbers in the world. But before her long and successful career as one of the original Stone Masters, Hill spent her time on the indoor climbing circuit. 
In 1992, Hill left the world of competitive climbing and traded it for traditional climbing. In 1993, Lynn Hill became the first person (man or woman) to free climb The Nose on El Capitan. A year later, Hill repeated the climb in less than 24 hours. 
At the time, she graded her free variation of The Nose at 5.13b. However, since then, a common consensus has upgraded the climb to 5.14, making Lyn Hill the first person to climb 5.14 on El Cap.  
The Stone Monkeys and Beyond
By the late 1990s, a new generation of rock climbers was making the Valley their home– The Stone Monkeys. This group of climbers was like a slightly larger and more inclusive version of the Stone Masters. 
They were obsessed with rock climbing and putting up new first-free ascents on El Cap and other formations around the Valley. But besides the more mundane pursuits of cutting-edge free climbing, they were also interested in free soloing, slacklining (and eventually highlining), base jumping, and speed climbing. 
Thomas and Alexander Huber
Photo by Heinz oak
The Huber brothers are a rock-climbing duo from West Germany. They are well known for their groundbreaking alpine ascents in the Karakoram Range of Pakistan. 
However, throughout the 1990s and early 2000s, the Huber brothers were a fixture in the Yosemite Valley. In 1996, Thomas made the first free ascent of the Salathé Wall on El Cap. In 1988, the duo completed El Niño and Free Rider. 
Later, in 2003, the two brothers made the first free ascent of Zodiac (5.13d/X+/8b+). They also went on to establish multiple speed records on The Nose. 
Dean Potter
Dean Potter © Adidas
Dean Potter was probably one of the biggest, most loved Stone Monkeys. He had a pension for adventure and adrenaline and was known as "the dark wizard" because if his somewhat somber outlook and magical climbing prowess. He was known for free soloing, speed climbing, and base jumping. 
Eventually, Potter developed a new form of free soloing that blended with base jumping called freebasing. With freebasing, the climber free solos with a parachute rig attached to their back. In a fall, the climber activates the parachute to survive.  
In 2006, Potter climbed one of the hardest routes on El Cap, The Reticent Wall. In 2010, Potter and Sean Leary set one of the first speed records on The Nose at 2 hours, 26 minutes, and 45 seconds.  
Beth Rodden
Beth Rodden first came onto the climbing scene as a youth competitor in the 1990s. For three years in a row, from 1996 to 98, she won the Junior National Championships. Also in 1998, Beth redpointed To Bolt or Not to Be, the first 5.14 in North America, making her the youngest woman to climb 5.14.  
Eventually, Rodden transitioned to larger and harder objectives. Over the course of a decade-long partnership with Tommy Caldwell, Rodden established many other notable ascents. In 2000, she put up the first free ascent of Lurking Fear, becoming the second woman to free climb El Cap. 
Three years later, she free the West Buttress (5.13c) of El Cap with Tommy Caldwell. Then, in 2005, Beth freed The Nose. 
On her own, Beth Robben established Meltdown (5.14c), a 70-foot crack in the Upper Cascade Falls area of Yosemite Valley. 
Tommy Caldwell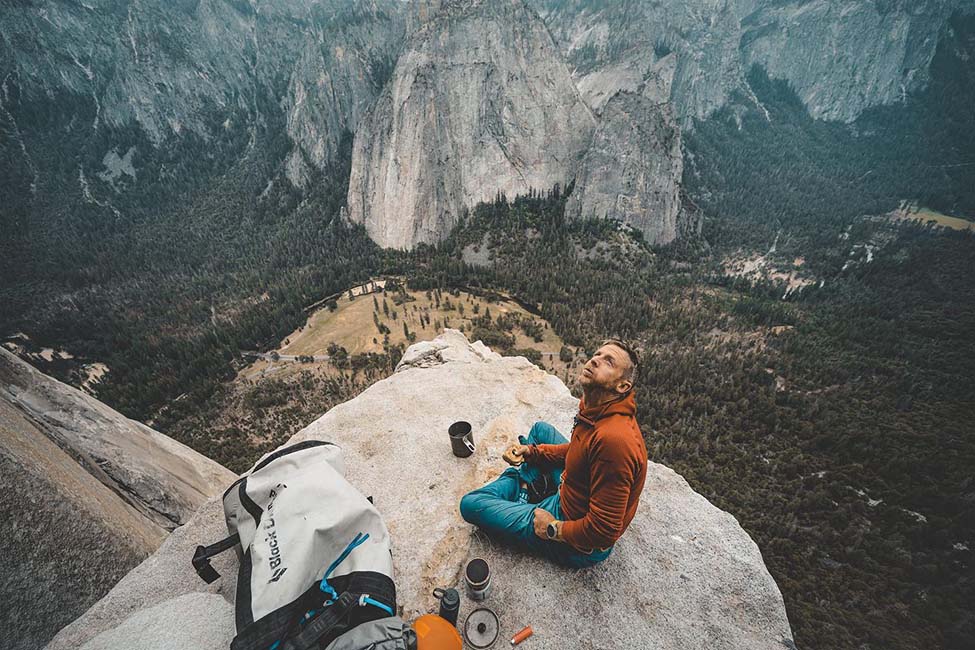 ©Tommy Caldwell
Tommy Caldwell is regarded by many as the world's best big wall-free climber. On El Capitan, Caldwell has free-climbed nine routes– Lurking Fear, Muir Wall, West Buttress, Salathé, Zodiac, Magic Mushroom, The Dawn Wall, and New Dawn.
But Caldwell has been a cutting-edge climber even before his pursuits on El Cap. In 2001, he established a 5.13 on the east face of Longs Peak, also known as The Diamond, called The Honeymoon is Over. 
In 2003, he established one of North America's hardest sport climb at the time, Flex Luthor. After climbing it, Caldwell graded it 5.14c/d. It remained unrepeated for 18 years. Now, after two more repeats, the consensus is 5.15a.
In addition to his free climbing resume, Caldwell holds a sub-two-hour speed record on The Nose with his partner Alex Honnold.
Alex Honnold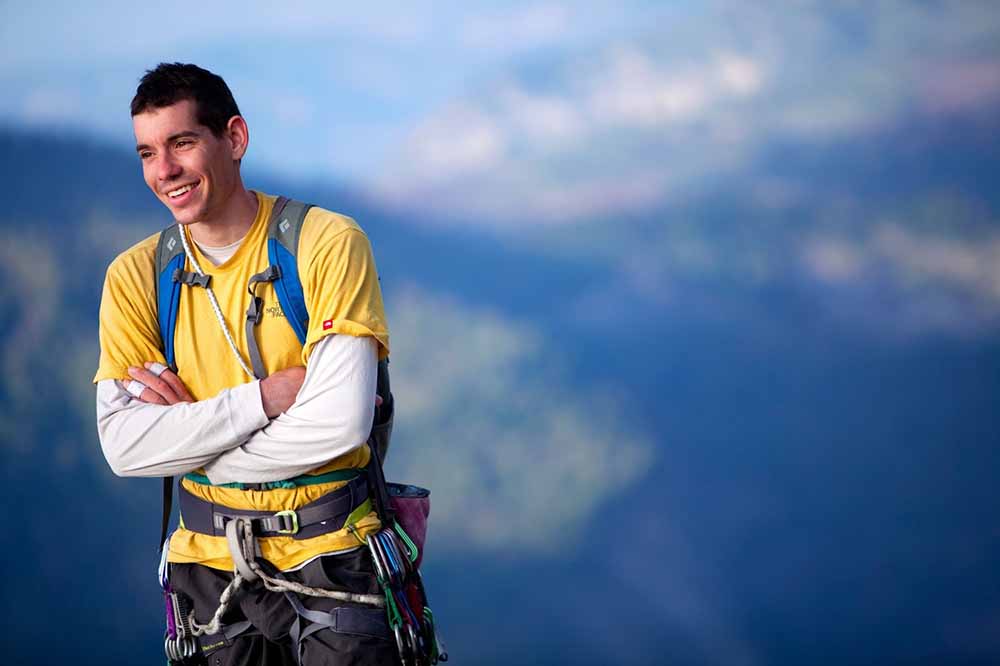 © Alex Honnold
Alex Honnold is best known for his free solo climbing. Most notably, in 2017, Honnold became the first person to free solo a route on El Capitan. He chose the 2,900 foot-route Freerider (5.13a).
In addition to climbing Freerider, Honnold has climbed the Salathé Wall, The Nose, Muir Wall, El Niño, and Passage to Freedom. Alex Honnold has also free-soloed the West Face of El Cap.
But Honnold is more than just a free soloist. He is also an incredibly talented free climber with a disposition for long, endurance-style objectives. For example, Honnold holds the record for the "Yosemite Triple Crown" in Yosemite, a link-up that combines Mount Watkins, The Nose, and Half Dome. 
In addition, in 2015, he won the Piolet d'Or with Tommy Caldwell for their completion of the Moonwalk Traverse in Patagonia, which they did over the course of five days.  
Final Thoughts on the Climbers of El Capitan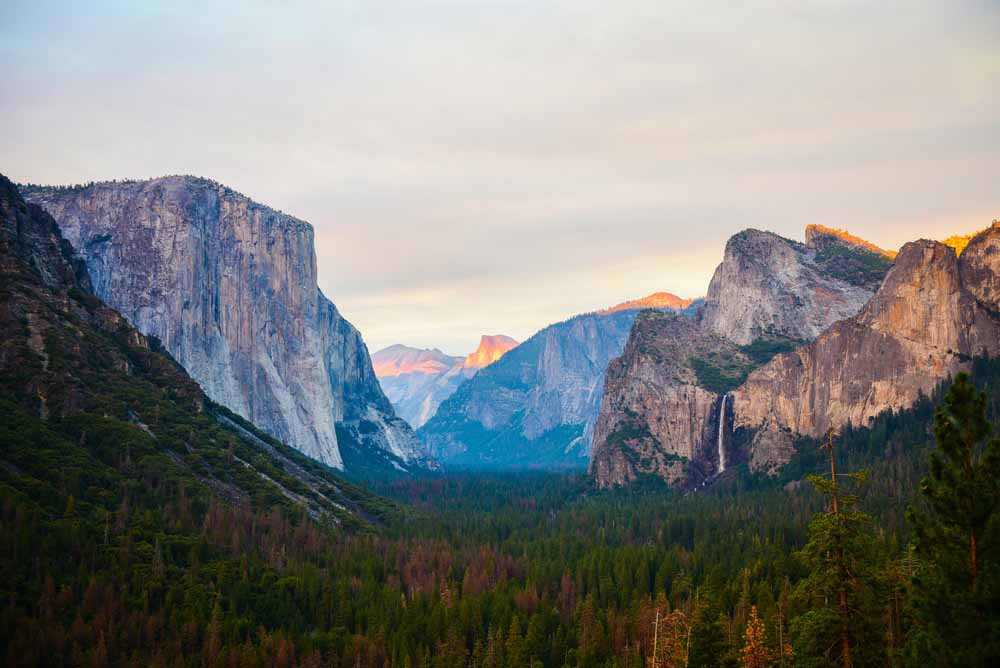 The climbers who have pilgrimaged to climb El Cap and the other impressive formations around Yosemite Valley have been and will continue to be some of the best climbers in the world. 
That's because there is no other place in North America that includes such a high concentration of world-class, begging-to-be-climbed granite rock. It has everything from iconic boulders like Midnight Lighting, hard single-pitch test pieces like Meltdown, and impressively long big wall climbs like The Dawn Wall. 
For that reason, the Valley, and its most prominent feature, El Capitan, will continue to be the ultimate proving ground for the next generations of rock climbers.