Have you ever looked around the climbing gym or crag and noticed more men than women? Rock climbing can often feel like a male dominated sport, and estimates suggest that only around 40% of rock climbers are women.
Despite this gender disparity, there is a long history of impressive female climbers who have broken barriers and shattered gender stereotypes. Women have been sending hard for decades, and they continue to be on the cutting edge of climbing today.
A few of the most notable female rock climbers are highlighted here, beginning with the famous women climbers of the 1980s and 1990s and taking us right up to the present-day crushers.
Catherine Destivelle
Born in 1960, Catherine Destivelle was a pioneering force in the world of female climbing and one of the most impressive female mountaineers of all time. At a time when the sport was extremely male dominated, Destivelle's achievements, including hard sport routes, heady free solos, and impressive mountaineering accomplishments, showed women that there was a place for them in the world of hard rock climbing.
Destivelle grew up in France and was introduced to the mountain world through her family. Although she learned the ropes of mountaineering in her teenage years, she was largely focused on competition and sport climbing in the 1980s.
In 1989, she retired from the competition scene and shifted towards alpine objectives. Throughout the 1990s, Destivelle made many notable alpine ascents as well as some impressive free solos.
Destivelle is an extraordinarily accomplished person not only in her climbing: she now owns a successful publishing company and is a dedicated mother.
Notable feats
© Catherine Destivelle
Although Destivelle may be best known for her alpine and free solo ascents, in 1988 she sent Chouca, a 5.13c sport route, an accomplishment that confirmed her reputation as a leading female rock climber.
In 1990, Destivelle made the first solo female ascent of the Bonatti Pillar on Petit Dru, a challenging alpine route that established her as an accomplished female mountaineer.
Her alpine accomplishments continued: throughout the early 1990s, Destivelle made solo ascents of the three major North faces in the Alps: the Eiger (1991), Grandes Jorasses (1993), and the Matterhorn (1994). She was the first woman to do so and inspired other female rock climbers to tackle mountains and alpine objectives.
In the later part of the decade, Destivelle began making more and more free solo ascents. In 1997, she free soloed the Old Man of Hoy, an intimidating sea stack in Scotland– and she did it while four months pregnant.
Lynn Hill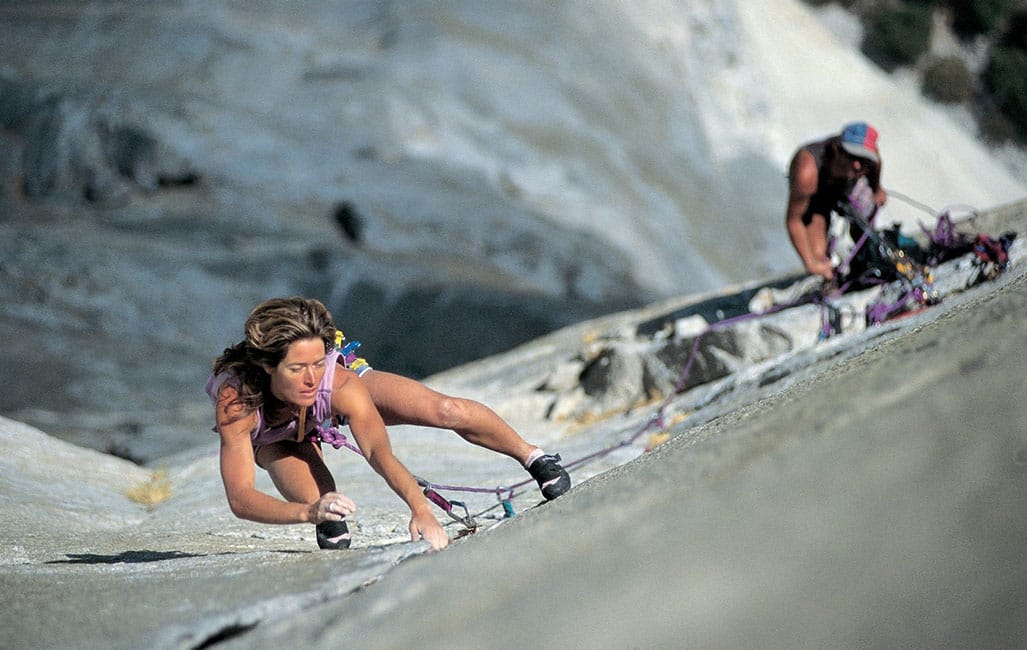 © Lynn Hill
Lynn Hill might be the most known woman in rock climbing, and for good reason. Hill was a free climbing pioneer, and her accomplishments range from big wall trad climbing to sport climbing to everything in between.
Hill was born in 1961 in Southern California, and was a natural athlete from a young age. She enjoyed gymnastics and running, but when she tried climbing for the first time at age 14, she was hooked.
She explored competition climbing for a few years, but Hill really came into her own when she began to focus on outdoor climbing. She spent years in Yosemite free climbing challenging cracks, faces, and big walls.
After a decades long career of boundary breaking rock climbing, Hill now climbs more casually. She lives in Boulder, Colorado, where she has been raising her son and enjoying the Colorado outdoors.
Notable feats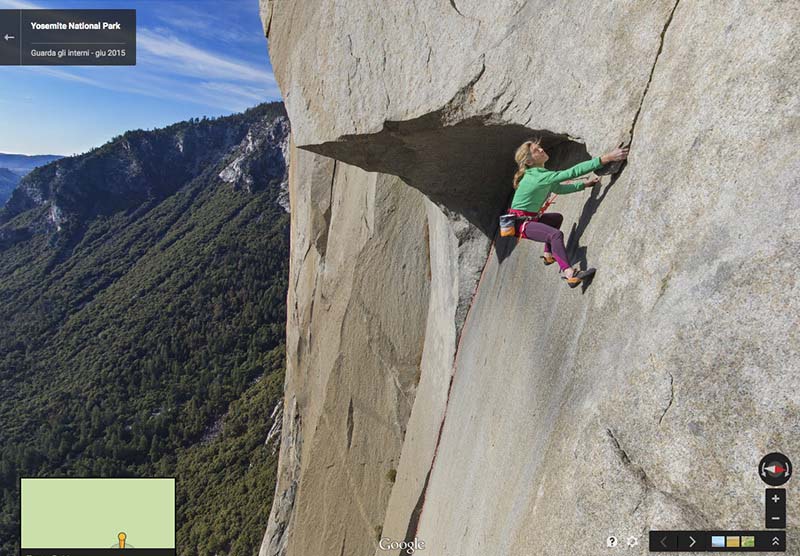 Hill was the first woman to climb a route rated 5.12d, which she did by climbing the route Ophir Broke when she was only 18 years old. A decade or so later, Hill made the first female ascent of a climb rated 5.14, and she also became the first woman to onsight a route rated 5.13b.
Despite these incredible sport climbing accomplishments, Hill is probably best known as a big wall free climber. In 1993, Lynn Hill made the first ever free ascent of the Nose on El Capitan in Yosemite. This classic aid line had never been freed, but Hill successfully climbed it in just 23 hours.
The sheer rock face of El Capitan towers 3000 above the ground and The Nose is rated 5.14. This ascent confirmed Hill's reputation as one of the best free climbers in the world.
This was the beginning of Hill's famous catchphrase: "It goes, boys." In a world where women are often known for "first female ascents", Hill's historical ascent of the Nose demonstrated that woman can not only achieve the same things as men; they too can set new records.
Beth Rodden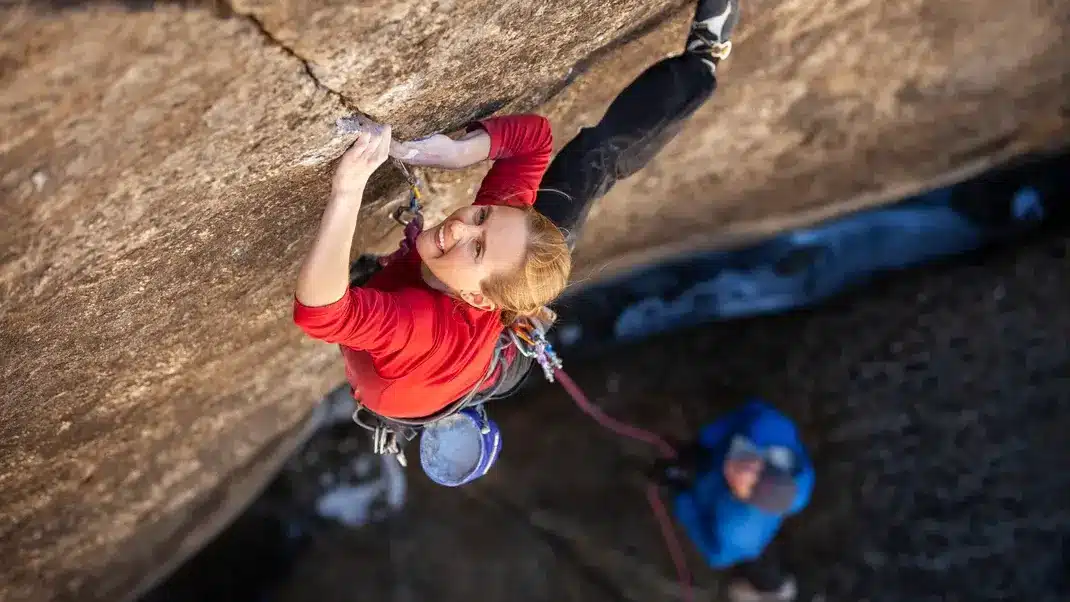 Photo by Corey Rich/@CoreyRich
Beth Rodden grew up in Central California in the 1980s, and as a child she loved being active and being outdoors. Thus, when she started climbing at age 14, it was a natural fit.
She began competing, and as a teenage climber she won a variety of competitions and began to make a name for herself in the climbing world.
In her twenties, Rodden began to focus on outdoor climbing. She spent time in Yosemite and honed her skills as a big wall free climber as well as achieving many hard single pitch traditional climbing objectives.
After decades of focusing primarily on hard rock climbing, Rodden has shifted priorities: she had a son in 2014, and now spends more time focusing on writing and environmental advocacy– though she still loves to climb.
Rodden has also become vocal about her struggles with disordered eating and body image, and is an advocate for self acceptance and a healthy climbing culture. Rodden talks more about this in the wonderful film "This is Beth", which was featured in the 2022 Reel Rock collection.
Notable feats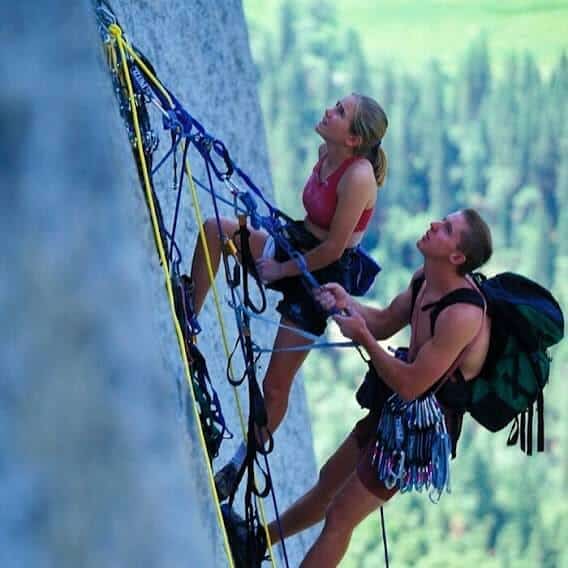 Photo by Corey Rich/@CoreyRich
Like Lynn Hill, Rodden made some impressive first ascents, climbing routes that no man or woman had ever topped. In 2004, she made the first ascent of The Optimist in Smith Rock State Park, a old aid route that gets a rating of 5.14b when climbed free. This drew international attention, and Rodden continued to pursue hard free climbs.
Rodden was also the youngest woman to climb the famous route To Bolt Or Not To Be, which was the first 5.14 in North America. Just a year earlier, Lynn Hill had become the first woman to send the climb. Rodden sent it when she was only 18 years old!
In 2008, Beth Rodden became the first person to climb Meltdown, a 5.14c trad climb in Yosemite that she had established over the previous year. Rodden dedicated extreme amounts of time and energy to the climb, and the route has still yet to see a second female ascent.
Angela Eiter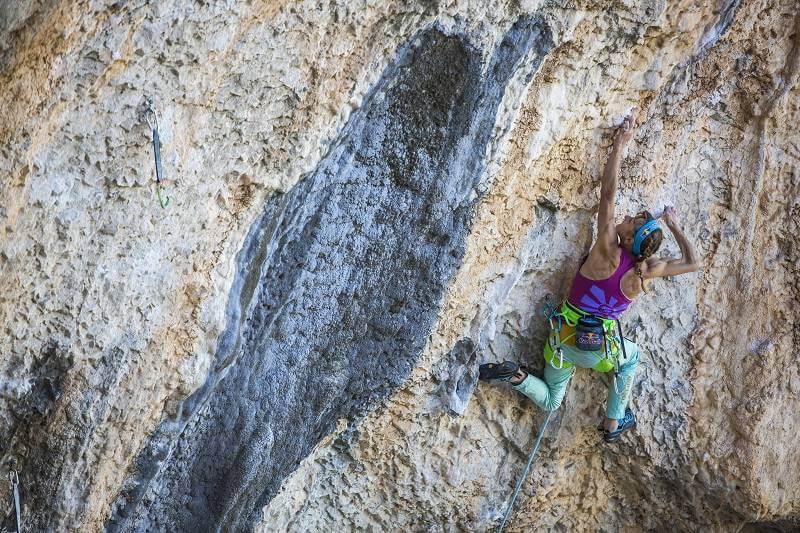 ©Javipec / ASP / Red Bull Content Pool
Angela Eiter is an Austrian rock climber and the first woman to climb 5.15b. Eiter was born in 1986 and started climbing when she was 11 year old. She's loved it ever since!
At the beginning of her climbing career, Eiter was primarily a competition climber. She began her competition career in 2003 and was very successful, breaking records and winning various world cups. Although she was a comp climber for many years, Eiter still says that her biggest weakness in climbing is dynamic movements.
After a successful competition run, Eiter shifted towards outdoor objectives. She has always enjoyed being outdoors, and in addition to climbing she likes hiking and cross country skiing. But her outdoor sends are where she shines! Eiter primarily focuses on lead climbing, but she has sent some difficult boulders as well.
Eiter is now 37, and she lives in Austria with her husband Bernie. Together, they run a company called K-3 Climbing, where they coach young climbers and set new routes.
Eiter is also passionate about route development and spends time cleaning and bolting new routes. She and her husband have been working to develop a new crag in Croatia, which they are calling the Bat Cave. The cave has a variety of powerful and steep lines, with grades from 5.11a all the way up to 5.14b.
Notable feats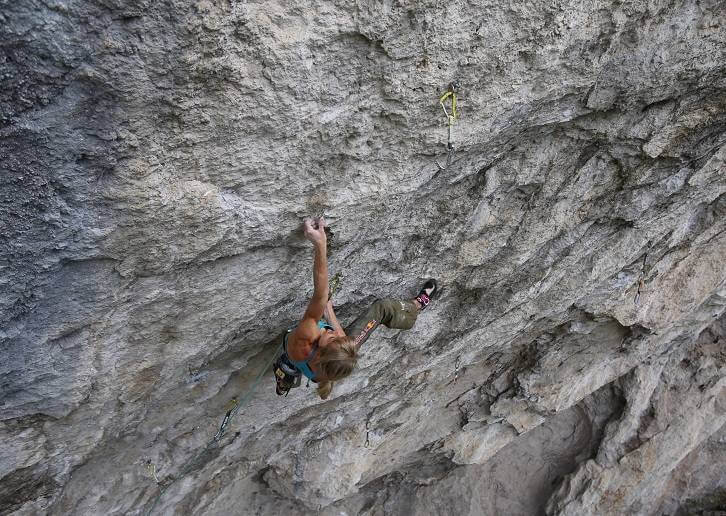 ©MartinHanslmayr
Eiter has 25 World Cup victories in total, and for lead climbing she was the overall World Cup winner for three years running. She also won the combined lead and bouldering World Cup in 2006.
Eiter also competed in the World Championships for many years, and was named the World Champion for lead climbing in 2005, 2007, 2011, and 2012.
Her outdoor accomplishments are equally, if not more, impressive: Angela Eiter was the first woman to climb 5.15b, which is still the hardest grade climbed by any woman. Eiter sent the route La Planta de Shiva in 2017, after two years of effort and training. Laura Rogora became the second woman to climb the grade in 2020, and Julia Chanourdie became the third woman to send 5.15b that same year.
In 2020, Eiter sent another 5.15b: Madame Ching in Austria. She was the first woman to climb that route– in fact, she was the first person! This send also made her the first female climber to have two 5.15b sends under her belt.
Eiter has also bouldered up to V13 and has onsighted sport routes up to 5.13d.
Hazel Findlay
© Jonny Baker
Hazel Findlay is a British climber who has achieved a plethora of impressive climbing objectives, particularly in the realm of trad climbing. Findlay started climbing when she was just six years old, and her father, a climber himself, encouraged her to take risks and push herself.
For most of career, Findlay has focused on outdoor climbing. She briefly dabbled in competitions as a teenager, but found that the mental focus and technical prowess that outdoor climbing demands was best suited to her.
After college she began her full-time climbing career, and has since made many impressive ascents. Findlay has redpointed some hard sport routes, but her traditional climbing is what really shines. She's spent time in Yosemite sending both hard big walls and famous single-pitch test pieces. Findlay made it a goal to free climb El Capitan, which she has now done four times!
Findlay has also made many notable first ascents, and she loves this adventurous aspect of climbing. Just like Hill, Findlay has demonstrated that women don't only need to aim to be the first female to accomplish something– they can be the first person overall.
Another impressive thing about Findlay is that she has accomplished all of this in addition to having a rich life outside of her own climbing. She started her own company, Strong Mind Climbing, where she utilizes her degree in Psychology to coach climbers on their mental game. Findlay has always been fascinated with this aspect of climbing, and with all of her dangerous and mentally taxing ascents, it's clear it's a personal strength of hers.
Notable feats
©Jonny Baker
Findlay was the first woman from Britain to climb an E9 trad route, which she did when she sent Once Upon A Time In The Southwest in 2011. E9 is an advanced UK trad grade that refers to both danger and difficulty, meaning that the climb Findlay did had both challenging climbing and tricky or sketchy gear placements. Later, she also became the first British woman to send E10 trad.
Also in 2011 Findlay achieved the first female ascent of Golden Gate, a 36-pitch free climb in Yosemite that receives a grade of 5.13a. This ascent is especially impressive as the climb is known to be reachy, and Findlay is only 5'2″.
One example of Findlay's impressive first ascents is that of Tainted Love, a trad climb in Squamish which received the grade of 5.13d R. She sent the line in 2017 and was first person to ever successfully top out the powerful stemming corner.
In 2019, Findlay redpointed Magic Line, a Yosemite testpiece that gets a grade of 5.14c R. Findlay said this was the hardest route she had ever climbed: just the lower crux felt like the hardest boulder problem she had ever done. She was the first woman to send the line and the second person overall.
Over the course of her career, Findlay has redpointed up to 5.14d sport climbs and 5.14c trad climbs. She has also onsighted many 5.13 trad lines.
Janja Garnbret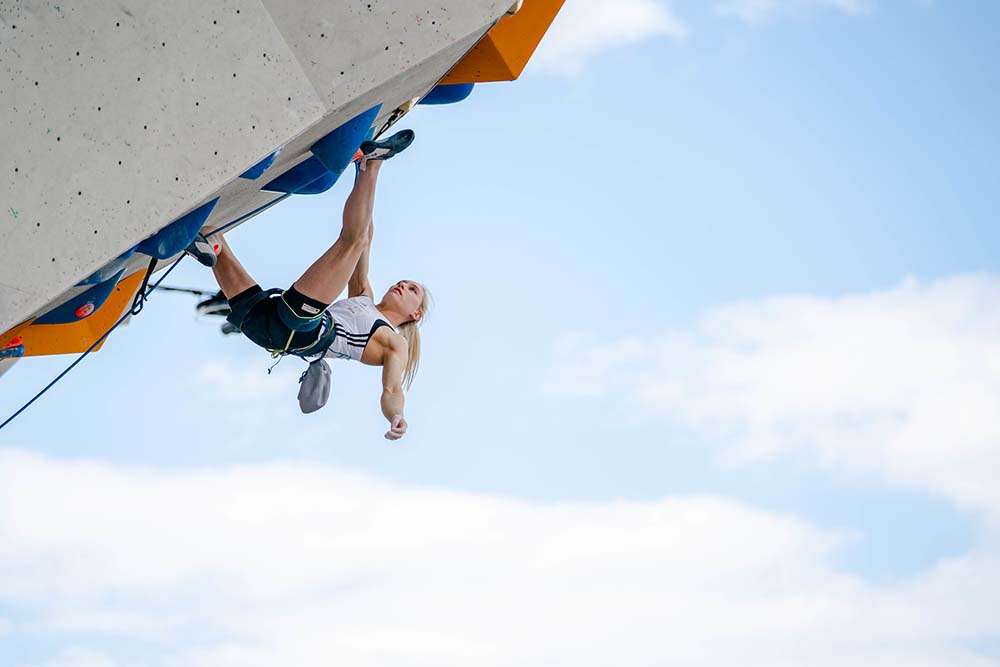 ©Lena Drapella/IFSC
Janja Garnbret is a Slovenian climber who has dominated the competition scene for the past several years. An energetic and playful child, Garnbret started climbing in elementary school and quickly excelled.
She joined a competition team, and in her first season of competing she won the title of European Junior Champion. Since then, she's continued to crush the competition scene.
Garnbret is only 24, but she has already accomplished an incredible amount– she's had a wildly successful career and won a wide variety of competitions, including many World Cups. She has focused primarily on lead climbing throughout her career, though she has won bouldering World Cup events as well.
In the world of female climbers, Garnbret is a powerhouse. But she's impressive beyond gender– there don't appear to be any male counterparts who can match her incredible resume.
Notable feats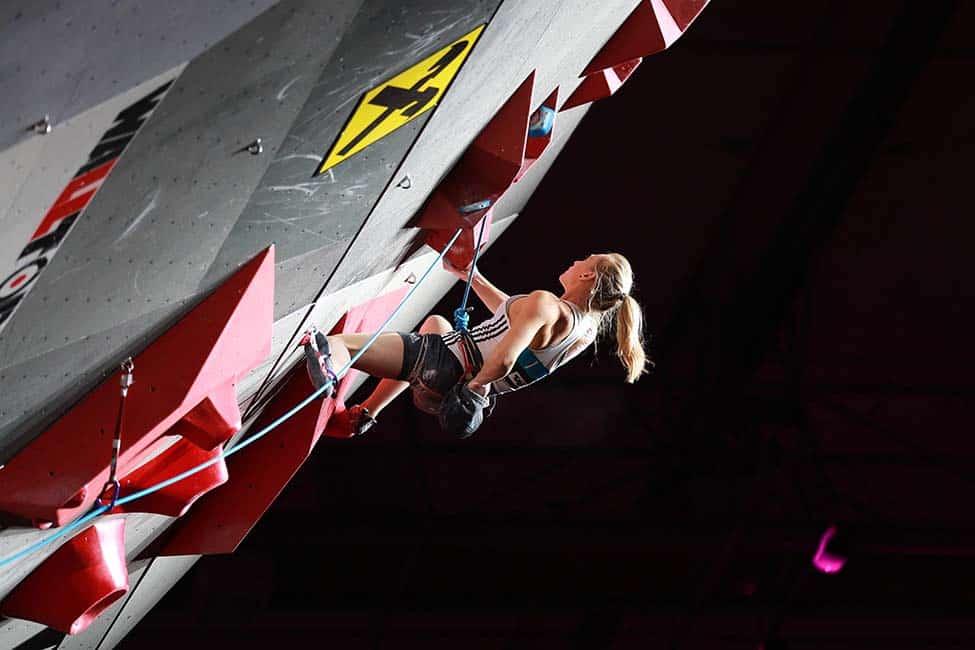 via Wikimedia Commons
At age sixteen, Garnbret competed in her first IFSC Climbing World Cup and won her first world cup title. She's won every year since then, meaning that she currently holds eight world cup titles!
She also took home the gold medal in the 2021 Olympics, making her one of the most decorated climbers of all time.
Garnbret might be the only climber on this list who is primarily a competition climber. However, she has excelled outdoors as well. She has climbed outdoor grades up to 9a (5.14d) and has onsighted two 8c (5.14b) routes.
Ashima Shiraishi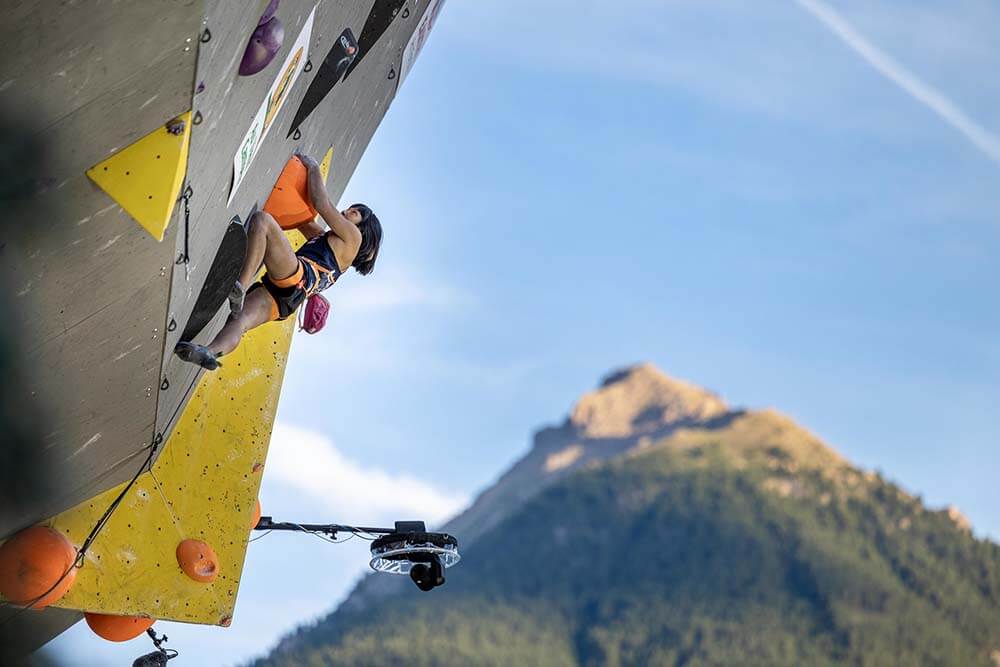 ©Jan Virt/IFSC
Ashima Shiraishi is a 22 year old rock climber from New York. She is undoubtedly one the best female climbers in the world, and has been setting world records for years. Shirashi started rock climbing at a gym when she was six years old, and it was a natural fit.
Shirashi's parents immigrated to New York from Tokyo, and they had no idea what climbing was. Her father was a successful dancer, and her mother worked at a clothing store.
Still, when Shirashi excelled in climbing, they didn't let her miss the opportunity. Her father eventually stopped dancing to coach his daughter and guide her training.
Shirashi is a gym kid at heart, but she climbs outside when she can. She's made a variety of impressive ascents in places like the Red River Gorge and Rocky Mountain National Park. However, she is less interested in climbing as an adventure; she would rather climb hard sport routes and boulders than attempt adventurous alpine routes.
But Shirashi is not just an accomplished climber– she is passionate about things ranging from fashion to environmentalism to issues of diversity and inclusion. She loves to learn and is currently pursuing her undergraduate degree.
Notable feats
via Wikimedia Commons
Ashima Shiraishi has sport climbed grades up to 5.14d and bouldered up to V15. She began sending hard at an impressively young age– she was nine when she climbed her first V10, and at age ten she climbed a V10.
Shirashi is possibly the best teenage climber of all time. She made the first female ascent of a boulder problem graded V15, and she did it when she was only 14. This made her the youngest person in the world to climb that grade, regardless of gender. She's climbed another V15 too– The Wheel of Life in Australia.
The year prior, at age 13, she sent Open Your Mind Direct, which receives a rating of 5.14d/5.15a. Because of this slash grade, it's not considered a full 5.15 send, but at the time it was the highest grade climbed by a woman. She was also the youngest person to climb a sport route of that difficulty. Making this ascent even more impressive is the fact that it took her only four days of projecting to send!
Shiraishi was a competition climber for a few years, and won gold in the IFSC Youth World Championships for three years in a row. However, her outdoor ascents are what really shine.
Conclusion
This article highlights some of the leading names of women's climbing, both throughout history and today. These women have shown us what's possible in climbing and have pushed physical and mental boundaries.
Reading about these impressive female climbers is a great way to get inspired for your own climbing or hiking adventures. When you need a dose of motivation, just remember Lynn Hill's famous quote: "It goes, boys!".
Sources
Featured image:  © Lynn Hill