Margo Hayes is an American climber from Colorado who is most famously known as the first woman to send a 9a+ graded sport route and at the same time establish the first female ascent of multiple benchmark routes of that grade.
From winning the youth national championship in sport climbing at the age of 15 to climbing La Rambla, Biographie and Papichulo, she's established herself as one of the strongest women climber out there.
In the following post, we delve into the remarkable life and sport climbing career of Margo Hayes, exploring her significant milestones and the lasting impact she has made on the world of rock climbing.
Born into the picturesque landscape of Boulder, Colorado, in 1998, Margo Hayes grew up in a region renowned for its world-class outdoor activities and idyllic backdrop for a passionate childhood.
Hayes' first introduction to athletics came not from climbing, but from gymnastics where she trained at CATS gymnastics in Boulder. This foundation in gymnastics equipped her with exceptional body awareness, strength, and flexibility — all skills that would prove invaluable in her future climbing career.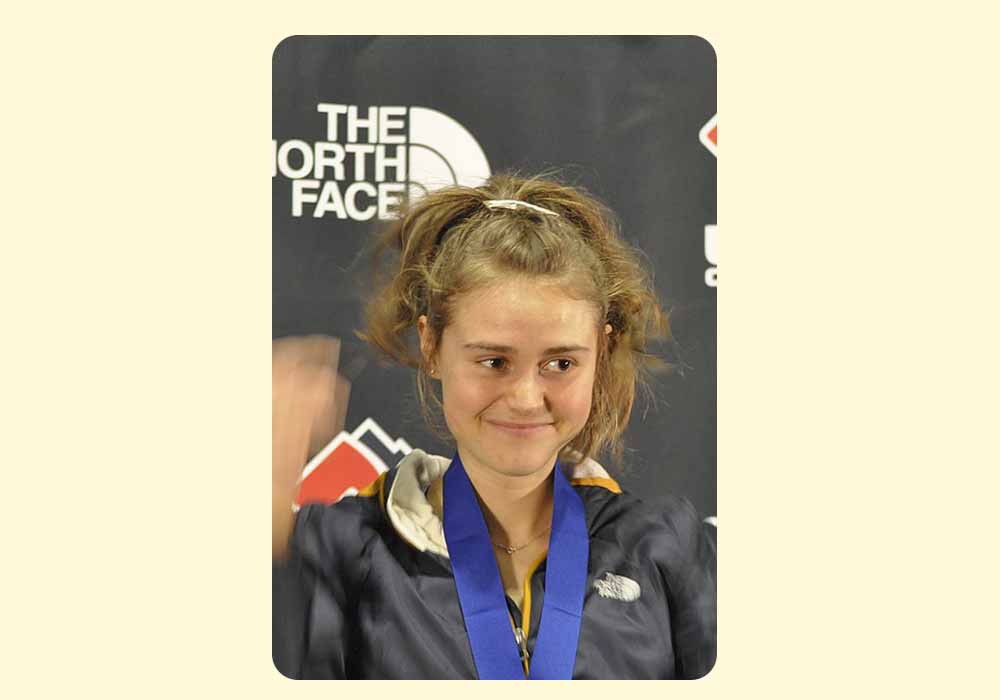 Her father, a climbing enthusiast himself, introduced Hayes to the sport of climbing at age 10 (Margo's maternal grandfather, Dr. James Morrissey, also led the first successful ascent of Everest's Kangshung Face). This sparked a profound interest and love for climbing that would shape her life.
Recognizing her potential and passion, Hayes joined Team ABC Boulder, a youth climbing team founded by former World Cup Climbing Champion Robyn Erbesfield-Raboutou in Colorado.
This was a pivotal period in her development as a climber, as she was not only trained by one of the best in the sport, but she also trained alongside Robyn's children, Shawn and Brooke Raboutou.
These formative years were instrumental in shaping Hayes into the climber she is today, setting the stage for a career filled with remarkable achievements and record-breaking climbs.
Margo Hayes' talent and determination began to shine in the climbing competition world as she started to participate in the major youth climbing events.
At 15 years old in 2013, Hayes won the North Face Young Gun Award, honoring up-and-coming climbers.  
Carrying on from this into 2014, she won gold in bouldering and lead at the Pan-American Youth Champsionship.
Entering the IFSC World Youth Championships in 2015 she won silver in both lead and bouldering behind Janja Garnbret. A year later she would win gold in the same categories in Guangzhou.
Margo Hayes Making History
In the world of rock climbing, certain routes and grades are considered benchmarks, milestones that establish a new level.
In February 2017, Margo Hayes made a leap into that upper echelon. She became the first woman in history to climb a route graded 9a+, when she completed the first female ascent La Rambla in Siurana, Spain.
This monumental achievement sent ripples through the climbing community, marking a significant milestone in the history of women's climbing.
Hayes was far from done. Later in 2017, she continued to push her boundaries.
In September, she became the first woman to redpoint Chris Sharma's Biographie/Realization, another 9a+ route, making it the third time a woman had ascended a climb of that grade and also the first female ascent for that route.
This feat underscored her status as one of the sport's elite climbers, and it underscored the fact that female climbers were not just on par with their male counterparts, but were also capable of matching their achievements.
This achievement was featured as part of Reel Rock 12 series. "Break on Through" directed by Matty Hong, documented Hayes' historic ascents of these two climbs and offered a glimpse into her extraordinary journey, dedication to her own training routines and powerful determination that fueled her successes.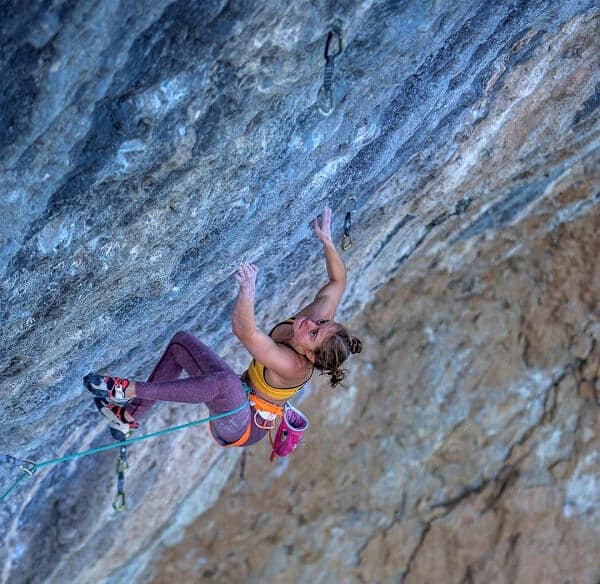 Continuing her trend of trailblazing ascents, in March 2019, Hayes added another feather to her cap. She completed the fourth-ever female ascent of another 9a+ route, Papichulo, in Oliana, Spain.
This benchmark climb was first established by Chris Sharma when training to send his mega project Jumbo Love.
With this achievement, Margo Hayes once again demonstrated her prowess, determination, and unyielding spirit, cementing her legacy as one of the most accomplished women climbers in the history of the sport climbing.
Recognition and Further Achievements
In 2016, Hayes' achievements were recognized when she won the prestigious Golden Piton award.
This award was given for her successful climb of 14 routes graded 5.14 (8b+) or harder in a year, underscoring her ambition and commitment to the sport. The Golden Piton is one of the highest honors in climbing, and winning it further solidified Hayes' position among the sport's elite.
In 2019 she made the USA climbing's national team in order to participate in the IFSC World Cup Circuit, with hopes of an Olympic qualification. Unfortunately, her and Ashima Shirashi, two of America's top outdoor climbers would lose out to Brooke Raboutou and Kyra Condie, who went on to represent the USA at the Tokyo 2020 Olympics.
Personal Life and Sponsors
Margo lives in Colorado and continues to explore what she is capable of. With partner and fellow climber Matty Hong they continue to document and make impressive ascents.
Their latest work Flex, part of the Reel Rock mini series recounts Matty's first repeat of Flex Luthor, 9a+/b and Margo's repeat of Kryptonite, 9a.
Margo is sponsored by The North Face, Petzl, La Sportiva and Friction Labs.
From Margo Hayes early beginnings in Boulder, Colorado, to her groundbreaking ascents and international recognition, Hayes has left a trail of remarkable achievements that now form part of the history of the sport.
With her first female ascent of La Rambla, she became the first woman to climb a 9a+ route at just 19 years old. With her repeated accomplishment of sending Biographie and Papichulo she is sure to have inspired future generations of climbers, women or men, to come.
Featured image: By Jarek Tuszyński © via Wikimedia Commons