What does it feel like to be at the pinnacle of climbing? To be part of the elite group that you can count on one hand, if only a few fingers, those sport 9c climbers?
Climbing has always been a sport of leisure and connecting with nature, but it's also about progression and pushing yourself past mental and physical barriers.
In this article we're going to learn about some of the hardest climbs in the world and these ultra-elite climbers that send them.
"Sending" is an important term in climbing in general, especially when you start hitting these grades, so let's talk more about it in the next section.
What Does "Sending" Mean?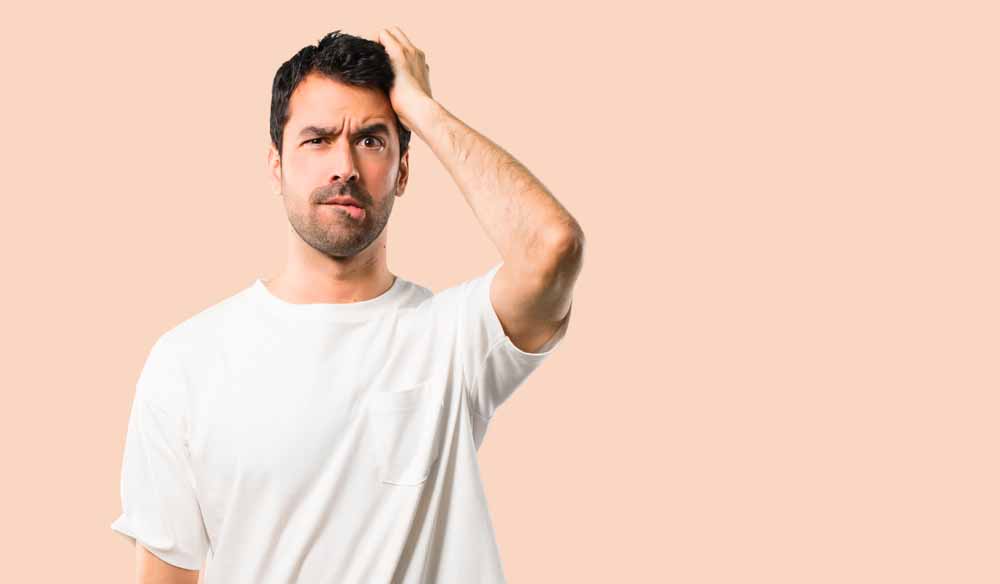 If you're new to climbing, you may have heard the phrases "sending," "sent," or "send" chucked around in climbing conversion.
And with all the other climbing lingo that gets chucked around, it can be pretty hard to keep up, so let's briefly explain.
In short, "sending" or "send" is reaching the top of your boulder or route without taking any rest and without failing. It originally comes from the word ascent, but in true climber style, it was shortened to "sent."
Here are some ways it can be used:
"Sending that route yesterday was a real challenge."
"Send it."
"I finally sent the route I've been working on for weeks today."
So, next time you're out climbing, don't be shy to throw out the word into conversion.
I'd like to point out that sending has become more than just a word; it also represents the feeling you felt when you finally conquered the route you've been working on.
It's also worth noting that sending doesn't differentiate whether it's redpoint, flash, or onsight, with that said, most climbers will generally use onsight if they did.
Which Are The 9c Routes?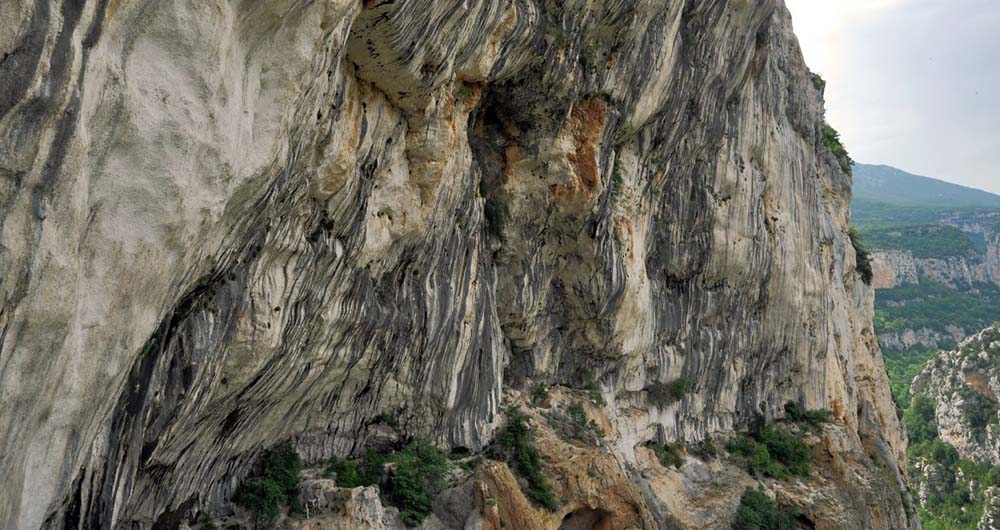 At the time of writing this article, there are only two 9c climbs out there, each having been bolted by different 9c climbers. The first was set by Adam Ondra, and the other by Sébastian Bouin.
This section will discuss the two climbs that these legendary climbers set and what makes them so tricky.
Let's take a look:
Silence – Set By Adam Ondra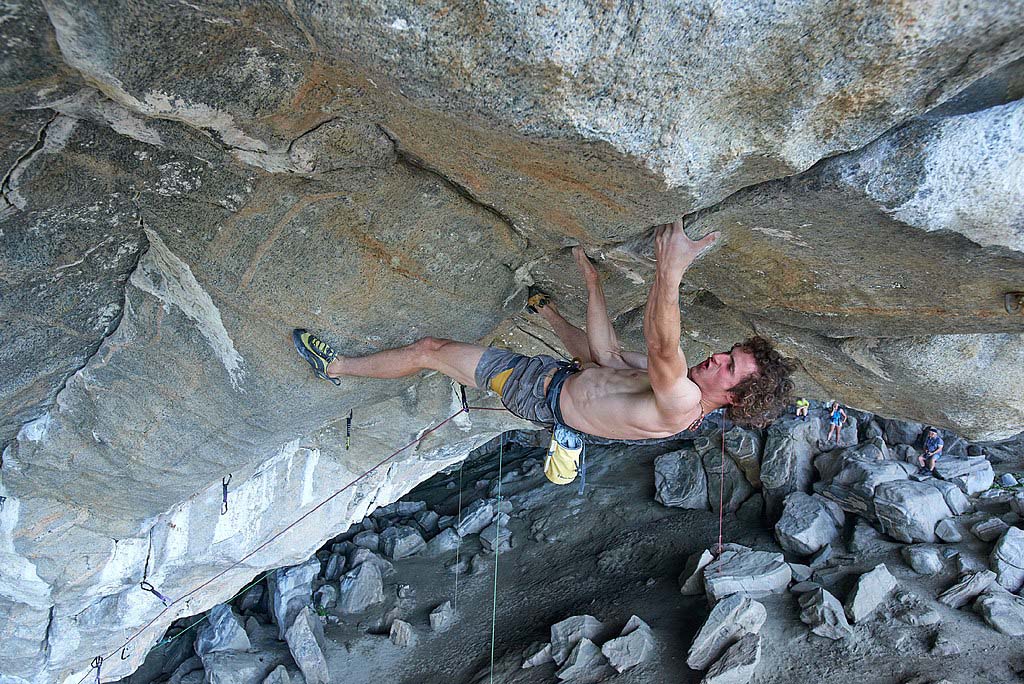 Silence was the world's first 9c (5.15d) set by Adam Ondra in 2017. Ondra originally bolted the route in 2013 and named it "Project Hard", and boy, was he right.
This breathtaking overhanging 45-meter (148 ft) climb is located in the cave of Flatangar, Norway.
You'll need buckets of strength, endurance, and technique to complete this climb, combined with some crazy moves the average climber wouldn't even think about.
It took Adam, the world's first 9c climber, over 40 attempts and 7 trips to lock down the climb. To finish the climb, he wore a knee brace to help with comfort for the jams while also famously wearing two different climbing shoes, so he had two different profiles.
To this day, the route remains unrepeated.
If you want to know a bit more about the preparation required to take on this climb and what it means to send it, check out the video below:
As for the route itself, it can be split into three sections, and it looks a little bit like this:
The first part of the climb is a 20-meter roof climb with a grade of 8b. During this section, the holds are "okay" but still leave little to be desired. It comes down to endurance if you want to get this section done.
But this also leads into the crux move of the climb, an 8b or V15 movement that involves jamming your foot in a crack upside down.
Throughout the climb, you'll be using knee jams to rest up. But the biggest knee jam comes directly after the crack. This is used to get some rest before the next V13 move arrives.
The final crux is a V9 bouldering move that chains off to slightly easier holds. And that's what you can expect from one of the hardest rock climbs in the world.
DNA – Set By Sébastian Bouin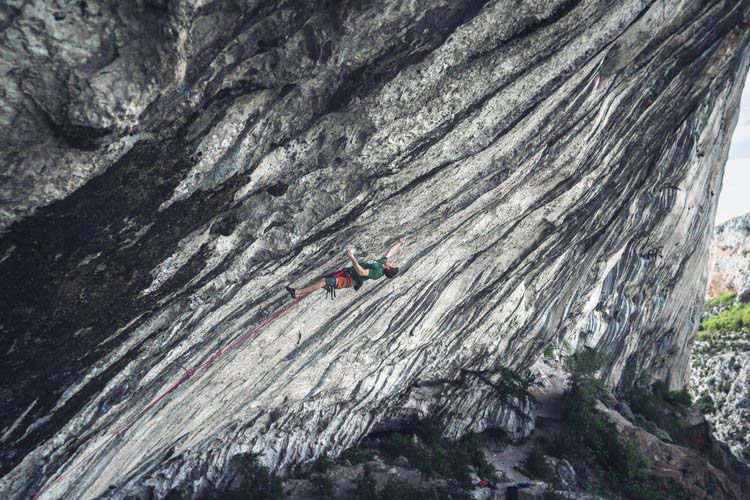 DNA in La Ramirole, France, was bolted back in 2019 by Sébastian Bouin, a climber known for downgrading climbs.
He claimed to have spent around 200 days and made 250+ attempts before eventually sending the climb on May 5th, 2022.
The route remains unrepeated today, but Jakob Schubert did take a trip to try it out, so who knows, it may get repeated one day.
As for the climb, it looks a little bit like this:
Most of the climb is made up of a steep limestone overhang. The first section of the climb starts at 8c and progresses through 5 quickdraws before you get to your first resting point.
From there, you go straight into an 8a crux move which Séb described as "a rather special bouldering move."
But things don't get any easier:
It then goes into an 8a+ move that uses horrific pinches and underlings. You can take a break if you're lucky enough to get past that.
It's an 8c climb to the top to finish off the route. The length and difficulty of the moves definitely push this route into 9c territory.
Downgraded 9c Routes – Bibliographie, Ceuse
Routes have been downgraded many times during the many years of climbing. Sometimes climbers like inflating their ego by claiming the route they set is more complicated than it is.
Sometimes, a repeat climber manages to find easier beta which makes the climb slightly, or if it's in the crux sequence, significantly easier.
Today, there has only ever been one downgraded 9c route, and that route is Bibliographie, in Ceuse, France.
Let's take a look.
The route was first bolted in 2017 by Eathan Pringle, but it wasn't until 2020 that Alex Megos finally sent the climb, suggesting the 9c grade.
Since then, Stefano Ghisolfi, Seb Bouin, and Sean Bailey have repeated the route, leading to the route being downgraded to a respectable 9b+.
Ghisolfi first claimed it was graded too high as he found a slightly easier sequence on the second crux, so Alex Megos respectfully jumped in and said he was probably right.
What Makes A 9c Route?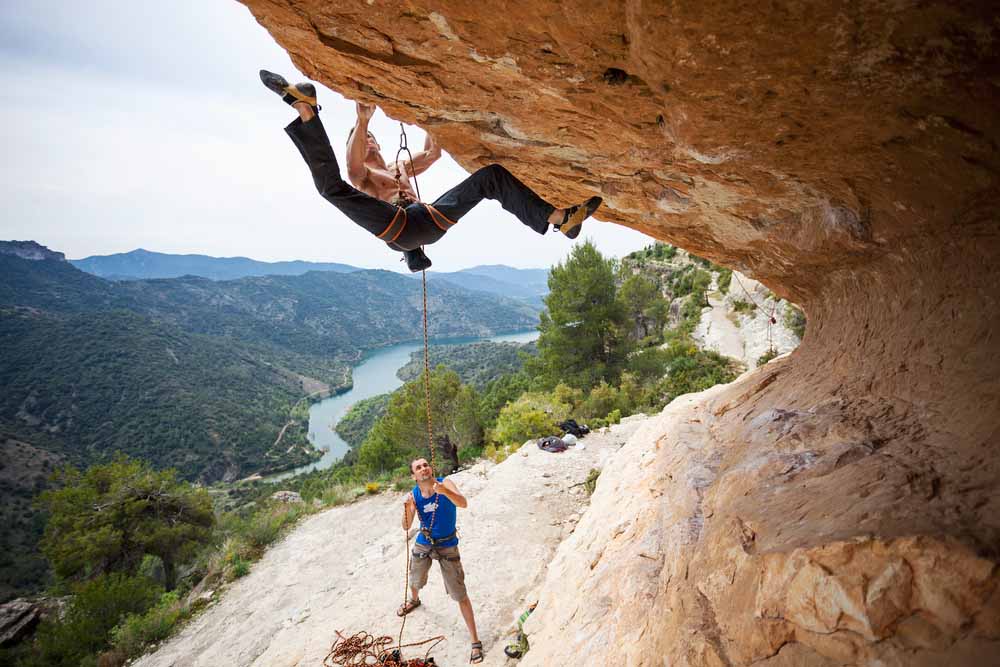 A 9c route in climbing represents an extremely high level of difficulty and is currently considered one of the most challenging grades in the sport. 
The grading system for climbing routes considers various factors that contribute to the overall difficulty of the climb. Here are some elements that make a route qualify as 9c:
Hold Size and Type: A 9c route will likely feature tiny holds, including micro-crimps and little pockets. Climbers must possess exceptional finger strength, and precision to grip these holds effectively.
Move Sequences: The moves on a 9c route can be highly complex and demanding. Climbers may encounter long, intricate sequences that require precise footwork, body positioning, and coordination.
Sustained Difficulty: A 9c route is expected to be consistently difficult throughout its entire length. It might have few easy rests or sections where climbers can recover fully.
Overhanging Sections: Many 9c routes are characterized by steeply overhanging sections, requiring climbers to engage their core and upper body strength to stay on the wall.
Dynamic Movements: Dynamic or powerful movements, such as jumps, dynos, and explosive reaches, might be necessary to progress through certain sections of the route.
Physical Endurance: Climbing a 9c route demands exceptional endurance, as climbers need to maintain a high level of physical effort over an extended period of time.
Psychological Challenges: Routes of this difficulty level can pose significant psychological challenges. Climbers need to manage fear, stay focused, and make quick decisions while navigating the climb.
Unique Features: Some 9c routes might have unique features like specific holds or sequences that set them apart from other climbs.
It's worth noting that the grading of climbing routes, including the 9c grade, can be subjective and may vary based on factors such as the climber's strengths, the route conditions, and evolving standards within the climbing community. 
The Physical Traits Needed To Climb 9c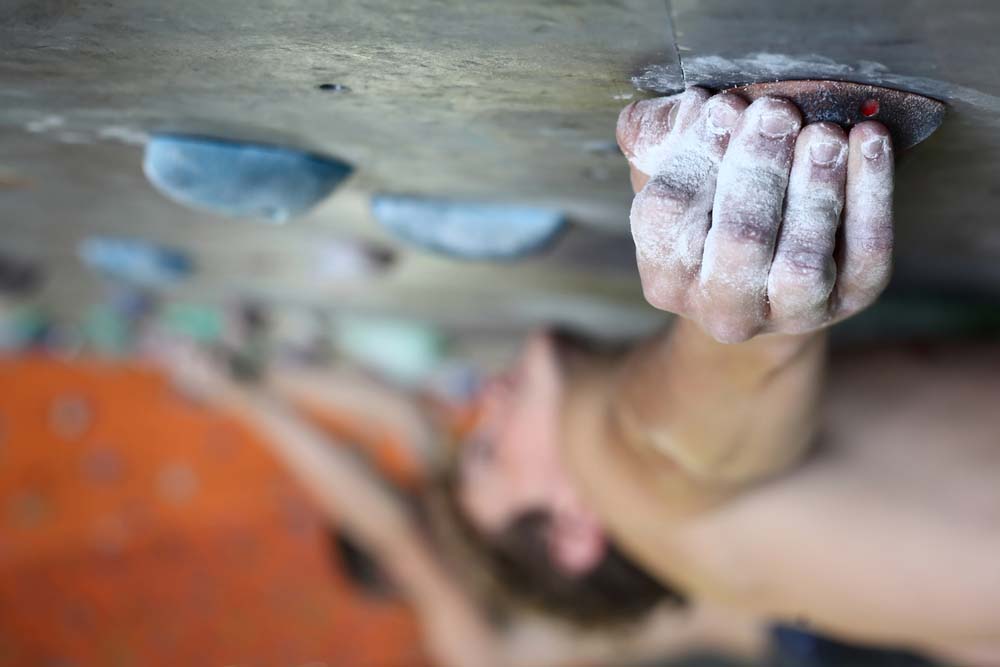 Climbing a 9c route, considered one of the highest difficulty levels in sport climbing, demands a unique combination of physical and mental attributes. Here are the key physical traits required to tackle such a challenging climb:
Strength: Climbing at the 9c level demands immense upper body, core, and finger strength. Finger strength is crucial for holding onto small holds and crimps, standard features under challenging routes.
Endurance: Sustained endurance is essential for tackling long and physically demanding sequences on the route. A climber needs to maintain a high level of effort over an extended period without fatiguing too quickly.
Flexibility: Excellent flexibility, especially in the hips, shoulders, and lower body, aids in maintaining balance and reaching holds in awkward positions.
Power-to-weight Ratio: A low body weight relative to strength is advantageous for climbing, as it reduces the strain on holds and allows for more efficient movement. Lean muscle mass and a controlled diet contribute to an optimal power-to-weight ratio.
Technique: Mastering advanced climbing techniques, such as precise footwork, body positioning, and efficient movement, is crucial for conserving energy and executing intricate sequences.
Mental Toughness: Climbing at this level requires mental resilience to handle the physical and psychological challenges of the climb. Staying focused, managing fear, and problem-solving are vital.
Dynamic Movement: The ability to perform dynamic movements, including jumps, dynos, and explosive moves, is often necessary to navigate certain sections of the route.
Finger Endurance: Apart from strength, finger endurance is paramount, given the small and often razor-sharp holds found on high-difficulty climbs. Training to withstand sustained finger stress is crucial.
Cardiovascular Fitness: While climbing is not primarily aerobic, maintaining a reasonable level of cardiovascular fitness helps with overall endurance and recovery between strenuous moves.
Training and Recovery: Regular training, proper rest, and recovery techniques are crucial for building and maintaining the required physical attributes.
Climbing at a 9c level represents the culmination of years of training, dedication, and honing these physical traits. It's important to note that every climber's journey and strengths are unique, and combining these traits can contribute to success on the route.
Climbers Climbing At 9c
Only a few climbers have graced the world of 9c; in fact, as it stands today, only two climbers are part of the uber-accomplished 9c climbers group.
Let's learn a little bit more about these two first.
If you're interested in some of the other best climbers in the world, you can also check out our the best climbers in the world post.
Adam Ondra
Adam Ondra, a Czech rock climber born in 1993, has left an indelible mark on the climbing world with his exceptional achievements and contributions. Renowned for his unparalleled determination and skill, Ondra has redefined what is possible in the sport.
Ondra's ascent to fame began with his groundbreaking performances in competitions, showcasing his versatility across disciplines like lead climbing, bouldering, and speed climbing. His numerous World Cup victories and multiple World Championship titles solidified his status as one of the greatest climbers of his generation.
However, it's his accomplishments in outdoor climbing that truly distinguish Ondra. He has consistently pushed the envelope with his first ascents of some of the most challenging routes worldwide, often raising the bar regarding difficulty. His most notable achievement is perhaps the world's first 9c (5.15d) climb, "Silence," a feat that solidified his reputation as an icon in the climbing community.
Sébastian Bouin
Sébastian Bouin, the accomplished French rock climber born in 1994, has made an indelible mark on the climbing world through his remarkable achievements and groundbreaking climbs, notably his ascent of the iconic route "DNA."
Bouin's journey as the second of the 9c climbers, is a testament to his exceptional skill, unyielding determination, and innovative approach to climbing.
At the forefront of his accomplishments stands his awe-inspiring ascent of "DNA," a fiercely challenging sport climbing route in La Ramirole, France. 
His successful climb of "DNA" solidified his reputation as a visionary climber who thrives on pushing boundaries.
Climbers In The Range Of 9c
Again, there aren't many people climbing in the range of 9c at the moment, but there are a couple of notable mentions to be added:
Jakob Schubert: Born in 1990, Jakob Schubert established himself as a prominent figure in the climbing world with remarkable achievements.  Hailing from Austria, he's renowned for his exceptional indoor and outdoor climbing skills. Schubert's dominance on the competition scene is evident through his numerous World Cup victories and titles in lead climbing. 
Chris Sharma: His climbing legacy is epitomized by his monumental achievements on routes like "La Dura Dura" and his ambitious project "Le Blond." In 2013, Sharma and Adam Ondra jointly completed the first ascent of "La Dura Dura" in Oliana, Spain, which was heralded as one of the world's most demanding sport climbs at 9b+ (5.15c). 
Stefano Ghisofi: Is an accomplished Italian climber born in 1993, and has left an indelible mark on the climbing world through his remarkable achievements. Beyond the competition scene, Ghisolfi's outdoor accomplishments shine brightly. He has conquered numerous challenging routes around the world, including multiple 9b and 9b+ climbs, showcasing his ability to tackle the most demanding lines.
Alex Megos: The trailblazing German climber born in 1993, has etched his name in climbing history with a string of remarkable achievements. Revered for his dynamic climbing style and fearless approach. However, it's his groundbreaking outdoor ascents that have truly defined his legacy. He was the first climber to send a 9a (5.14d) route onsight and has consistently pushed the boundaries of difficulty with his first ascents of multiple 9a+ and 9b routes.
Final Thoughts & Takeaways
Hopefully, this article has introduced you to the world of 9c climbing and the people battling for their place on the holy grail.
As time passes, I'm sure people will push for higher grades, but for now, this is the pinnacle of climbing achievements.