If you are getting into rock climbing then you are probably learning a lot about the different styles of climbing that exist and how they all fit together. You may even be trying to figure out which climbing style or discipline interests or suits you the best.
In general, there are four popular styles of rock climbing– aid climbing, bouldering, traditional climbing, and sport climbing. In this article, I'll talk about trad climbing vs. sport climbing.
By the end of it, my hope is that you will have a better understanding of how trad climbing differs from sport climbing and feel more confident about deciding which climbing discipline suits you the best.
What is Trad Climbing?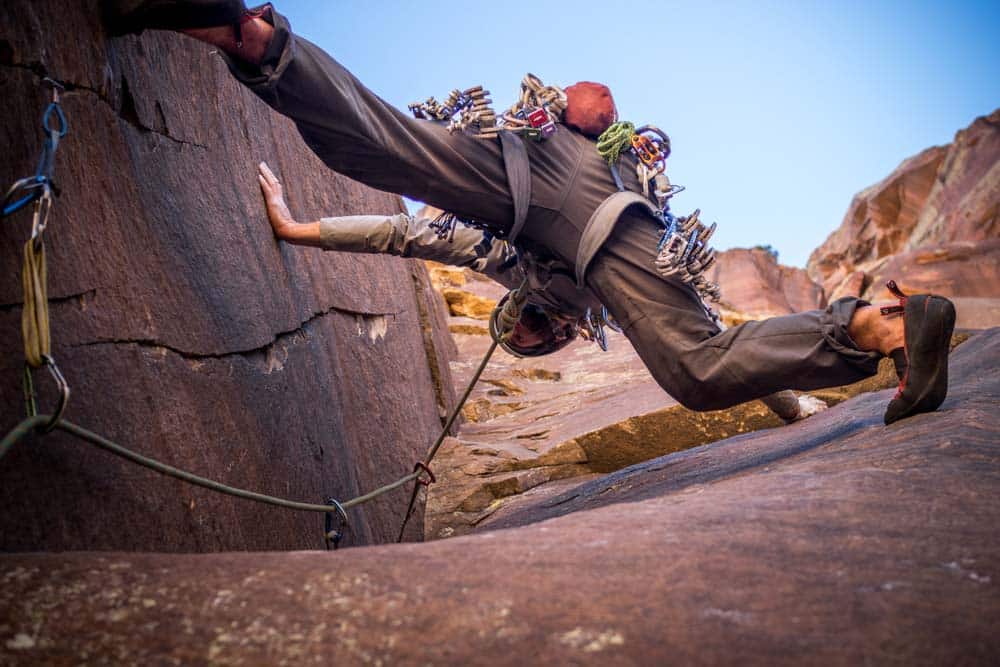 Traditional climbing, also known as "trad" climbing, is an older style of rock climbing that evolved from aid climbing.
On a trad route, the leader places removable equipment into the rock face and clips their rope to protect against a massive fall. When the leader reaches the top of the climb, they use their equipment to build a climbing anchor.
It then becomes the belayer's job to climb the route and clean or remove the climbing gear from the wall so that the equipment can be used on the next pitch of climbing.
Trad Climbing Protection
Trad gear has improved a lot over the years. Therefore, the climbing style has changed a lot, and many harder trad climbing routes have been established. But before trad climbing evolved into what it is today, trad climbers relied on relatively mundane equipment.
Passive Protection
Old-school trad climbers protected themselves using exclusively passive protection. Passive protection pieces are nonmechanical nuts, stoppers, or hexes that the leader wedges into a crack in the rock like a chockstone.
When properly placed in high-quality rock, the passive protection relies on friction to remain seated to catch a fall.
Active Protection
Modern trad climbers still rely on passive protection for lead climbing. However, the pieces of passive pro have gotten more specialized, lightweight, and stronger. In addition, nowadays, climbers are also placing active protection on trad routes.
The most popular and effective type of active protection is mechanical spring-loaded camming devices, also known as cams. Cams are mechanical devices that the leader places into a crack in the rock. When properly placed in high-quality rock, the cam expands into the interior of the crack to catch a fall.
What is Sport Climbing?
Sport climbing is a younger climbing style that came about in the 1970s and 80s. On a sport climb, the leader clips their climbing rope into pre-placed bolts drilled into the rock face to protect against a big fall. When they reach the top of their climb, they build an anchor using a combination of at least two fixed bolts.
Sport Climbing Protection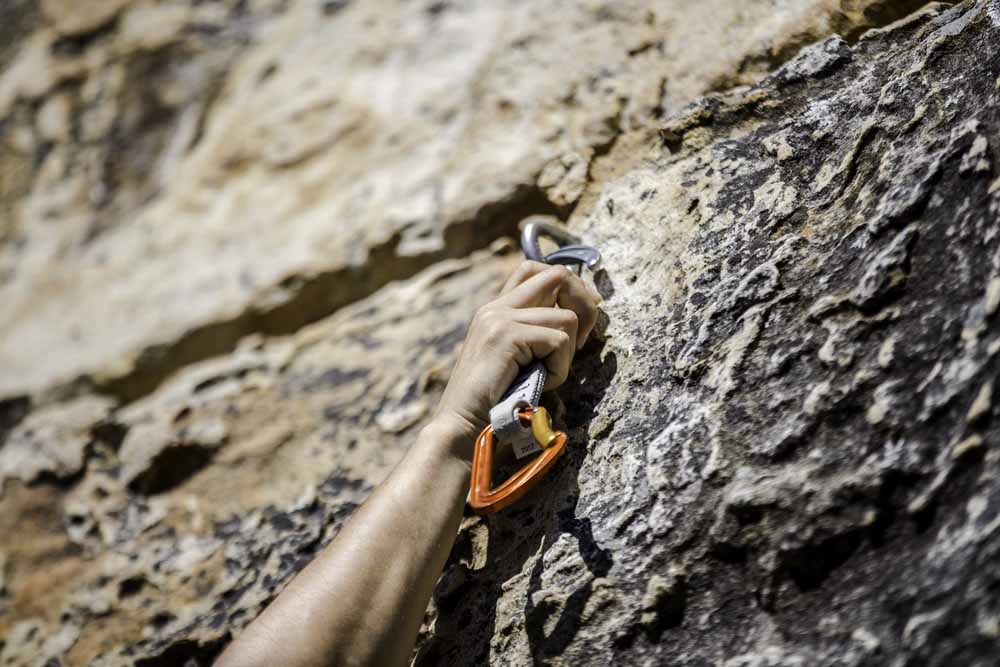 On sport climbing routes, the leader does not have to place active or passive gear into the rock. Instead, they use quickdraws to attach their climbing rope to the fixed bolts.
Quickdraws are two non-locking carabiners conjoined by a sewn piece of material called a dogbone. The types of carabiners, size and length of the dogbone, choice of material, and other subtleties can all be adjusted to make the ideal quickdraw.
Trad vs. Sport Climbing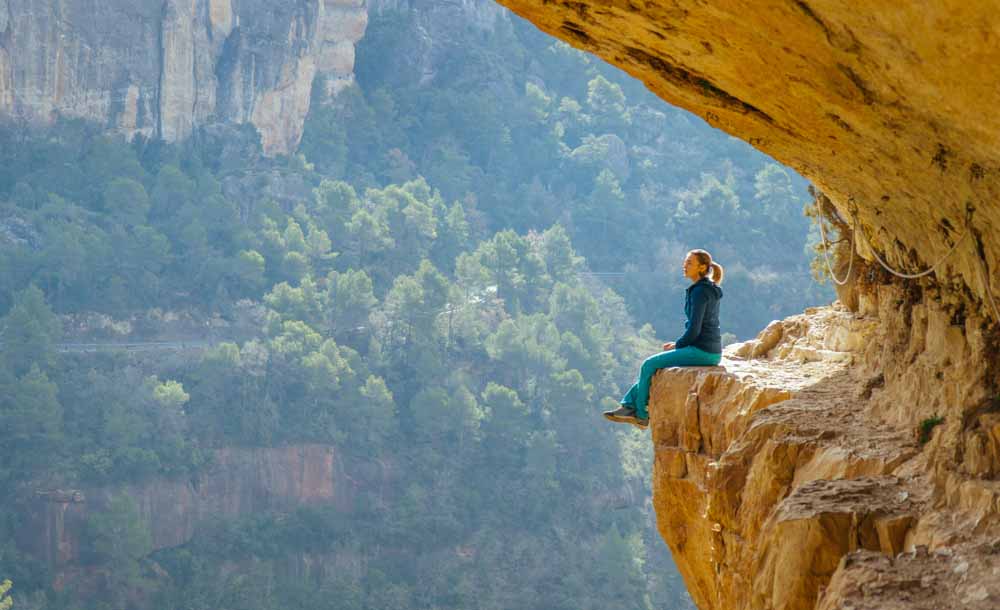 Trad climbing and sport climbing have a lot of differences that make the two disciplines distinct and unique. For example, I just briefly mentioned the differences between trad climbing protection and sport climbing quickdraws.
However, there are other important differences besides the climbing gear. So, without droning on about the minutiae of the two or attempting to debate which style of climbing is better, I want to point out some of the most critical differences.
Trad Climbing Requires More Protection Gear
Sport and trad climbing require a lot of the same equipment, like climbing ropes and harnesses. However, when it comes to the actual protection pieces, trad climbing requires a lot more.
To adequately protect a trad climb, the leader brings up a selection, or rack, of different-sized pieces. As they climb, they must strategically use the pieces on their rack to protect the climb.
On the other hand, protecting a sport climb is significantly easier and requires less equipment. Before leaving the ground, sport climbers can pre-plan how many quickdraws they need to clip the bolts and anchors.
You Must Assess Risk in Different Ways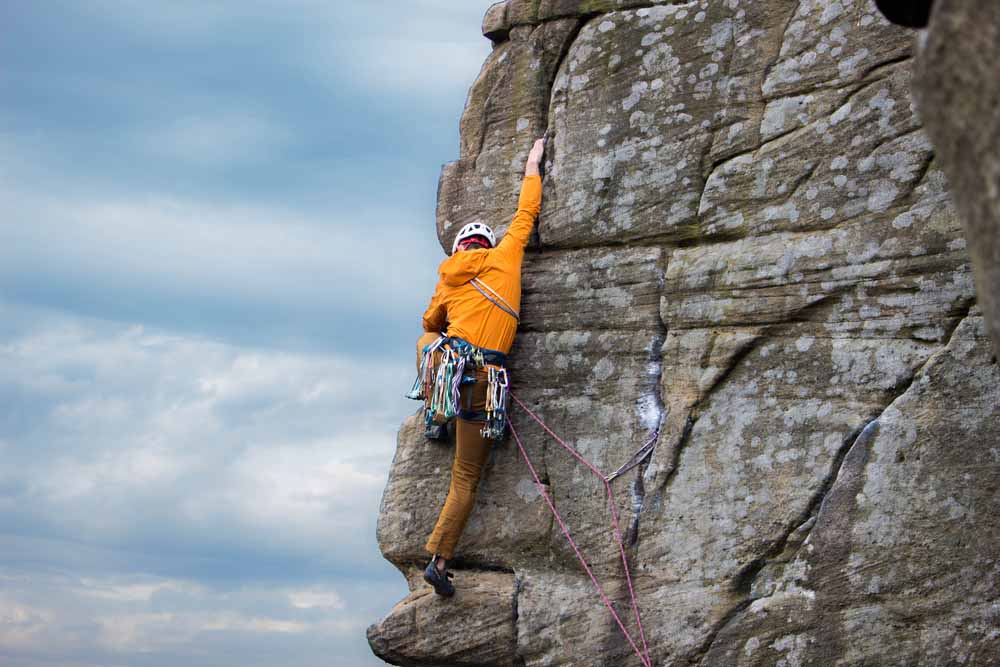 With both disciplines, the primary risk you are trying to assess and mitigate is a serious fall that could cause injury or death. However, how you assess that risk and the decisions you make can vary a lot in trad vs. sport climbing.
For example, in traditional climbing, you must decide when to place gear. And you must assess the quality of the rock and the quality of the gear placement when doing so. You must also assess other intricacies like rope drag and ledge or ground-fall potential.
In sport climbing, you have a preplanned route with pre-installed bolts that more or less dictate how and how you protect the climb to mitigate the risk of a severe fall.
The Climbing Techniques You Deploy in Trad Climbing Differ from Sport Climbing
Trad climbing is usually characterized by a style of climbing called crack climbing. Crack climbing is when you place your appendages into cracks and deploy different crack climbing techniques, like hand jamming, to gain upward progress.
On the other hand, sport climbing is normally characterized by face climbing. Face climbing is when you rely on external features on the rock face, like crimps, flakes, and pockets, to gain upward progress.
Sport Climbing Is Normally Faster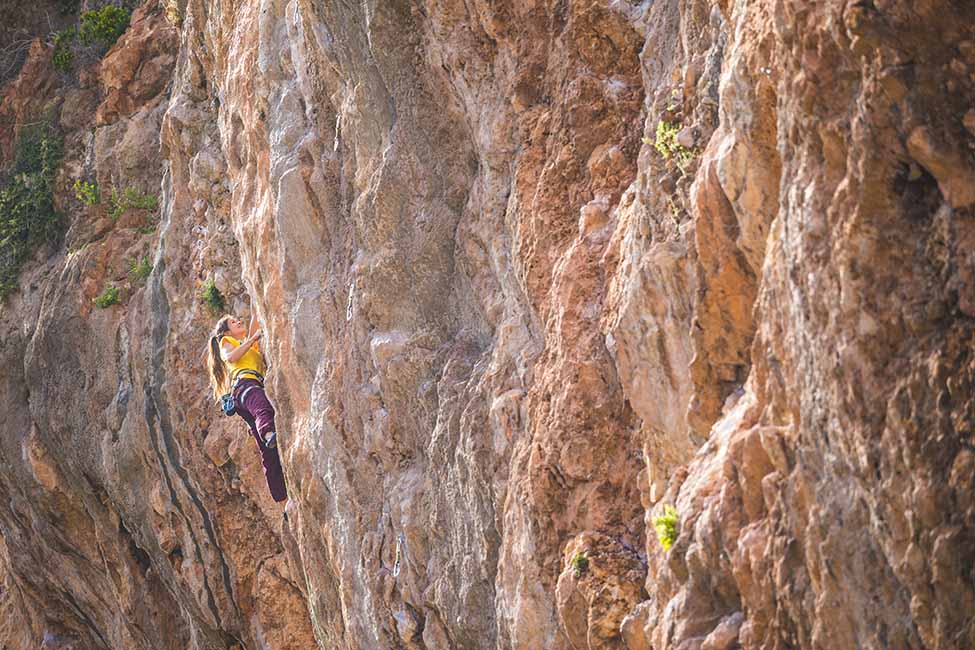 If you placed two climbers side by side on the same route and told one to clip bolts and the other to place gear, the climber clipping the bolts would probably finish first.
For the most part, sport climbing is faster than trad climbing. That's because the decision-making process for protecting a bolted climb is significantly less involved– you see the bolt, you clip the bolt.
In comparison, trad climbing requires climbers to monitor the climb for opportunities (cracks) to place gear, assess the crack size, select the appropriate sized piece from their rack, properly place it, and then clip it.
You Can Sport Climb Inside
Sport climbing is possible inside whereas trad climbing is not. Nowadays, modern indoor climbing gyms have huge walls with bolted sport climbs. You can get into lead climbing without ever stepping outside of the climbing gym and climbing real rock.
However, I have yet to see a climbing gym with trad climbing. Yes, some gyms have cracks where you can practice crack climbing techniques, but no indoor climbing gym will let you place your gear while lead climbing.
Sport Climbing and Trad Climbing Impact the Rock in Different Ways
Sport routes require drilling holes for bolts and anchors. Therefore, establishing sport climbing routes permanently alters the rock.
On the other hand, most trad routes don't require permanent bolts or anchors. On those routes, the trad climber places and removes all their equipment, leaving nothing behind besides chalk stains.
But that isn't always true. Some trad routes have bolted anchors for easier and safer top rope climbing. And some trad multi-pitch routes have bolted anchors for rappelling. Or, in some trad climbing areas, trees are equipped with webbing and rappel rings for descending.
Similarities Between Trad and Sport Climbing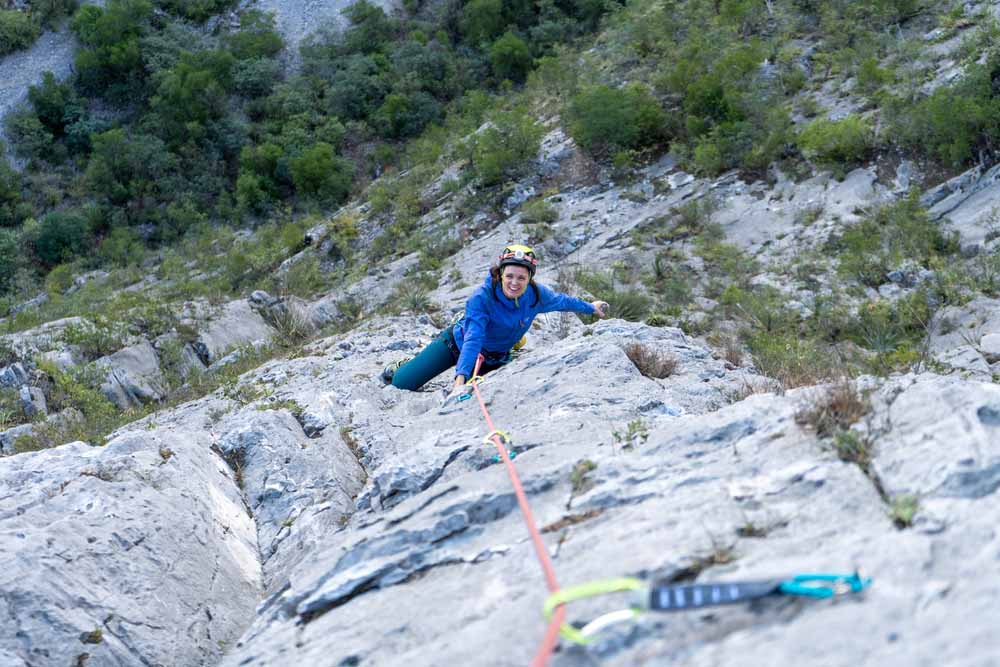 So far, I've only mentioned the differences between trad climbing and sport climbing. But what about the similarities? Of course, there are some of those also.
Both are dangerous: regardless of the discipline, rock climbing is dangerous and requires technical knowledge and nuanced decision-making to climb "safely."

Both are free climbing: whether you are sport climbing or trad climbing, you are free climbing. Free climbing is where you use protection equipment and only rely on your fingers and toes to climb up, and do not use aid gear to assist your ascension. This differs from "free soloing," which is free climbing without protective equipment.

Both offer physical challenges: the physical challenge you get from rock climbing is unlike any other sport. Both trad climbing and sport climbing contain a physical aspect that helps you exercise, lose body weight, build strength, and use muscles you never knew you had!
Trad vs. Sport Climbing: One is Not Better Than the Other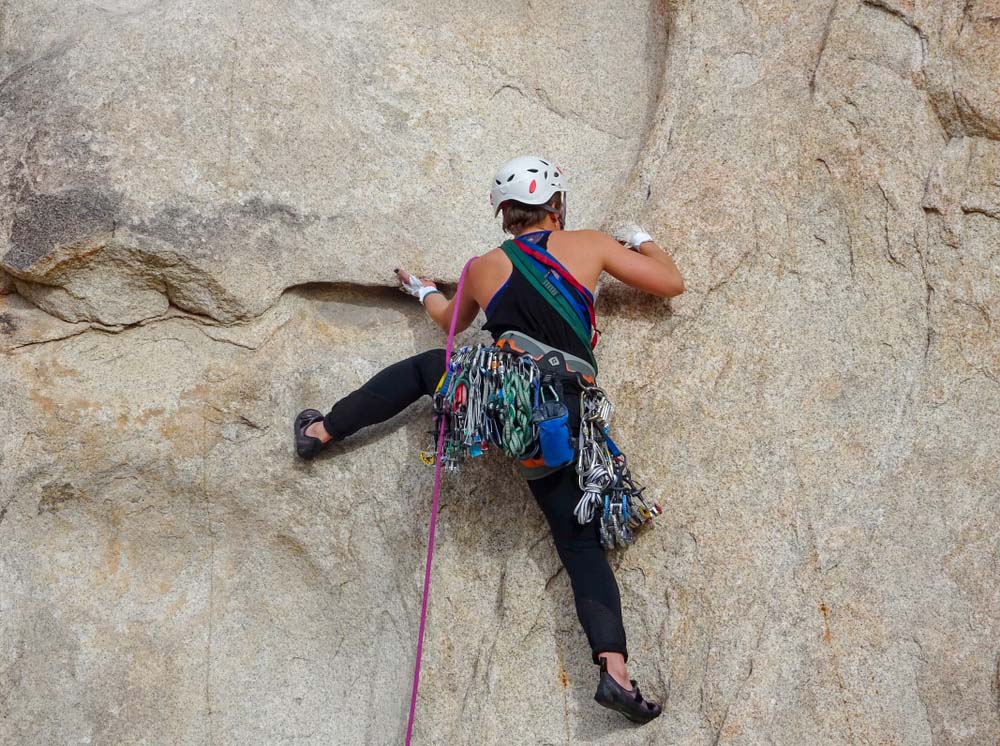 Many climbers get obsessed with arguing that one discipline of climbing is better than the other. In my opinion, trad climbing is not better than sport climbing. And sport climbing is not better than trad climbing. They are just– different.
I enjoy both, and I practice both disciplines. I appreciate what each discipline offers and how, by practicing both styles, I can become a more well-rounded and competent climber.
However, if you are just getting into rock climbing, I would recommend starting with sport climbing. You can learn indoors in a relatively controlled setting. Then, with the mental game and skills of a competent lead climber, you can learn about placing gear placements and expand your skills as a trad climber.