Non-climbers probably assume that climbing a route means one thing – you climbed it! But if you've been lead climbing for some time, you probably know that's not the case.
You can onsight or flash a route, both of which are different from a redpoint, which is different from a pinkpoint.
The terminology can be confusing. If you'd like to know more about these rock climbing terms so you can use them correctly in your climbing life, you're in the right place.
The next time you're sending a route on the sharp end of the rope, you'll be able to talk about it correctly!
The Importance of Terms
There are different ways to do a rock climbing route or boulder, and using the correct term when you talk about your own ascents (or those done by others) gives important context.
All of the terms we'll cover here refer to a climber climbing a route clean, meaning without falls and without resting on the rope. The terms are mainly used in relation to lead climbing, not top roping. Some of them can also be used in the context of bouldering.
Onsight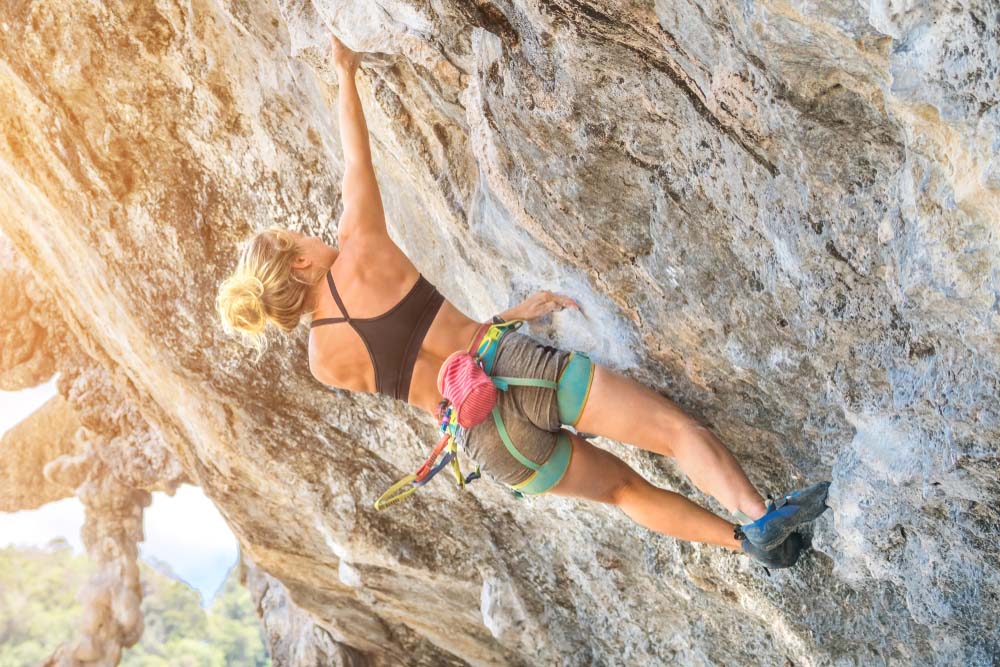 Onsighting a climb means that the climber sends the entire route on their first attempt, without prior knowledge of the climb. This can be in the context of sport climbing, trad climbing, or bouldering.
Onsighting is a climbing ability that can be developed and practiced! Some climbers excel at onsighting, while other climbers struggle.
Why is Onsighting Difficult?
Many climbers are especially proud of their onsight ascents, as it can be a challenging thing to do!
Being able to send on your first attempt requires you to have a strong mental game and read the route well. Figuring out how to use holds or where to put your feet can be hard, and if you mess up just one of these things, you can easily be off the wall!
Onsighting a sport or trad route also requires you to manage your pump, which can be difficult when you don't know what's ahead of you. Climbers who are good at onsighting know how to find and utilize rests on a climb.
It can be especially difficult to onsight trad routes, since in this scenario you also need to place trad gear. If you don't select the correct size piece of gear on your first try, you may find yourself getting pumped!
Flash
Flashing a climb is similar to onsighting in that it refers to the climber sending the route on their first attempt. However, the difference lies in the information the climber has: on a flash attempt, you can have as much prior information as you want about the climb before beginning.
You can't flash a route if you've top roped it in the past, but you can talk to others who have done it or watch beta videos to prepare.
Onsight versus Flash
You cannot both flash and onsight a route or boulder problem– your first try at the climb will be an attempt at one or the other. The choice of weather to onsight or flash is a personal one, and for most climbers it will depend on many factors.
The line between flashing a climbing route and onsighting it can be tricky, and many people have their own rules for exactly what constitutes each type of ascent. For example, some people think that on a trad climb, onsighting means you can't have any beta on what gear to bring. In contrast, other folks think that gear beta doesn't matter, and you can still onsight the climb even after you've been told what gear to bring.
Competition Climbing
In a climbing competition, climbers are mostly onsighting. They usually don't get to watch other competitors try the route or boulder problem before them, so all the information they get is what they can gather from looking at the climb from the ground. However, sometimes climbers in a competition will get multiple attempts on a climb within a limited amount of time. Therefore, only the competitor's first try has the potential to be an onsight.
Redpoint
So what happens after a failed first attempt on a climb? The climber has missed their chance to onsight or flash, but many climbers like to try routes multiple times until they do them without falling. If you're trying one of your hardest routes, it makes sense that you'll need multiple tries!
This method of trying a climbing route without falls is called a redpoint. When someone says a climber redpointed a route, it means that they sent the route after working the moves on multiple attempts. This term is mainly used in the context of climbing that requires a rope, like sport routes. People don't talk about redpointing boulders.
History
The term redpoint comes from the german term "rotpunkt". Red pointing got its start in the 1970s, as people moved away from aid climbing and towards free climbing. Kurt Albert, a famous German climber, began painting a red dot at the base of climbs at a crag near his home when the climbs had been climbed "free"– they had been climbed without the use of aid tactics.
This ushered in the era of modern sport climbing, where it's commonplace to redpoint climbs. Back in the 70s, when people saw a red circle at the base of a climb they knew this "red point" signified that it was possible to climb the route on lead without falling or aiding. Most sport routes don't actually have red dots anymore, but free climbing and trying routes multiple times has become the norm in sport climbing.
Redpoint Conflicts
Initially, there was conflict between climbers who redpointed routes and those who considered onsighting better style. Fort example, in 1986 Todd Skinner free climbed the famous 13+ tips crack City Park in Index, WA. It was the first ascent of the climb that was not an aid climb, and to climb the route Skinner used typical redpoint tactics, like sitting on the rope to rest and making multiple ascents before sending.
But this was the 1980s, and the locals didn't like Skinner's approach. So they tried to sabotage his redpoint by pouring railroad grease on the crack. But Skinner wasn't deterred, and he lit the railroad grease on fire to burn it off the crack– then sent the next day. If any redpoint ascent is brag worthy, it's got to be that one!
Although there are still people who consider onsighting to be the purest form of rock climbing, most people agree that a redpoint ascent is a completely valid way to ascend a sport route.
Redpoint Tactics
Just like onsighting, redpointing a route is a climbing ability that you can practice and hone over time. Climbers who are good at making redpoint ascents are strategic: they know which sections to practice and when to adjust beta. They are quick to learn the most efficient way up a route, and they are conscious of how much energy they have. Sometimes people may prepare for a redpoint attempt by practicing the route on a top rope first, while other times the process occurs fully on lead.
For example, let's say you try a sport route and fall three times, once at a crux down low and twice higher up due to getting pumped. To successfully redpoint the route, you might try the crux a few times until you can climb it successfully. Then you might try the route a few more times, finding resting positions and efficient beta so that you can avoid getting pumped in the upper section. Once you've figured all of that out, you'd be in a good position to redpoint the route!
Pinkpoint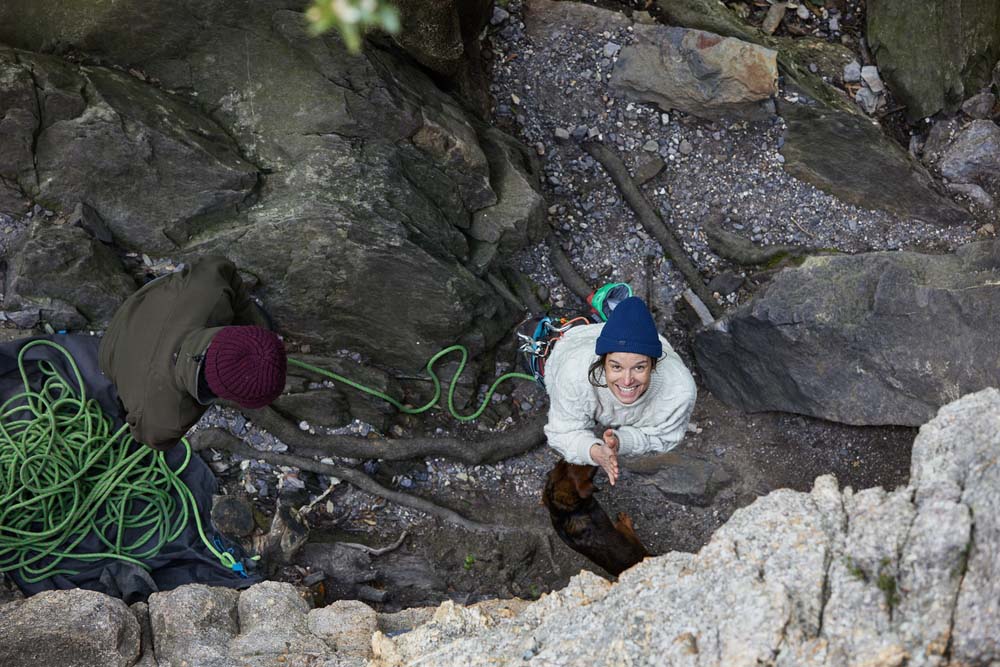 Pinkpoint is an increasingly rare term that is used in the context of sport and traditional climbing. It refers to the climber sending a route with preplaced gear, instead of placing gear on lead.
Pinkpointing a Trad Climb
When someone pinkpoints a trad climb, it means they send the route with their gear, such as cams and nuts, already placed. All they have to do is clip their rope into their gear as they lead, which removes some of the difficulty and danger.
Pinkpoint versus Headpoint
Pinkpointing is not the same as headpointing. The headpoint approach is a method of trad climbing where a climber first climbs route on a top rope to rehearse the moves and practice placing the traditional protection.
When the climber feels good about the gear and the moves, they try the route ground up. A climber can utilize this headpoint style to prepare for a pinkpoint attempt with preplaced gear, but they can also use it to prepare for a successful redpoint where the gear placements are done on lead.
Pinkpointing a Sport Climb
Many people send their sport projects with pre-hung QuickDraws. If you watch any professional climbing video, the ascent is almost always made this way.
Most people think that you can still claim the redpoint with pre-hung draws. However, some people dop consider a send of this type to be a pinkpoint, not a redpoint.
Many sport crags have entire routes equipped with permadraws, which encourages the idea that climbing on pre-hung draws is a valid way to send a route.
Conclusion on Climbing Terminology
After reading this article, you should have a good understanding of the differences between the terms onsight, flash, redpoint, and pinkpoint. As you continue to lead routes, you'll probably utilize all the tactics outlined here, and you'll gain a better understanding of when each is appropriate.