Even if you know little about rock climbing, you know about Yosemite Valley, El Capitan and have probably heard about the routes of El Capitan. El Capitan, meaning "the captain" or "the chief," is a 3,000-foot monolithic granite rock formation that towers over Yosemite National Park in the western state of California, USA. 
El Cap has been a spectacle ever since the first Native American laid their eyes on its gigantic walls and gave it a name.  However, it wasn't until the 1950s that El Cap became an objective for rock climbing. Firstly it was aid climbing, then trad climbing, and ultimately free-soloing.
Over the years, El Cap has continued to be an international destination, a mecca, for big wall climbers from all over the globe– most are repeating routes on El Capitan, and only some are bold enough to create something new. 
In this article, I want to talk about some of the most historically significant and interesting rock climbs on El Cap. To do so, I am using "Rock Climbing Yosemite Valley: 750 Best Free Routes," written by Erik Sloan and Marek Jakubowski, as my primary source, along with other sources. 
This is by no means a complete list. I'll start the climber's left (the West face) and move the climber's right to the East Buttress. 
West Face IV 5.11c or V 5.10 C1+
First Ascent: June 1967- TM Herbert and Royal Robbins
First Free Ascent: May 1979- Ray Jardine and Bill Price
In 1979, Ray Jardine led championed the push to free-climb the West Face. He was the perfect candidate because two years prior, he established Yosemite's first 5.13a, Phoenix, at Cascade Falls. 
Jardine was also responsible for inventing camming devices, which he called friends. His first-generation cams no doubt contributed to his and Price's ability to free-climb the West Face route with modern equipment instead of with aid climbing techniques.  
Free Dihedral Wall IV 5.14a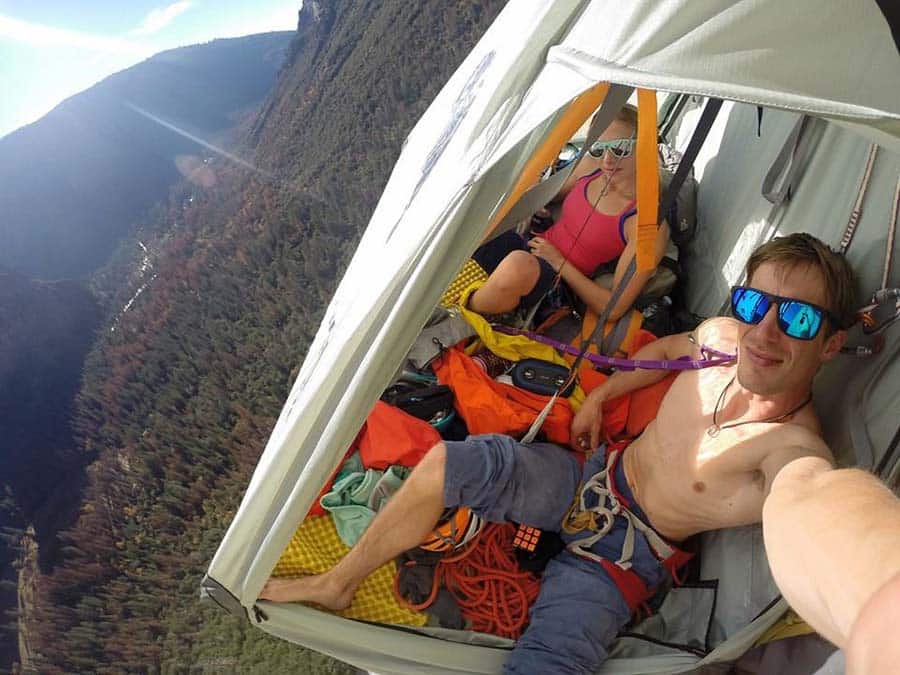 First Free Ascent: May 2004- Tommy Caldwell
The Dihedral Wall was one of Caldwell's earliest free routes on El Capitan. It's only the second climb on the formation to be graded 5.14a. The route is regarded as "stout" and "sustained" for the grade, which gives you an idea of just how difficult the climbing is. 
However, despite the difficulty, The Dihedral Wall was successfully repeated by the Dutch big wall climber Jorg Verhoeven in 2016. 
In many ways, the Dihedral Wall laid the groundwork for Caldwell's future endeavors on El Cap and crystallized his ability to free climb routes previously climbed on aid. 
Salathé Wall VI 5.9 C2 or VI 5.13b/c
First Ascent: 1961- Royal Robbins, Chuck Pratt, and Tom Frost
First Free Ascent: 1988- Todd Skinner and Paul Piana
First Female Free Ascent: 1995- Steph Davis
When the rope team of Robbins, Pratt, and Frost put up the first ascent of the Salathé Wall in 1961, the adventure was well ahead of its time. 
That's because the first ascent of the Salathé broke ground regarding big wall climbing ethics and laid the foundation for what would become known as "capsule style." Capsule style is when you leave the ground taking everything you might need with you, severing the lifeline to the ground via fixed ropes. 
After leaving the ground, Robbins, Pratt, and Frost toiled for only six days until they reached the summit of the Salathé. Robbin's capsule-style climbing ethic stood in direct opposition to the tactics employed by Harding and his crew just a few years earlier on The Nose.
This ignited a debate about "proper big wall climbing style" for any of the routes on El Capitan that is still hotly contested. 
Since then, the Salathé has become one of the most well-known and traveled big wall rock climbs in the world. For example, in 2018, the Salathé became the new focus of Adam Ondra's obsession with onsighting hard routes (climbing routes ground up without any prior attempts). 
Unfortunately, Ondra fell on the upper section of the headwall. Nonetheless, his dream of free climbing the Salathé was complete.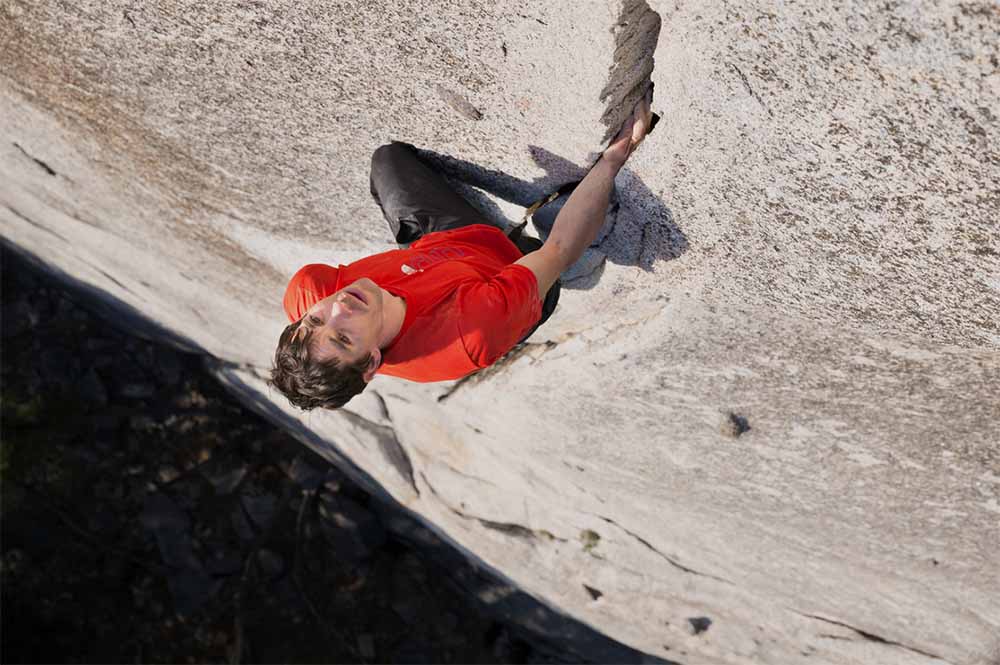 First Free Ascent: May 1998- Alex Huber 
First Free Solo Ascent: June 3, 2017- Alex Honnold 
Alex Huber was the first to climb the Freerider. Huber's route was a series of variations to the 1961 Salathé Wall route. Huber's creativity and vision created a 5.12d/5.13a linkup significantly easier than the original Salathé free climb, which was put up by Todd Skinner and Paul Piana and graded 5.13b/c.
Over time, the Freerider became the center of legendary free soloist Alex Honnold's attention. Honnold, who had already soloed routes on El Capitan like the West Face and East Buttress, now wanted to free solo "a real El Cap route."
So, in the Fall of 2016, Honnold began working the Freerider in preparation for a solo ascent. By the middle of November, he had done enough rehearsal to try to solo the route ground-up. 
When he left the ground, Honnold described that he felt "nervous" and "climbed poorly." Despite successfully climbing the crux of the Freeblast slab on pitch 5, Honnold grabbed a bolt and French-freed his way up the rest of the pitch. From Heart Ledge, he rappelled–failing to solo Freerider but still alive.  
The following Spring, Honnold returned to the Valley to continue rehearsing the Freerider. In particular, he created slight variations to the original Huber linkup to create a route that was more secure for free soloing. This was possible because he wasn't bound to cracks and seams traditionally used for placing protection– he could climb wherever he pleased. 
Eventually, in June of 2017, Honnold felt ready. He strolled to the base of the wall with nothing but shoes and a chalk bag and started climbing at first light. Three hours and 56 minutes later, after executing every single move of the 3,000-foot rock climb perfectly,  he reached the top. He became the first person to free solo one of the main faces of El Capitan without a rope. 
Golden Gate VI 5.13a
First Free Ascent: October 2000- Alexander and Thomas Huber
First Female Free Ascent in a Day: November 2020- Emily Harrington
The infamous Huber Brothers of Germany have freed Grade  VI and VII rock climbs on almost every continent where rock formations are massive enough to accommodate such sustained climbing. 
Besides their many feats in the Valley, like the first free ascent of Golden Gate, the Huber Brothers' most impressive first free ascent might be The Eternal Flame, VI 5.13a, on Nameless Tower in the Karakoram Range in Asia.
Twenty years later, after the Hubers, on November 4th, sometime after 11 pm at night, Emily Harrington topped out Golden Gate after a 21-hour and 13-minute ground-up push. 
The project to climb one of the routes of El Capitan in a day began after a successful six-day ascent of Golden Gate in 2015. To complete the project, she teamed up with Alex Honnold. Later in the route, Honnold jumared out, and Harrington's fiancé Adrian Ballinger rappelled in to take over belay duties.
Her successful ascent crowned her the fourth female to climb a route on El Cap in a day (less than 24 hours), cementing her in the history books with other legendary female big wall free climbers such as Lynn Hill, Steph Davis, and Mayan Smith Gobat.    
The Nose VI 5.9 C2 or VI 5.14a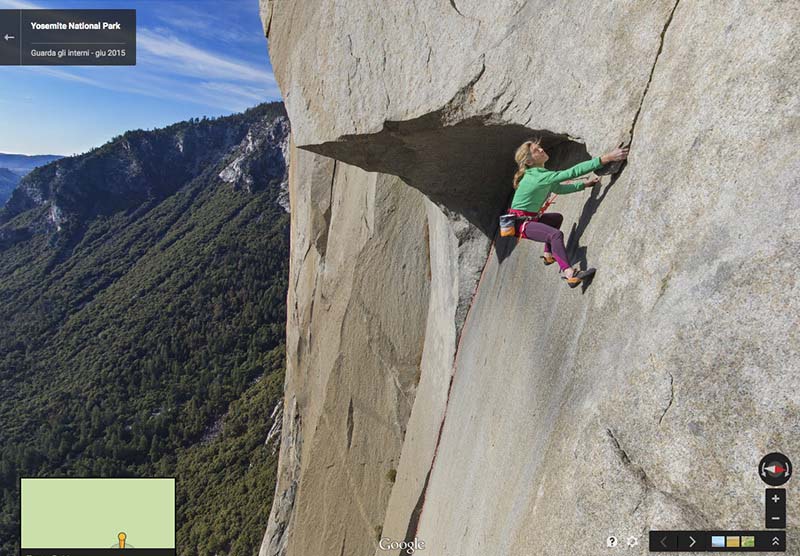 First Ascent: November 8, 1958- Warren Harding, Wayne Merry, and George Whitmore
First Female Free Ascent: September 1993- Lynn Hill 
In 1957, the south face of El Cap remained one of the most intimidating unclimbed pieces of rock in North America. Therefore, it became an obvious obsession for Warren Harding and his team of local friends, Dean Calderwood, Wayne Merry, and Geroge Whitmore. 
Over the course of the climbing season, Harding and his crew made slow progress up Nose. Oddly enough, they were in no big hurry, mostly thanks to their "siege style" tactics. By laying siege to the wall slowly over time, they kept ropes fixed to the ground, so resupplies of food, water, and wine were still possible (but a lot of work). 
When the winter came in 1957, Harding and his team rappelled to the ground without a summit. They left over 1,200 feet of climbing rope fixed up to the Dolt Tower. 
In 1958, the team of bold (and stubborn) first ascensionists returned to the Valley. In November, Harding, Merry, Calderwood, and Whitmore began climbing where they left off. A few days later, Calderwood retreated to the ground, leaving only three. Ten days later, they made it to the base of the last pitch of climbing– a 60-foot crack leading to another 120-foot blank and overhanging wall. 
Undeterred, Harding cast off into the night. In all, he drilled 28 bolts through the overhang. Then, on November 12th, 1958, the trio finally stood on top, and the first ascent of the Nose was made after 45 days spent on the wall spread over 18 months. 
Remarkably, their ascent of the nose was completed without cams or nuts, only pitons and bolts. They also wore no harnesses. Instead, they opted for seatbelt webbing wrapped around their waists called swami belts. To add to the suffering, they employed no hauling system. Instead, they prussiked up the fixed lines with duffel bags filled with supplies attached to their waists.
A famous quote by Harding accurately depicts what he and his rope team went through, "As I hammered in the last bolt and staggered over the rim, it was not at all clear to me who was the conqueror and who was conquered. I do recall that El Cap seemed to be in much better condition than I was." 
Later, in 1993, Lynn Hill became the first person to free-climb the Nose. After submitting, she was quoted saying, "It goes, boys," grading the climb at 5.13b. 
Hill's Free Nose route remained unrepeated until 2005 when Tommy Caldwell and Beth Rodden became the second and third persons to free climb it. They confirmed that the climb was harder, clocking in at 5.14a, which is where it stands today, making Lynn Hill the first person to establish 5.14 on El Cap.   
The Dawn Wall VI 5.14c/d
First Ascent: 1970- Warren Harding and Dean Caldwell
First Free Ascent: January 14, 2015- Tommy Caldwell and Kevin Jorgeson
In 1970, Warren Harding and Dead Caldwell were the first two climbers to successfully climb the nearly blank granite face of The Dawn Wall. 
Their ascent became national news after spending twenty-seven days on the wall and refusing a rescue. On top of El Cap, they were welcomed by a hoard of reports who wanted first dibs on the climbing story of the century. 
At the time, even an aided ascent with hammers, pitons, and nylon ladders was incredibly impressive. Little did they know that less than 50 years later, the route would go free.
Tommy Caldwell started projecting the Dawn Wall in 2007. For three years, he worked out the pitches, mostly by himself, because he couldn't find a partner crazy enough to accompany him. He often spent multiple days on the wall, memorizing beta and linking sequences.
In 2010, Caldwell attempted a ground-up ascent with the help of a series of belayers. He was shut down on pitch 10 when the rock became too wet to free climb. Afterward, he decided that he'd be better off trying the route with a partner. 
So in 2011, he began attempting the route with Kevin Jorgeson, a boulderer who had never been on El Cap before. That year they climbed up to pitch 12 before getting shut down. The next year, they continued working the middle and upper pitches of the route. 
In 2013 their luck ran out again. Caldwell became injured while hauling supplies, forcing them to postpone a ground-up attempt until the following year. 
In 2014, they returned to the Valley. They finally finished the remaining cruz pitches, setting the stage for a ground-up push. They left the ground on December 27th, 2014. 
Finally, after an accumulated eight years of projecting the climb, Caldwell and Jorgeson arrived at the summit on January 14, 2015, after spending over two weeks on the wall.   
Zodiac VI 5.7 A3 or VI 5.13c/d
First Ascent: 1972- Charlie Porter
First Free Ascent: October 2003- Alexander and Thomas Huber
The Huber Brothers absolutely dominated big wall free climbing between the 1990s and early 2000s. Alexander has five first free ascents on El Cap, of which his brother Thomas shares three. 
After a while, the Huber Brothers began repeating classic routes on El Capitan with a new agenda– speed. During their climbing careers in the Valley, the Hubers held the speed record on Zodiac (1:51:24) and the Nose (2:45:45). 
They went on to document some of their speed climbing ascents, creating a film called Am Limit (which translates to "To the Limit"), a film about their speed ascent of the Nose.    
East Buttress IV 5.10b
First Ascent: June 1953- Allen Steck, Willi Unsoeld, Bill Long, and Will Siri
First Free Ascent: July 1964- Frank Sacherer and Wally Reed
In the 1950s and 60s, Steck was on a first ascent spree in the Valley, with newly established climbs on the Sentinel and Yosemite Point Buttress. Logically, he eventually pointed focus towards El Capitan. 
Like most climbers, Steck was inspired by the enormous and steep walls of the Capitan but also, like most climbers, decided it was too massive of an undertaking. So, instead, Steck and his rope team ventured to the beautiful black and gold buttress on the far eastern flank.
After three attempts, they finally reached the top of the climb in 1964.  According to the first ascensionists, it's far from a big wall climb. In reality, they never even considered it "climbing El Cap." 
Nonetheless, the East Buttress of El Cap is one of the most classic multi-pitches in the Valley. That's because it's known for having a wide variety of classic pitches that clock in at a moderate grade, even for free climbing. 
Final Thoughts on the Routes of El Capitan

For many, even stepping foot in the Valley is a bucket list experience. To touch the stone on El Cap and attempt a route is even better. 
If you can venture onto the walls of the United States' most famous granite big wall, consider yourself lucky. Tread lightly. Soak it in. And bask in the glory.