Chris Sharma is a legendary rock climber who made history by becoming the first to conquer 9a+, 9b and second ever to send 9b+ sport routes.
With a career spanning over two decades, Sharma has revolutionised the sport, set new standards in Deep Water Soloing and been a prolific bolter of new routes, creating test pieces for the next generation.
He is widely regarded as one of the greatest climbers of all time and has inspired countless others to push the limits of what is possible.
Chris Omprakash Sharma was born on 23 April 1981 to Gita Jahn and Bob Sharma.
He grew up in Santa Cruz, California, where his parents were devotees of the yogi Baba Hari Dass. His parents' spiritual practices and values had a significant influence on his upbringing and later philosophy on life.
Sharma attended Mount Madonna School, situated near Mount Madonna, and then moved to Soquel High School, also located in Santa Cruz, California.
He only attended for a year before leaving to pursue his passion for rock climbing.
Sharma started rock climbing when he was 12 years old at the Pacific Edge Climbing Gym in Santa Cruz. His natural talent and gifted nature in the sport quickly became apparent and he began to make a name for himself in the climbing community.
During his early years as a climber years, Chris' talent was evident.
At just 14 years old after only 2 years climbing, he competed in and won the adult 1996 US Open Bouldering Nationals, a remarkable achievement for someone so young and relatively new to the sport.
The following year, at the age of 15, Sharma achieved another incredible feat by freeing Boone Speed's project Necessary Evil, 8c+, in the Virgin River Gorge, Arizona.
At the time, it was considered to be the hardest sport climb in the US, and the ascent was a significant moment in climbing history.
In 1998, Sharma continued to make waves in the climbing world by winning a silver medal at the biennial UIAA World Championships in Paris for lead climbing.
He followed this up with a gold medal at the Kranj leg of the UIAA World Cup, solidifying his position as one of the most promising young climbers in the world.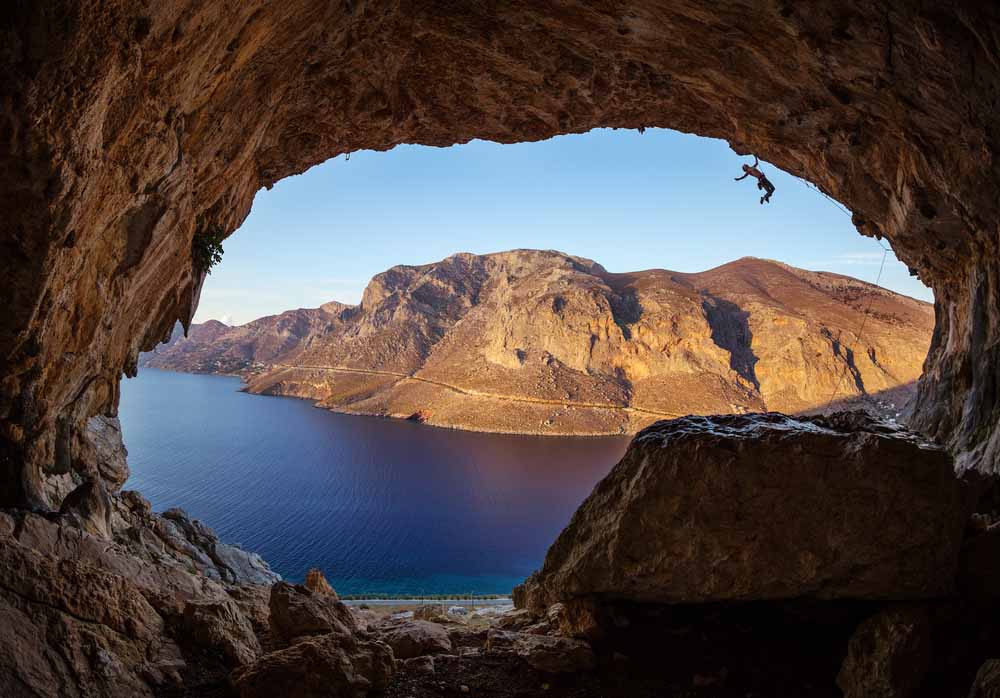 Chris Sharma's climbing career really began to take off in the late 1990s and early 2000s with a series of ground-breaking ascents.
In 1999, he moved to Bishop, California, to concentrate on bouldering and starred in the 1999 film Rampage.
In 2000, he made the first ascent of The Mandala, V12 in the Buttermilks, a climb that was considered too difficult for decades.
In 2001, Sharma made history in sport climbing by sending Realization/Biographie, the first 9a+ climb in the world, at Céüse in France, at the age of 19.
This was a landmark ascent and marked the first increase in climbing difficulty since Wolfgang Gullich's Action Directe.
At the time it was the hardest climb in the world.
The send was captured in the 2002 film Dosage Volume 1, though the naming of the route caused some controversy.
When Jean-Christophe Lafaille bolted the route in 1989 he called it Biographie. When Arnaud Petit first freed that lower part of the route he placed an anchor to mark the end of the first shorter and easier pitch.
Chris sent and named the full extension Realization to differentiate it from the lower pitch, without realizing that in France, the person who bolts the route gets to name it.
Both names are now used interchangeably and the small controversey caused more confusion than anything else.
Over the next few years, Sharma continued to push the limits of climbing with notable bouldering ascents.
These included:
Practice of the Wild, V15, in Magic Wood, Switzerland in 2004.
Witness the Fitness, V15, in the Ozark mountains in 2005.
Following on from these, in 2005, he also sent Dreamcatcher, 9a, in Squamish, British Columbia, one of North America's most iconic sport climbs.
In 2007, Sharma made the permanent move to Leida, in Catalunya, where he continued to develop his climbing career.
He made the first ascent of Papichulo, 9a+, in May 2008 and Jumbo Love, 9b, one of the hardest climbs in the world at the time, in September 2008 at Clark Mountain in the Mojave desert.
In 2012, he made the second ever ascent of a 9b+ climb, La Dura Dura in Oliana, which he had bolted in 2009 as one of his many next level projects.
The climb was the subject of the film Reel Rock 7: La Dura Dura, featuring the process of he and Adam Ondra working the route together.
In 2015, he ticked El Bon Combat, 9b/+, in Cova de l'Ocell. The consensus among repeat climbers for the grade being 9b.
Whilst over the subsequent years Chris' focus shifted slightly to a young family and business interests, he continued to project routes of the highest grades.
In 2023, he made the first ascent of Sleeping Lion, 9b+, in Siurana's El Pati sector, home to other benchmark climbs like La Rambla and Estado Critic.
Of his many bolted lines, his project Le Blond, named in memory of Patrick Edlinger, still remains unclimbed and we can only speculate about the grade.
Deep Water Soloing (DWS) has been a significant part of Sharma's climbing career.
After achieving the first ascent of Biographie/Realization in 2001, he felt burnt out and considered quitting climbing altogether. However, meeting Miquel Riera, a pioneer of DWS, reignited Sharma's passion for the sport.
Chris since become a big developer of DWS, exploring new routes and pushing the limits of what is possible.
One of his most notable accomplishments in the discipline is Es Pontas, a 9a+ route that he completed in 2007. This impressive climb, which features a massive arch and typical Sharma-like dyno, was later featured in the film King Lines.
After Es Pontas, in 2016, Sharma made the first ascent of Alasha, a circa 9b route located in the Balearic Islands of Spain.
This climb, which features a challenging crux with heart-stopping fall potential, was considered one of the hardest deep-water soloing routes ever climbed. Jakob Schubert is the only other climber to repeat the line, suggesting a grade around 9a.
Bolting and Opening Routes
After his move to Spain and from his base in Leilda, Chris started prolifically bolting hard projects and "King Lines" all around Oliana, Siurana, Santa Linya, Margalef, plus other areas in Spain.
These routes paved the way for the next generation of top climbers in the world to come, train and push their boundaries.
Some of the notable routes he bolted during this period include:
Papichulo (9a+)
Golpe de Estado (9b)
Neanderthal (9b) 
First Round First Minute (9b)
Fight or Flight (9b+)
Stoking the Fire (9b)
In addition to these routes, he also bolted La Dura Dura in 2009, which he sent in 2013. Some other remarkable lines from this period also include:
Pachamama (9a+)
Catxasa (9a+)
Joe Mama (9a+)
Chaxi Raxi (9a+)
Power Inverter (9a+)
First Ley (9a+)
American Gangster (9a+)
Chaxiraxi Extension (9a+)
Rollito Sharma Extension (9b)
Perfecto Mundo (9b+)
Overall, Sharma's opening of these routes and his climbing accomplishments during this period solidified his reputation as one of the greatest climbers in the world.
Chris is known for his natural and gifted ability as a climber and is known to have progressed by working extremely hard routes, in comparison to specific periodization and extraneous strength and conditioning.
He has said that he uses fingerboarding sparingly, preferring to focus on climbing on rock as much as possible. He believes that actually climbing is the best way to improve technique and build finger strength.
Periodization and training in a more structured manner has been a more important part of Sharma's routine over the latter years. Each cycle is focused on a specific goal or aspect of climbing, varying intensity, volume, and frequency throughout cycles.
He is known to train with good friend Patxi Usobiaga, a former world champion climber and now climbing coach.
Over the years Sharma has had a number of sponsors. 
He has been sponsored by Five Ten, Evolv, and currently Tenaya for climbing shoes, where he's played a role in the development of shoes for each of these brands.
His collaboration with Five Ten resulted in the development of the popular Anasazi line of climbing shoes. With Evolv this resulted in the popular Shaman and Pontas models.
Other than footwear, he has also had long-term sponsorship with Petzl and Prana, providing him with harness and technical equipment plus general clothing.
Sharma has also worked with the company ClimbSkin to develop a line of skin care products specifically for climbers.
Chris has not only been a successful climber but also a successful entrepreneur.
In 2013, he founded Sender One, a climbing gym in Santa Ana, California, in partnership with Walltopia, one of his sponsors at the time.
The gym has since expanded to other locations in Los Angeles and Austin, Texas.
In 2015, he opened Sharma Climbing BCN, a bouldering gym in Barcelona, Spain. Following the success of Sharma BCN, he opened another, Sharma Climbing Gava, on the outskirts of Barcelona in 2021, despite the challenges of the COVID-19 pandemic.
He equally opened a third Sharma gym during the pandemic in the Chamartín neighborhood of Madrid.
On top of all this he's also been involved in the film industry.
In 2023, a new HBO series called The Climb is set to be released, with Sharma serving as co-host with good friend Jason Momoa.
In 2015, Chris married Venezuelan model Jimena Alarcon.
The couple welcomed their daughter, Alana, to the world in June 2016, and a son in 2019.
Chris has been relatively open about his interest in spirituality, religion, and philosophy.
Growing up, his parents were Buddhists, and he was exposed to meditation and Eastern philosophy from a young age.
He has spoken about how this has influenced his approach to climbing, and how he sees climbing as a way to connect with the natural world and explore his own spirituality.
The importance of mindfulness and being present in the moment, both in climbing and in life is a topic that he has touched upon.
Chris Sharma's legacy is marked by his significant contributions to the climbing world.
His groundbreaking first ascents of numerous hardest routes in the world at the time, his pioneering work in DWS and his development of some of the world's most iconic climbing areas have all been pioneering.
His influence extends beyond his climbing achievements, as he has also created successful businesses and inspired countless climbers through his dedication to the sport and his passion for its community.
His legacy is sure to continue shaping and inspiring the world of climbing for generations to come.
Some of the most famous films featuring Chris:
Free Hueco (1998)
Rampage (1999)
Pilgrimage (2003)
Dosage (Volumes 1 to 5)
King Lines (2007)
Progression (2009)
Reel Rock (5, 7, 12)