Het Lab Amsterdam is a great gym offering something for all levels and a great training area. We love the old chesterfields and fire pits to chill out between boulders.
 Monthly members benefit from De Klimmuur network in Amsterdam, also providing access to Beest Boulders for free. Klimmuur Centraal can also be added for a little extra, which is great for leading or top-roping.
Given the rather flat nature of the Dutch countryside, the Netherlands and more importantly Amsterdam, is not the first place where you would expect a high concentration of bouldering gyms.
Het Lab Amsterdam, part of the Beest Boulders and De Klimuur network, is one of these top choices. In this article, we'll discuss this bouldering location and whether you're in Amsterdam for a short trip or looking to train long term then this gym is definitely worth checking out. 
A Brief History and Introduction to Het Lab Amsterdam
Het Lab was Beest Boulders first location in Amsterdam and opened it's doors in 2017,  focusing only on bouldering.
An extremely popular gym, it used to get packed by the after-work crew in pre-COVID times. Since then however Beest opened their second location in the Dutch capital, Beest Boulders Amsterdam, and this has allowed some of the crowd to overflow there.
You'll therefore find that it gets busy in the evening, but never overcrowded and if you're looking for a quieter session away from the hustle-and-bustle then this location is good option.
The early morning opening is also now left to Beest Boulders as well. Het Lab opens its doors at 12pm during the week.
The Het Lab Amsterdam Venue
Het Lab is situated just out of the way, in the northwest of Amsterdam, a short 16 minute bike ride from Amsterdam Centraal station. It serves those living in the center or west well, but may be just slightly too far for those living closer to De Pijp in the south or east Amsterdam.
It's just behind Westerpark in one of the industrial areas and boasts a Burger King just outside, if you ever feel like a Whopper just after a climbing session!
The building resembles an industrial warehouse with elevated windows and exposure roofing, your typical venue for bouldering gyms. With a total floor area of over 1500m2, this place has lots of room and uses it well without overpacking.
As well as being a bouldering gym Het Lab also has lots of open plan working areas on the second floor. This area is mainly for (co)working, meeting rooms and hosting other events or classes. You can therefore easily spend the afternoon working and climbing there.
The Boulders And Route Setting
There are 6 large bouldering walls covering the sides of the warehouse on the ground floor as well as 1 free standing boulder. On the second floor there's equally a small children's wall, plus a second slightly off-vertical wall for everyone.
All different angles of wall are covered, starting at slabby and vertical near the entrance which leads to off-vertical and steeper overhangs further within the gym. There are no tunnels but there is a very small arch in one location.
In terms of very steep or roofs, there's 4 small areas spaced out around the different areas of the gym. If you really want to get some practice in on roofs or more overhangs, Beest Boulders has perhaps slightly more choice in terms of surface area, although only marginally and you may barely notice the difference.
The boulder problems are conventional and the route setters do generally a good job of creating a massive variety of problems that accommodate different styles, body types, and skill levels.
The volume of problems set are definitely geared towards the beginner and intermediate climber levels, as in most gyms. The setting difficulty generally feels correct and the problems aren't as reachy as they can be in other gyms in Amsterdam. 
The boulders are not overset and the grades are evenly spaced out. This means no overcrowding of certain boulders and all kinds of experience levels are consequently mixed together.
Bouldering Colours & Grades
The bouldering grades follow the Font scale. A nice touch is that the problem colours are consistent with Beest so if you're already familiar with their grading there'll be no confusion.  
The colours are as below with the addition of the competition circuits which are lime and pink.
Beest Boulders Amsterdam Bouldering Colours

Colour
Grade
Green
3
Blue
4
Black
5A/5B
Purple
5B/5C
Red
5C/6A
Orange
6A/6B
Yellow
6B/7A
White
>7A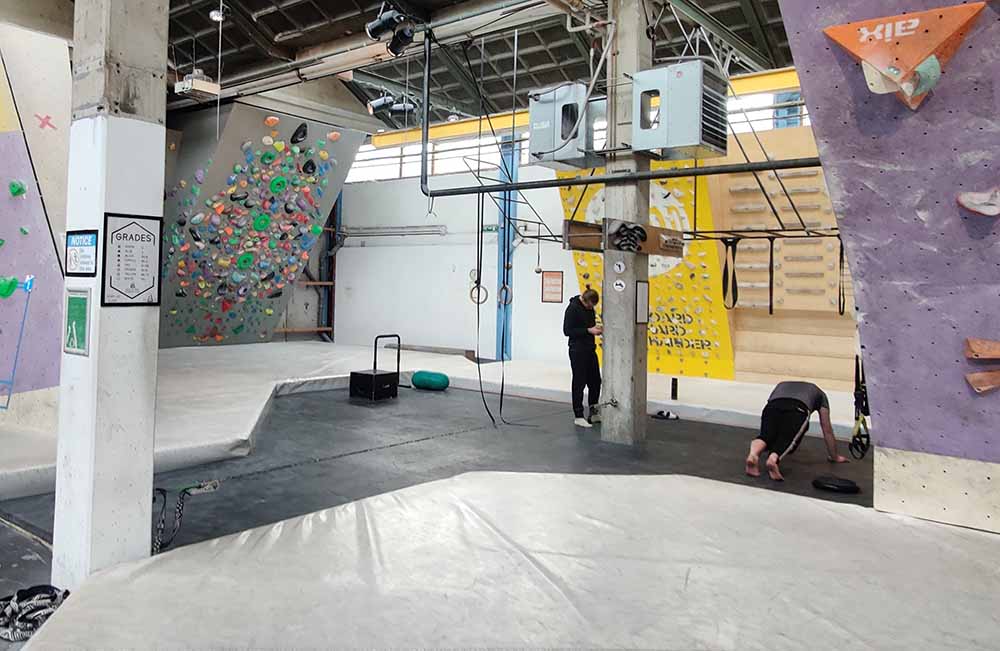 This is one of the standout areas in the gym and being slightly isolated from the rest of the central area means that it generally stays quiet. This is ideal for those training more seriously or performing fingerboard training.
There are 3 spray walls at different angles, a Moon board, as well as different width campus boards, four finger boards plus a peg-board. The spray walls are all set with artificial holds but if you need wood because of sore fingers then the Moon-board has you covered.
A steel frame hangs down from the ceiling and can be used for any hanging body-weight exercises.
There's also:
A barbell and some bumper plate weights
Kettle bells
Skipping ropes, resistance bands
Gymastics rings
Yoga mats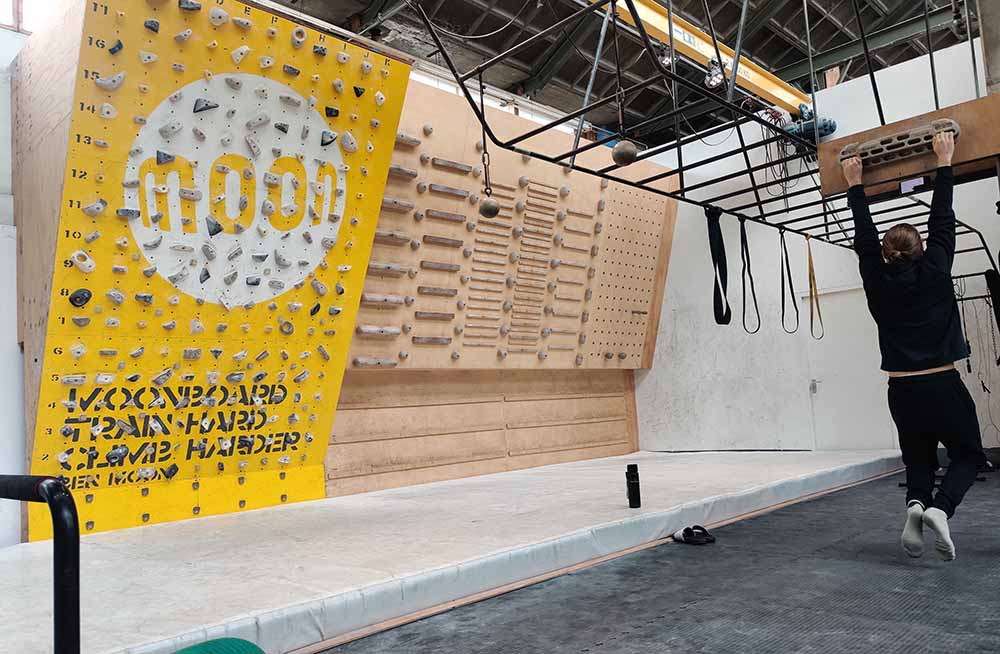 Unfortunately, there's no benchpress or squat rack although there is a barbell. These would be a nice touch for those really serious about strength and conditioning training and trying to avoid a further gym membership. Unfortunately this seems to be the case in most climbing gyms.
Finally, a nice touch is the permanent slack-line. This is great fun to work on your balance between sets.
Like the younger sibling, Beest Boulders, this place has a lovely mellow vibe and comfy areas to sit back and relax in.
The retro leather chesterfield couches and armchairs placed around the fire-pit are a great touch, with the only problem of enticing you into resting perhaps slightly too long between attempts on the boulder problems. 
Like many places in Amsterdam, the atmosphere is extremely international. You'll hear more English or even French than anything else and it's definitely an area where you can socialize with and meet fellow climbers. 
There's a café and bar area in the center of the venue plus a large outdoor area with benches and deck chairs where you can enjoy the sun in those warm summer months. 
They serve the usual bar food such as fries, burgers, salads and a variety of other snacks. There's equally local Dutch beers on tap and a selection of non-alcoholic drinks.
Facility wise there's the classics: toilets, lockers (bring your own padlock), changing rooms with a few showers. Nothing fancy but nothing missing. 
At the time of writing:
Single entrance adult (over 18 yrs): 16.5 €
Single entrance youth (10 – 17 yrs) : 14.5€
Single entrance children (<9 yrs): 8.50€
Monthly membership adult: 50€
Monthly membership youth: 42.50€
The monthly memberships get you entrance to Beest Boulders, not very far away. You can even supersize this to include Klimmuur Centraal for an additional 10€; definitely worth it if you want to lead or toprope.
Our Take on Het Lab Amsterdam
Het Lab Amsterdam is definitely one of the top choices for bouldering in the Dutch capital along with sister gym Beest Boulders. There's really something for everyone and in the summer months the outdoor area is great to relax with a beer in or pop over to the Westerpark before or after your session.
The only problem with Het Lat is that you have to decide whether to go there or Beest Boulders which is literally a 3 minute cycle away and has a newer feel. It begs to be seen how long both venues will remain open or if perhaps Beest Boulders will open another venue in a less-well-served area of Amsterdam.
Nevertheless, you're spoilt for choice and for those looking for a quieter session, Het Lab has you covered. All that's missing for this place to be top-notch is a sauna for recovery and a weight bench in the training area.
What did you love or hate about Het Lab in Amsterdam?