Beest Boulders is a great addition to the Amsterdam bouldering scene and straight away one of the most popular locations. Awesome for the beginners all the way to the more hardcore.
 Monthly members benefit from De Klimmuur network in Amsterdam also providing access to Het Lab for free. Klimmuur Centraal can also be added for a little extra, definitely great for leading or top-roping.
The Amsterdam climbing scene, like many other, has been getting more and more new additions, especially bouldering gyms, as the craze grows from the niche climbers through to hipsters, artistes and tattoo covered beared intellects.
Enter Beest Boulders, the latest addition to this scene. In this article, we'll discuss this new location and whether you're in Amsterdam for a short trip or looking to train long term then this gym definitely has something for you.
A Very Brief History of Beest Boulders Amsterdam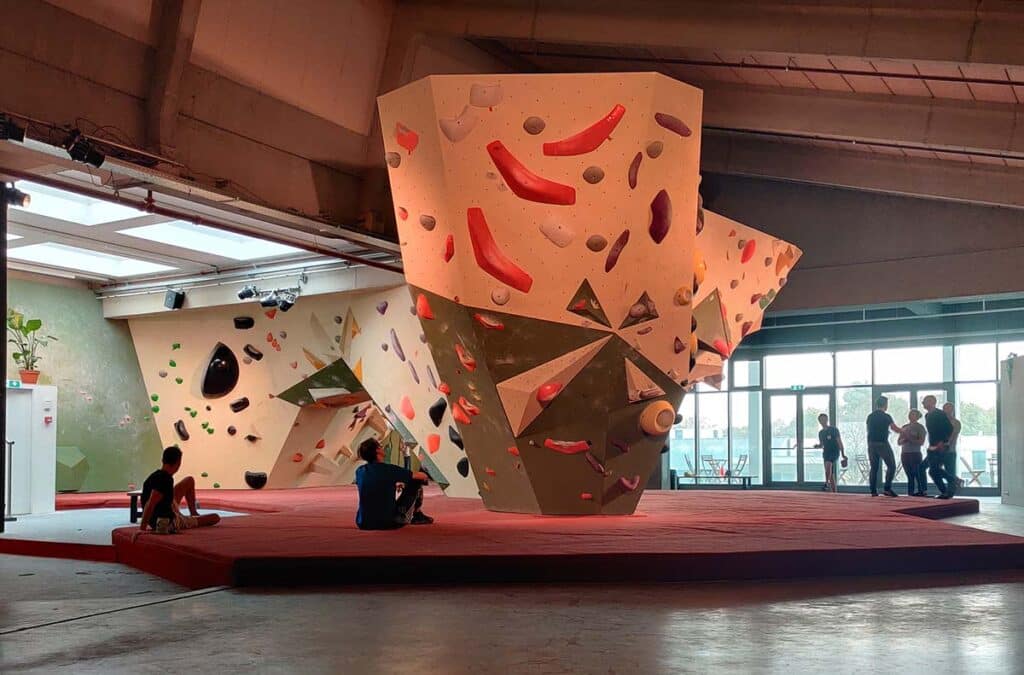 At the height of those dark winter COVID pandemic months in Amsterdam, Beest Boulders had the hugely unenviable task of opening their brand-spanking new gym.
Already fully invested nothing would stop this crew from opening their second bouldering venue in Amsterdam and 6th in the Netherlands.
Located perhaps slightly too close to her older brother Het Lab in the west, the opening was welcome and has finally allowed the ever growing packed evening crowd from Het Lab to overflow somewhere else.
Boulderers in the Dutch capital now markedly find themselves spoilt for choice. In fact Amsterdam nearly has as many gyms as London and twice as many as Barcelona whose population is approximately twice the size of the Dutch capital!
The Beest Boulders Amsterdam Venue
Located a convenient 13 minute cycle from Amsterdam Centraal station, the first thing that stands out when entering Beest Boulders in Amsterdam, other than the giant boulder at the top of the stairs, is the huge open venue itself.
Located on the first floor of the long continuous building that runs parallel to the Westelijk Marktkanaal, this giant rectangular space has continuous bay windows on both sides, making it extremely bright and well lit.
The interior therefore feels very bright and airy, with lots of open space separating the bouldering walls that are placed around the central floor area.
Climbing gyms are often developed inside older industrial buildings and can be dusty, dark, or slightly cramped. Luckily, you'll never experience that at this location, or even in most of Beest Boulders climbing gyms.
In the grey winter months this bright, airy space full of natural light will give you the impression of being outside, but all in comfort of the warmth.
The Boulders And Route Setting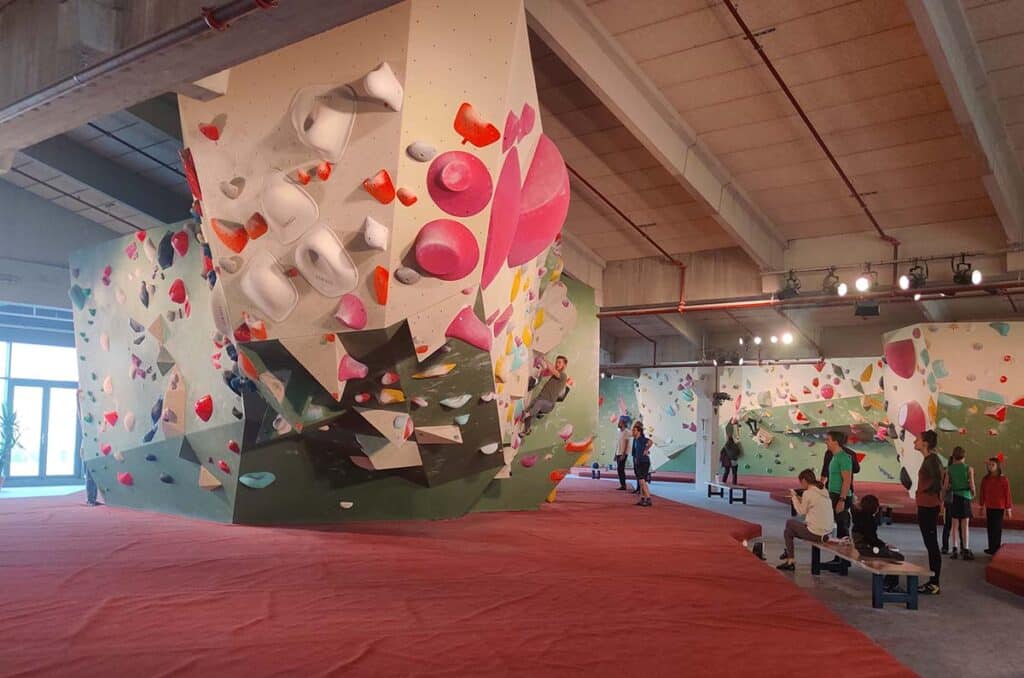 Instead of being in the central gym area, surrounded by bouldering walls on the sides of the venue, here the problems are all mainly set on free-standing boulders.
Overall there are 5 giant freestanding boulders and two bouldering walls. All angles are covered: slab, vertical, off vertical, overhangs and 3 roof-like sections. There are no tunnels or arches.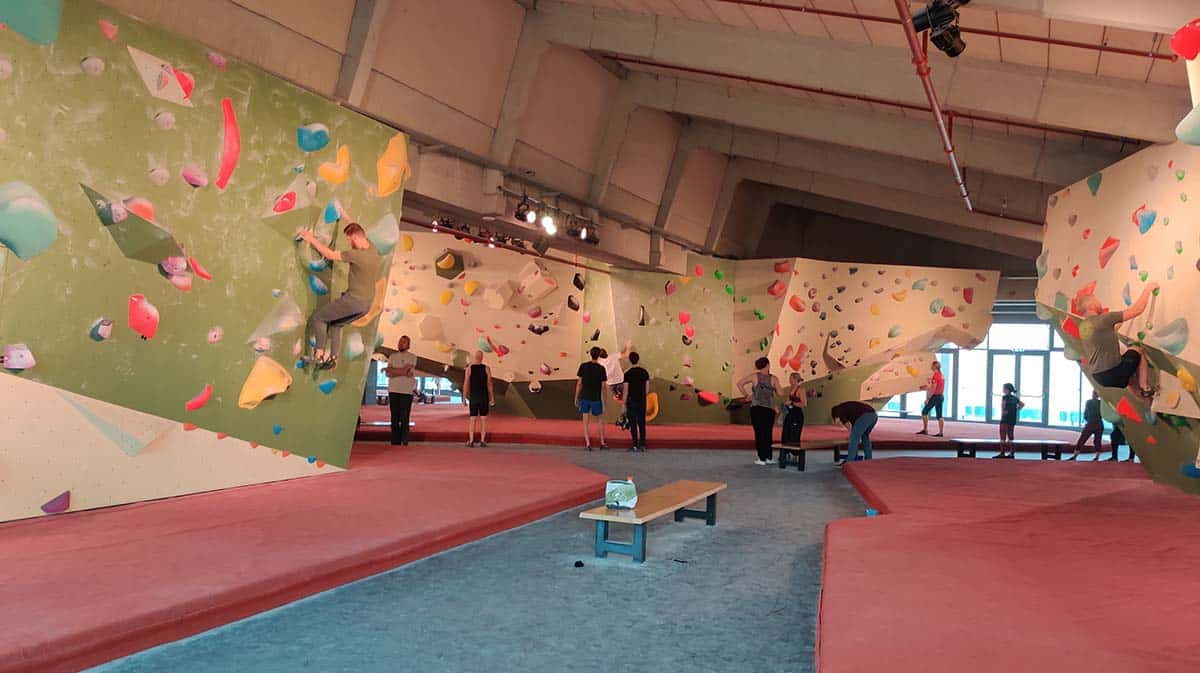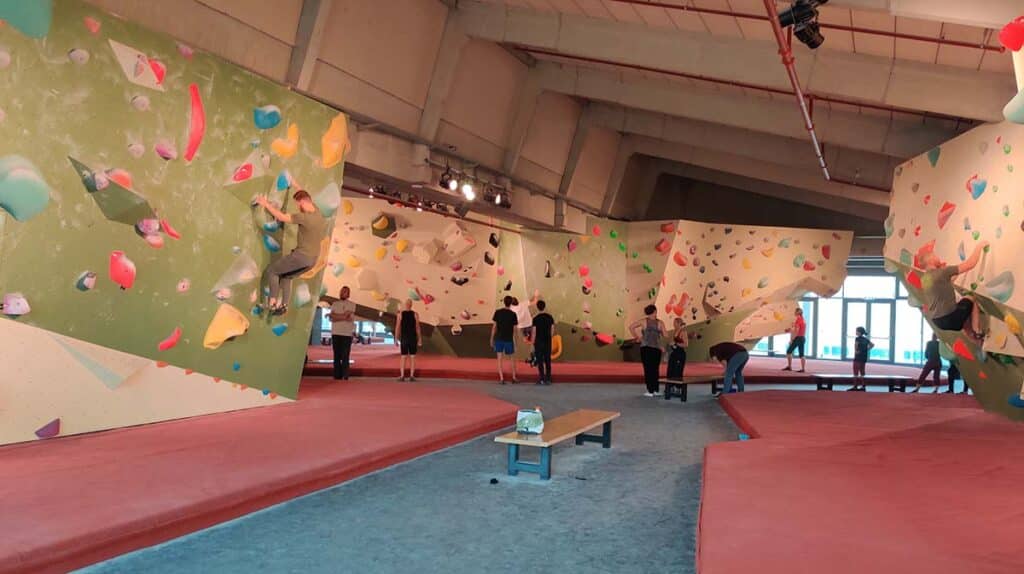 The boulder problems are conventional and the route setters do a fantastic job of creating a massive variety of problems that accommodate different styles, body types, and skill levels.
The setting difficulty generally feels correct and the problems aren't as reachy as they can be in many Dutch gyms. 
The boulders are not overset and the grades are evenly spaced out. This means no overcrowding of certain boulders and all kinds of experience levels are consequently mixed together.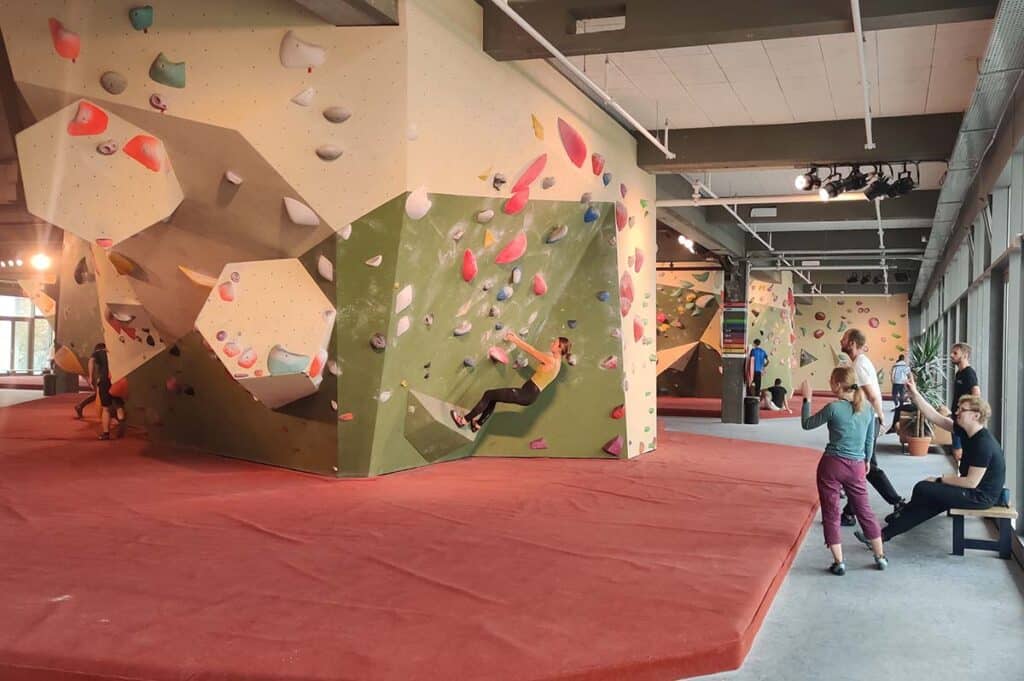 Bouldering Colours & Grades
The bouldering grades follow the Font scale (6A, 6B…). The problem colours with corresponding ranges are provided below. There are equally competition circuits that are lime and pink.
Beest Boulders Amsterdam Bouldering Colours

Colour
Grade
Green
3
Blue
4
Black
5A/5B
Purple
5B/5C
Red
5C/6A
Orange
6A/6B
Yellow
6B/7A
White
>7A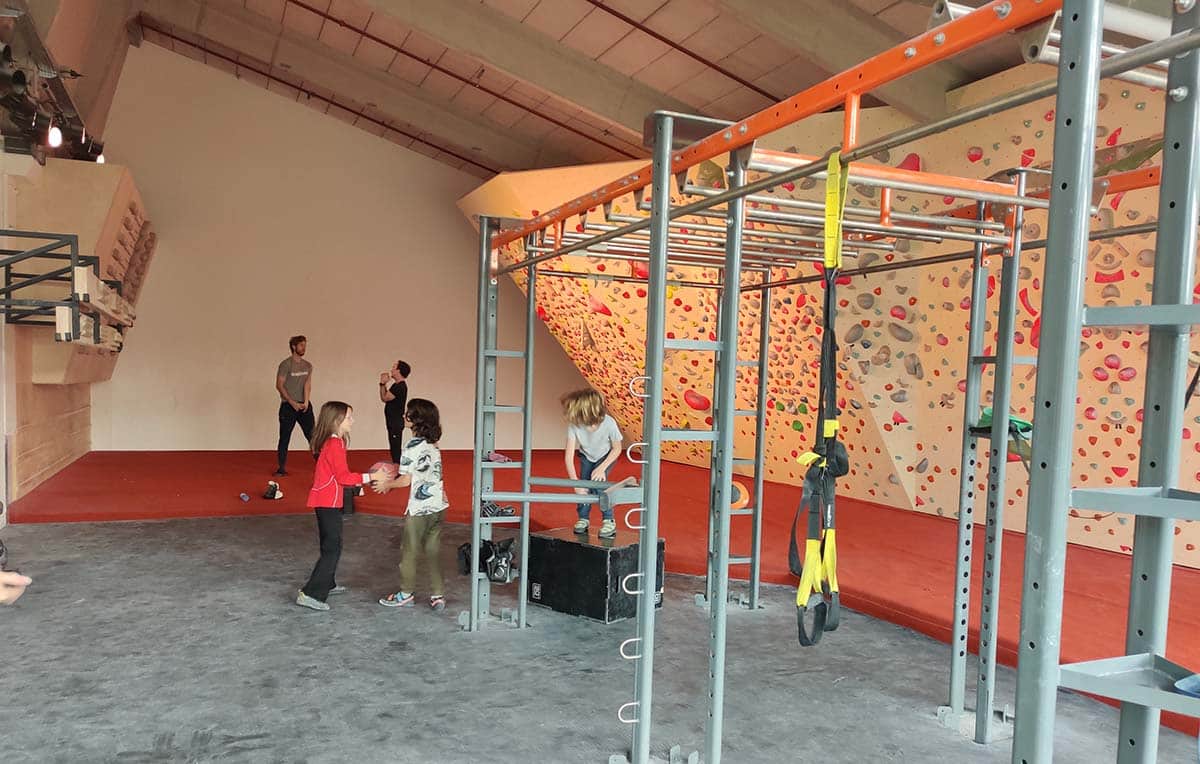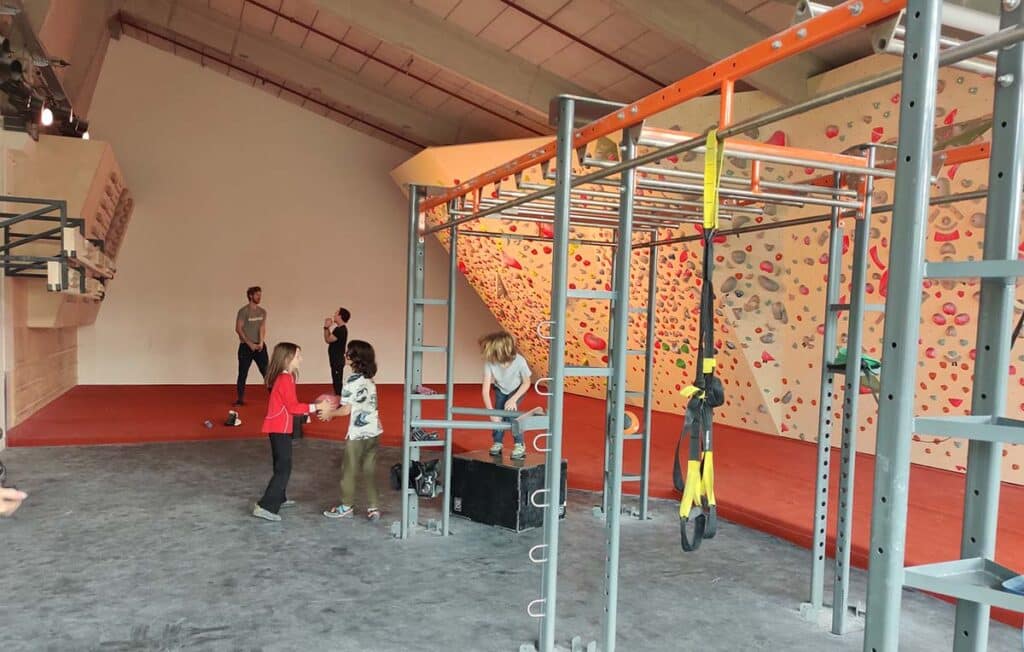 The training area follows the high standard set by the rest of the facilities. The open floor area can get a bit busy at peak hours but the actually training boards, campus boards or fingerboards generally don't see too much action.
There are 3 different system/circuit boards set with a mix of wood and artificial holds at different angles:
Vertical
Off-vertical (15°)
30° degree
There's 4 different width campus boards, 8 finger boards and a peg-board, all so you can give your elbows and pulleys a good blasting. These are great for getting started with fingerboard training or if you're in different phases of a periodization program.
Finally, there are free standing dumbbells plus yoga mats with an open area to stretch away on. There's also a central frame for hanging exercises, a dip bar, TRX and monkey bars.
Unfortunately no benchpress, squat rack or barbell. This would be a nice touch so you could avoid an additional gym membership if you're really serious about strength and conditioning training. Unfortunately this seems to be the case in most climbing gyms.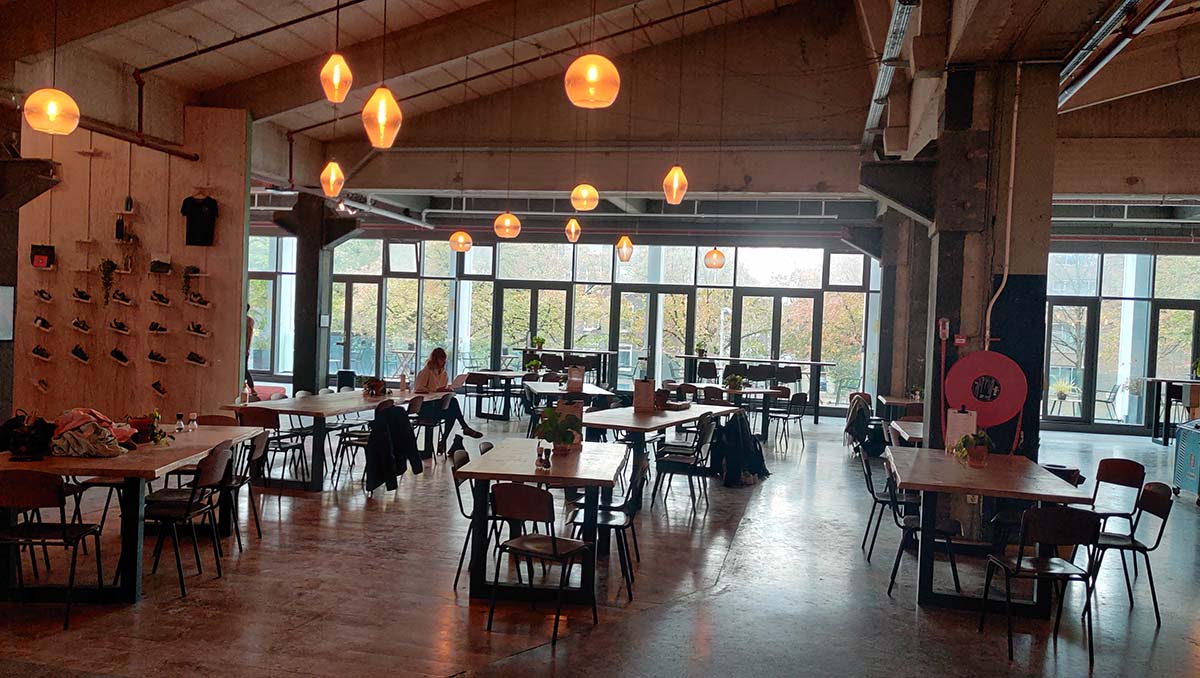 Whilst we're all here to train, it's definitely nicer in a place with a fun, chill vibe.
This place definitely ticks the box. There's a mellow relaxed feeling even when busy, which it regularly gets during weekday evenings although it never feels jam-packed. The continuous bay windows, giving you a relaxing view outdoors over the canal or street contribute to this feeling.
Like many places in Amsterdam, the vibe is extremely international and you'll hear most people speaking English. This would be one of the go-to bouldering venues when you're new to the city to meet other climbers. 
There's a very large café/bar area near the entrance which opens onto a long terrace running parallel to the gym with lots of room. This is south-west facing so it gets lots of sun towards the end of day, creating a perfect place to relax with a beer. Similar to Het Lab, there's equally a settee-corner around a fire-pit where you can stay nice and toasty during the over-long Dutch winter months.
They serve the usual bar food such as fries, burgers, salads and a variety of other snacks. There's equally local Dutch beers on tap and a selection of non-alcoholic drinks.
Facility wise there's the classics: toilets, lockers (bring your own padlock), changing rooms with a few showers. Nothing fancy but nothing missing. I'm still waiting to find another climbing gym with a sauna or steam room.
At the time of writing:
Single entrance adult (over 18 yrs): 16.5 €
Single entrance youth (10 – 17 yrs) : 14.5€
Single entrance children (<9 yrs): 8.50€
Monthly membership adult: 50€
Monthly membership youth: 42.50€
The monthly memberships gets you entrance to Het Lab, not very far away. You can even supersize this to include Klimmuur Centraal for an additional 10€; definitely worth it if you want to lead or toprope.
You can find out more here.
Our Take on Beest Boulders Amsterdam
With a surprising amount of options available in the Dutch capital, Amsterdam climbers have the luxury of picking and choosing from many top bouldering gyms.
Beest Boulders is definitely one of the top choices, if not our favourite, across the board. There's really something for everyone, the venue is expansive, bright and airy and there's an enticing vibe to come along and climb with others.  
All that's missing for this place to be absolutely perfect is a sauna for recovery and a few additional weights in the training area! Top your visit off with a beverage on the terrace in those summer months and you'll definitely be coming back for more.
Was there anything else that you loved/hated about Beest Boulders?
Find something absolutely ridiculous or incorrect?