You've finally decided to jump on the bandwagon and try this "climbing" that everyone's talking about. But what to wear rock climbing? What's most suitable and what is a complete no no?
We provide a quick guide to what slacks to rock at your first climbing session.
Climbing is just like any sport so you should pretty much keep it simple.
There's lots of stretching around, in potentially awkward and different positions, scraping of knees and elbows and of course pulling yourself upwards.
Therefore you want something:
Not too tight. Leave the spandex at home. You need to be able to stretch.
Something you can damage. Perhaps your brand new Lululemon's should stay at home.
On the lighter side. Unless you're Heman, you're going to be pulling that weight up the wall so you don't want anything too heavy.
Something with wiggle room. Especially around the groin if you're going roped climbing. You'll be wearing a harness which can move things around.
What Trousers To Wear Rock Climbing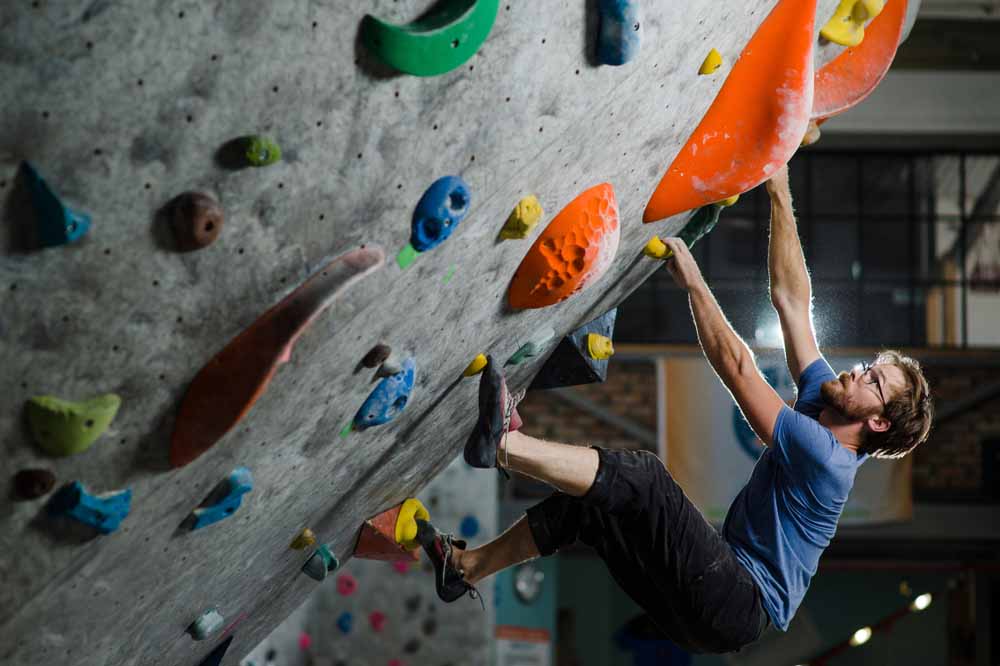 One of the most important things is that you need trousers or pants with space around the groin area.
There's a lot of split like positions, lifting legs high-up on foot-holds, so having room to extend you legs and move your pelvis is indispensable.
Purpose rock climbing trousers are constructed with additional room in the groin area. They may look like standard cut trousers but the seams are actually made with a wider gusseted cut to give that extra space.
Given all the banging around they get, they are also made from tough and high resistance materials to be longer lasting.
Unfortunately, for your first visit to the climbing gym you probably won't have a pair of these though.
For women sports leggings or yoga pants do the trick as they stretch nicely. They also provide some protection of the knees.
For bro's, similarly, sports trousers or yoga pants are fine for the same reasons.
You can also wear shorts if you prefer but they won't provide any protection of the knees. Also if you're going roped climbing shorts can be less practical when wearing a harness. They have a tendency to get pulled upwards due to the thigh straps and can move around a lot when getting lowered down or abseiling. This can easily leave you a little exposed! 
The great thing about jeans is that they're super tough. You can give them a good thrashing about and they'll protect your legs nicely.
Standard jeans however don't have much room in the crotch so can therefore be a bit restrictive, especially when learning. Other climbers you see down the wall who are wearing jeans, are probably wearing purpose climbing trousers with the special gusseted crotch.
Jeans are also on the slightly heavier side, although this might not make much difference on your first session.
What Top To Wear Rock Climbing
Here we want lightweight and comfy. A regular sports t-shirt will do the trick. You're very likely going to be sweating and may get it covered in chalk, so don't opt for your favourite tank top.
Preferably it should be slightly strechy and not too tight. There's a lot a of twisting and reaching in different directions, so you don't want your movement to be restricted in the torso.
For ladies a loose tank top or t-shirt plus sports bra are recommended. For guys a sports t-shirt. Avoid thick cotton if possible as it can keep you a bit too warm.
What Shoes To Wear Rock Climbing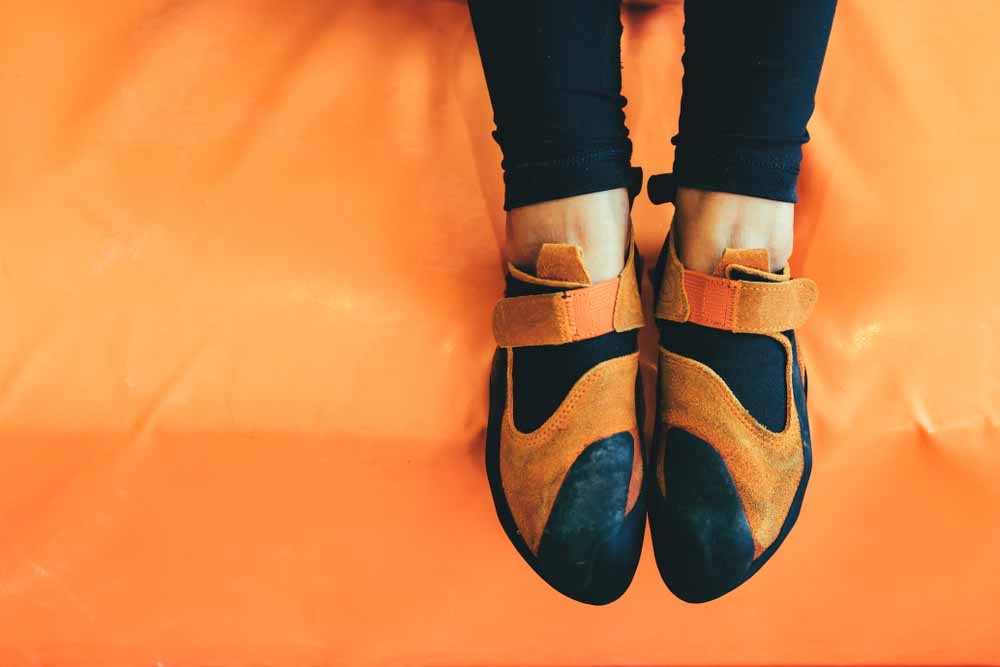 You won't be wearing your own shoes so it doesn't matter.
All climbing gyms have purpose made rock climbing shoes which you can rent out on your first visit. You'll definitely want to use these plus take a thin, low cut pair of socks to wear with them.
If you enjoy climbing the first thing you should invest in is a pair of beginner climbing shoes. The reasons why are ample, but in general it's not super pleasant to wear shoes that have been used by multiple other people.
What Else To Bring On Your First Climbing Session?
You've got your sexiest gear ready, so what else should you take?
A bottle of water. Climbing is a thirsty business.
An energy/protein bar for after. It's hungry work and you're going to experience forearm pump like you never thought possible. This will help with recovery and that flashpump.
Hand cream. Your skin is going to be trashed. Any hand cream will do, but if you want to get fancy you can buy ClimbOn in most gyms. This stuff is magic.
Climbers also use chalk for additional grip. You aren't expected to have a chalk bag on your first sesh. If you're going with a climbing friend, you can take some of their chalk or if you're really eager or have incredibly sweaty mits, buy a chalk ball at the gym shop and keep it in it's plastic bag.
What NOT To Wear Rock Climbing
Keep the tiger thong in its cage. Your trousers, shorts and top are going to get pulled in different directions. You could easily be left slightly exposed when being lowered back down the wall in your harness. You might not want to give people more than they've paid for.
Jewellery. Leave it at home or put in your bag. There's a high risk of catching (anything) on hand holds, ropes, carabiners and any piece of equipment.
Rings. Catching them on something such as a carabiner can leave you with one finger less, so remember to take them off.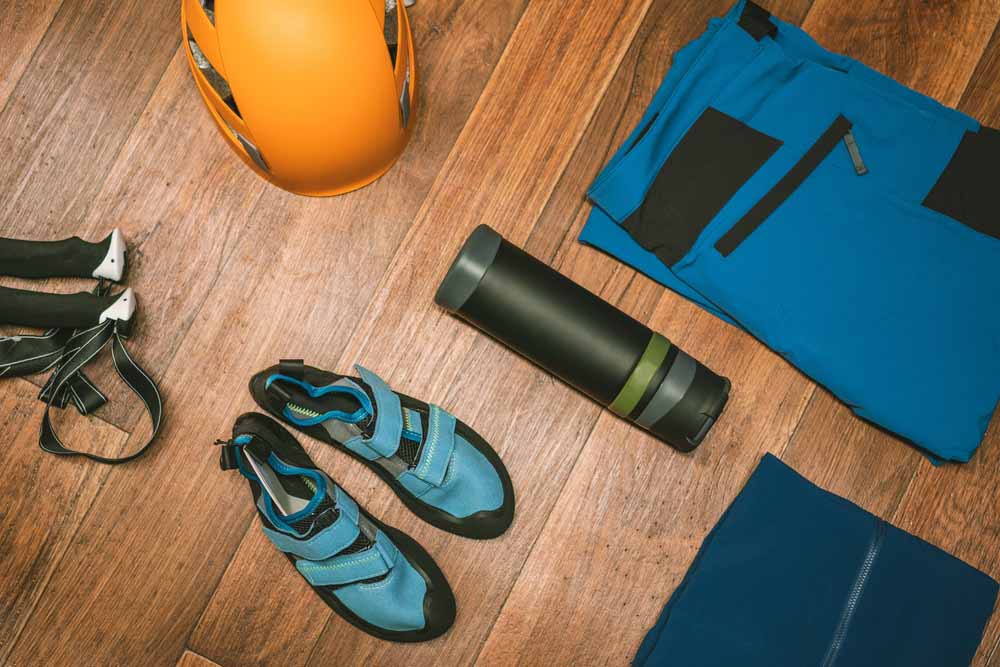 That's it! Pretty simple right? 
Climbing is probably one of the easiest sports to dress for. You just need to be comfy and have a little room to move in. You also don't want to wear your favourite stuff as it might get snagged on handholds, ropes or carabiners.
You also don't need specific cardio gear as you're not going to sweat a bucket load, but you will sweat a bit! So lighter gear is best. Worst comes to worst just rock an old-school cotton tee.
Finally, not all gyms have lockers which can actually lock. Valuables are known to get stolen in many climbing gyms. Therefore be careful with your valuables and don't take all your latest tech with you.
What are your favourite clothes to climb in?