When considering Klimmuur Amsterdam Centraal as only a bouldering gym, it clearly isn't great. This feels slightly unfair as it's mainly down to the fact that this is a roped-climbing facility. Which also happens to have a small bouldering area on the side… If you want a bouldering session you're better off heading to sister locations Beest Boulders or Het Lab.
 Monthly members benefit from De Klimmuur network in Amsterdam also providing access to Het Lab and Beest Boulders! This makes it the best value for money membership in the Dutch capital.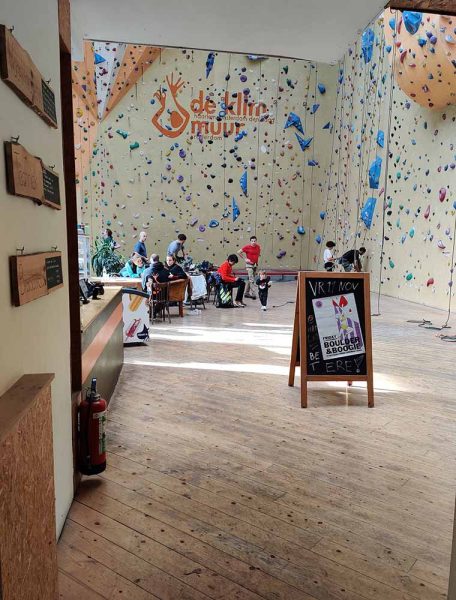 Klimmuur Amsterdam Centraal is the third and oldest climbing venue of the DeKlimmuur gyms in Amsterdam, after Het Lab and Beest Boulders.
The gym was opened in 1995 and is mainly a top-roping and leading venue located right in the center of Amsterdam near the central train station.
As well as the roped climbing areas they included a small bouldering part, useful for warming up whilst you wait for your climbing partner or a small bouldering session if you live nearby.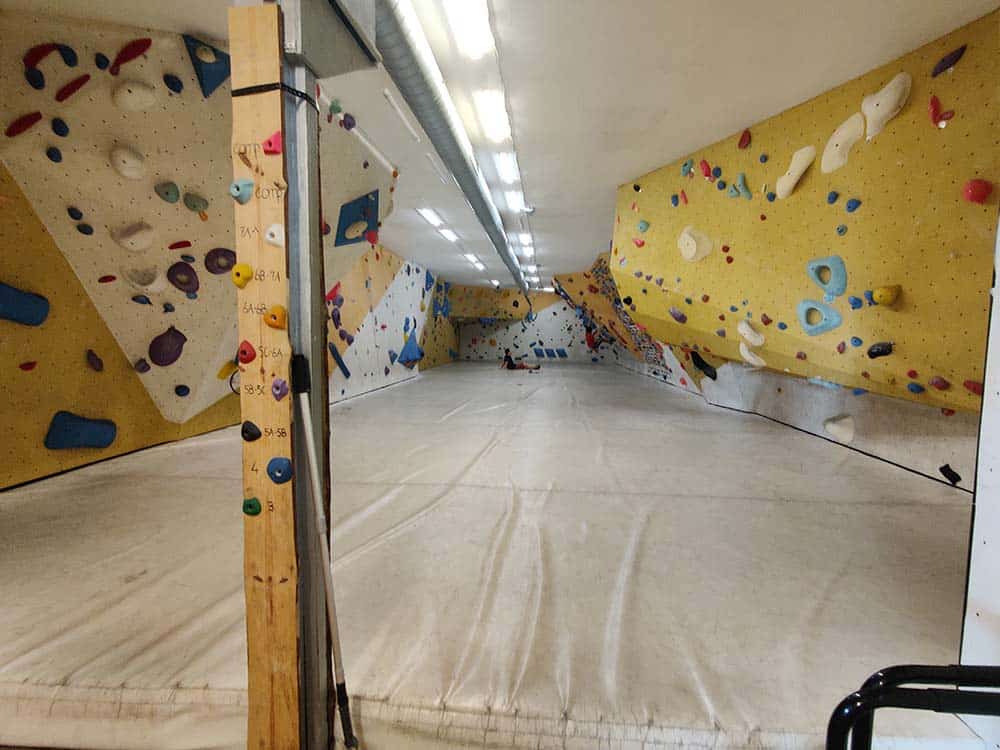 The bouldering area is a small rectangular room located on the right side of the climbing hall, past a small training and locker area.
The walls are quite small with the roof low down on top of the boulders. This gives the room a cramped feeling and it can get quite warm in the short Dutch summer months.
Given the small size, all angles of wall are covered but without much diversity.
Bouldering Grades at Klimmuur Amsterdam Centraal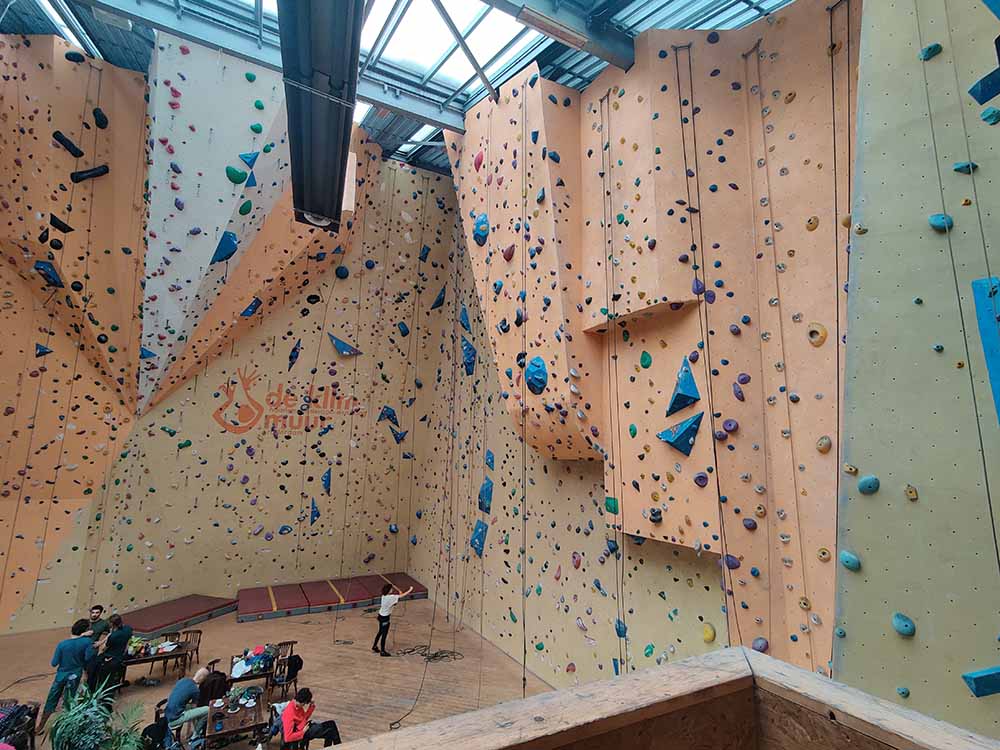 The bouldering colours, representing the respective grades, follow the Font scale (6A, 6B…).
They use the following ranges:
Green: 3
Blue: 4
Black: 5A/B
Purple: 5B/C
Red: 5C/6A
Orange: 6A/6B
Yellow:6B/7A
White: >7A
Comp circuits are a lovely lime and pink.
The bouldering colours are the same as in Het Lab and Beest Boulders. It's nice that De Klimmuur use consistent grading colours around all their gyms in the area.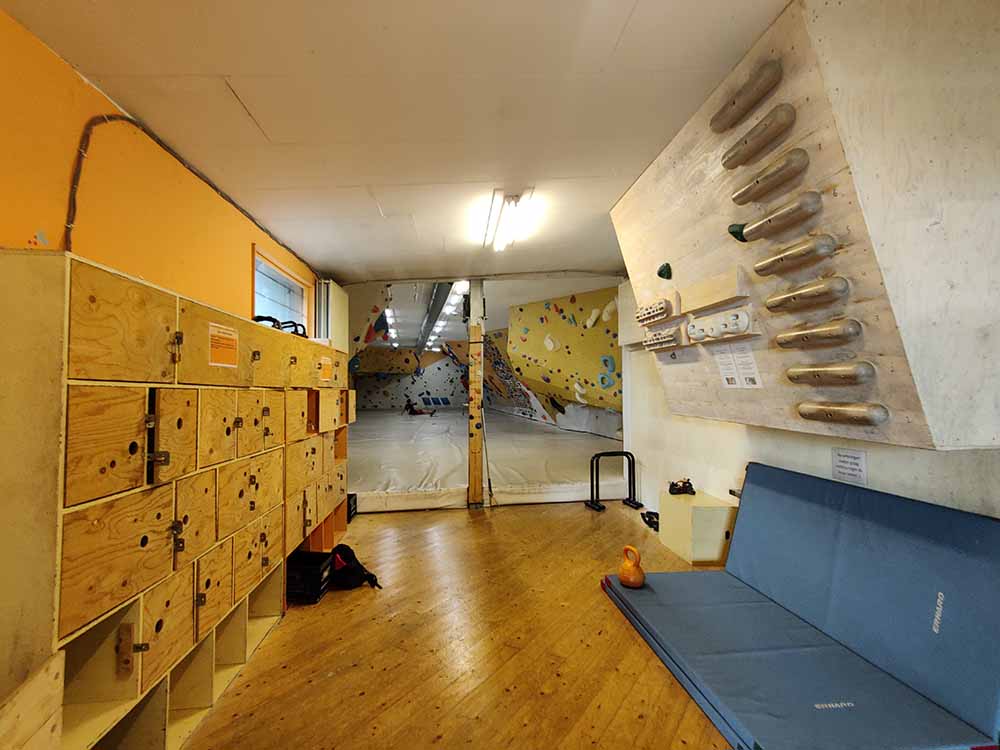 The training area, if you can call it such, is shared with the lockers. It's composed of three finger boards and a large rung campus board.
There are a pair of dip bars plus a kettle bell!
Unfortunately there isn't much more to be said.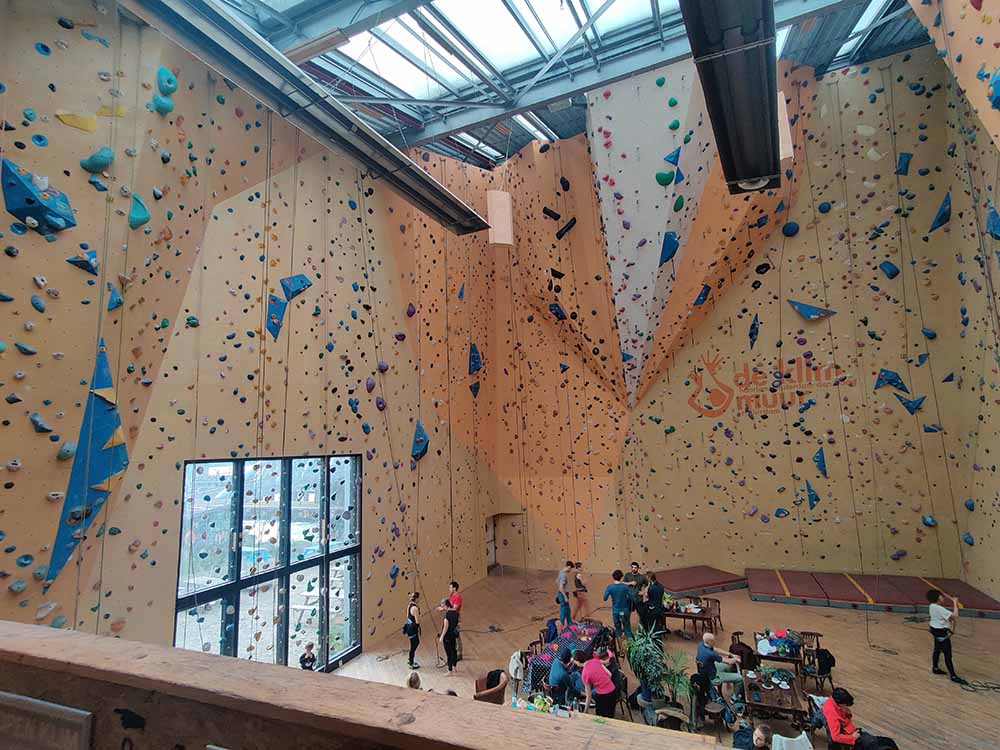 Klimmuur Amsterdam Centraal doesn't have the same type of feeling as Het Lab or Beest Boulders, but this is to be expected given that this isn't really a Hipster hangout bouldering gym!
On a typical weekday evening at the café area in the middle of the main climbing hall, you can find people eating the Dutch diet of cheese toasties and drinking beer. After or before climbing.
The bouldering area rarely gets that busy, which is to be expected given that if you have a membership here and want to boulder you can go to Het Lab or Beest instead!
The prices for single entries at Klimmuur Amsterdam Centraal are the same as the younger, sexier sisters, Het Lab and Beest Boulders.
Memberships are slightly more expensive but also give access to the other two locations.
Single entrance adult (over 18 yrs): 16.5 €
Single entrance youth (10 – 17 yrs) : 14.5€
Single entrance children (<9 yrs): 8.50€
Monthly membership adult: 50€
Monthly membership youth: 42.50€
Unfortunately as just a bouldering gym there isn't much to be said about Klimmuur Amsterdam Centraal. Mainly because this isn't really a bouldering gym…
If you're done with a leading session and want to finish yourself off,  then the bouldering wall will do the trick. But if you're after a full bouldering session you're better off heading to one of the sister gyms of Het Lab or Beest!
What do you love or hate about Klimmuur Amsterdam Centraal?
Find something absolutely ridiculous or incorrect?