Janja Garnbret is a Slovenian climber known for dominating the competition scene in both bouldering and sport climbing. Since debuting the IFSC circuit in 2015 she has won uncountable golds and in 2019 became the first female to win all events of the Bouldering World Cup competitions.
At currently only 24 years old she has accomplished what most climbers only dream of in a lifetime. 
From winning the European Junior Champion title in her school years to becoming the first female Olympian in rock climbing history, Garnbret's story is a testament to the power of passion and perseverance.
She is widely considered the greatest international and national competition climber of all time, in either men's or women's categories.
Janja Garnbret was born on the 12th March 1999 and grew up in the small town of Smarna near Slovenj Gradec, Slovenia. 
As a child, Garnbret showed an innate inclination towards climbing. Her parents often found her clambering up trees, cabinets, and furniture – an early indication of what was to come.
To channelize her energy and natural talent, Garnbret began formal training in a climbing course and soon became a youth competition climber, participating nationally and internationally on the youth circuit.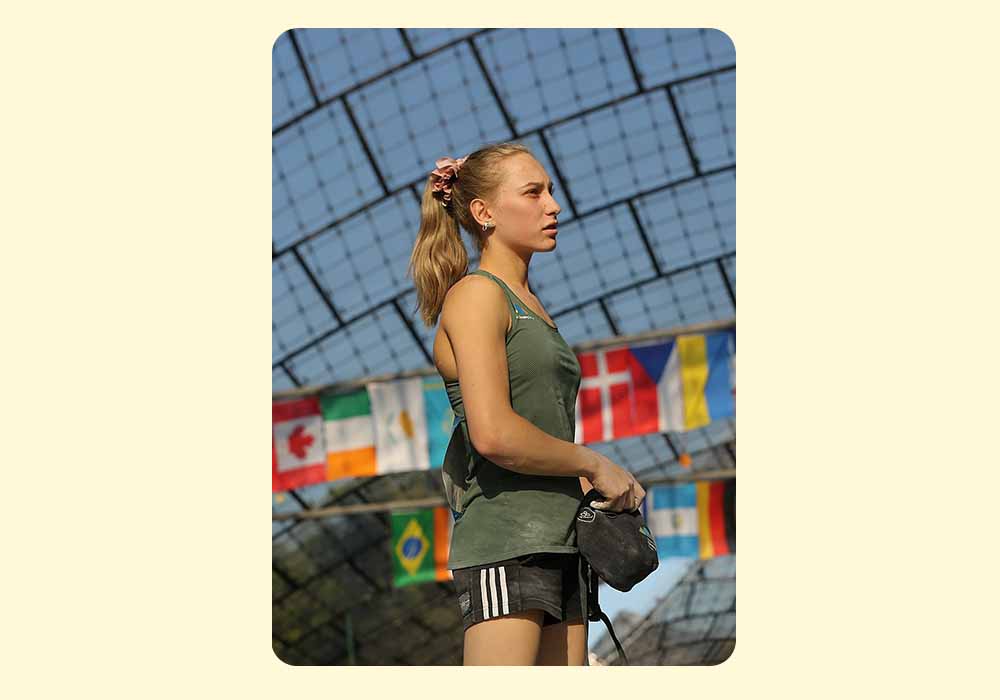 Youth European Championships
During her youth years Garnbret quickly progressed through the grades. By the end of elementary school in 2013, she clinched the title at the Junior European Championships in the B category, her first climbing competition outside of Slovenia.
Surprisingly, she only officially joined the Slovenian Youth National team the year after, where she went on to win in both lead and boulder in the Youth A category this time.
Overall from 2014 to 2016 she would win gold in both lead and bouldering of the Youth European Championships each year.
Youth World Championships
Following the first victories in the youth European events, in 2014 she won her first Climbing World Championships. This was in the lead event of the Youth B category of the World Youth Championships.
In 2015 and 2016 she would again go on to win gold in both lead and bouldering of the Youth A categories, entering her first senior competition in 2016.
Professional Climbing Career
At the age of 16 she made her entry into her first major competition at the senior IFSC Climbing World Cup and World Championships, quickly delivered awe-inspiring performances.
IFSC Climbing World Cup and Championships
In 2016, Janja Garnbret claimed victories in lead and the combined disciplines of the IFSC Climbing World Cup, the climbing World Championships in lead, on top of the World Youth Championships in lead and bouldering.
By 2023, Janja Garnbret had accumulated an astounding total of 37 Climbing World Cup victories, ten overall wins, and six Climbing World Championships.
Her most spectacular season, often referred to as the perfect season, was in 2019, when she won all six consecutive victories in the bouldering World Cup events and won the Climbing World Championships in bouldering, lead climbing and combined. 
Garnbret's success is underpinned by her meticulous and rigorous training routine. She believes in the power of consistency, often training for hours on end, every single day.
Her training encompasses a mix of physical conditioning, technical skill development, and mental strength training. Despite the intensity of her regimen, she emphasizes the importance of enjoying the process rather than focusing solely on success.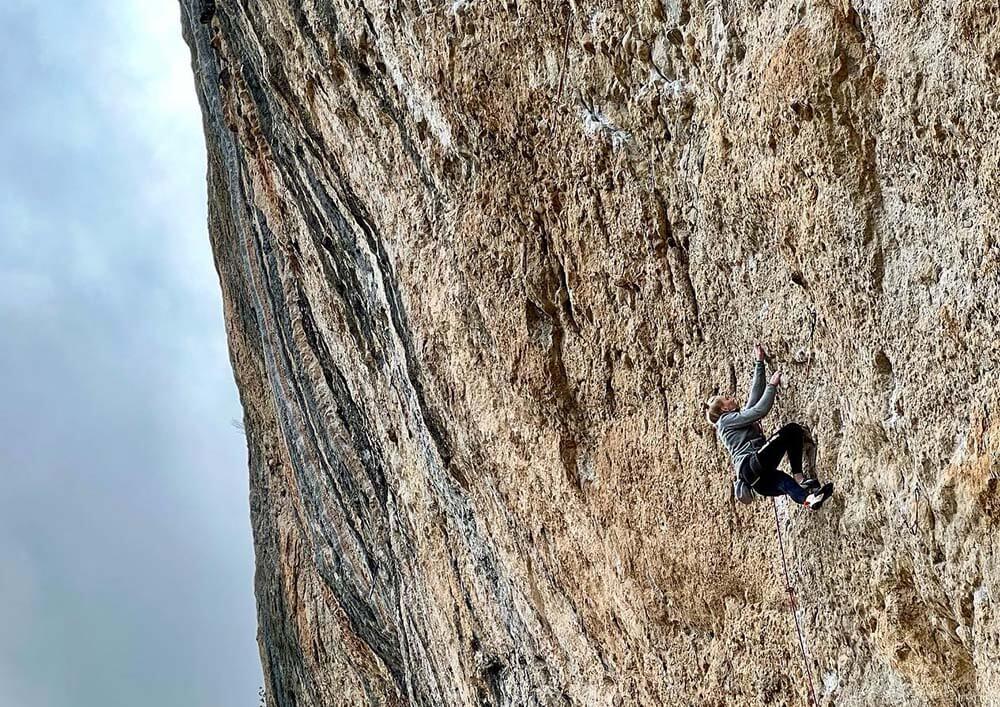 Whilst competition climbing has been Janja's main focus she has also made impressive sport climbing ascents outdoors.
She became the first woman in history to onsight an 8c route in 2021 when she climbed Fish Eye, in Oliana, Spain.
At Santa Linya, also in Spain, she sent numerous benchmark 9a routes, including:
Seleccio Anal
La Fabela pa la Enmienda
Further, in May 2022, she achieved the first female ascent of Bügeleisen, V14, in Maltatal, Austria.
Janja Garnbret's list of achievements is impressive, to say the least.
Since winning the European Junior Champion in 2013 while still in elementary school, her track record of success continued through her junior years with nearly two dozen world-class awards to her name, including gold at the World Junior Championships in 2014, 2015, and 2016.
Her extraordinary perfect season in 2019 saw her win six consecutive boulder-climbing victories in the IFSC Climbing World Cup and become the World Champion in bouldering, lead, and combined.
In terms of records, Garnbret holds the record for the most World Cup gold medals won by any male or female climber in history.
On the world's biggest sporting stage, the Olympic games, Janja delivered a historic performance.
She won the Olympic gold medal at Tokyo 2020, becoming the first female Olympian in climbing history.
This achievement not only solidified her status even further as one of the world's top climbers but also brought significant attention to the sport of climbing itself.
Her Olympic journey and victory was undoubtedly a significant highlight of her illustrious career but given her relatively young age there is still much to come.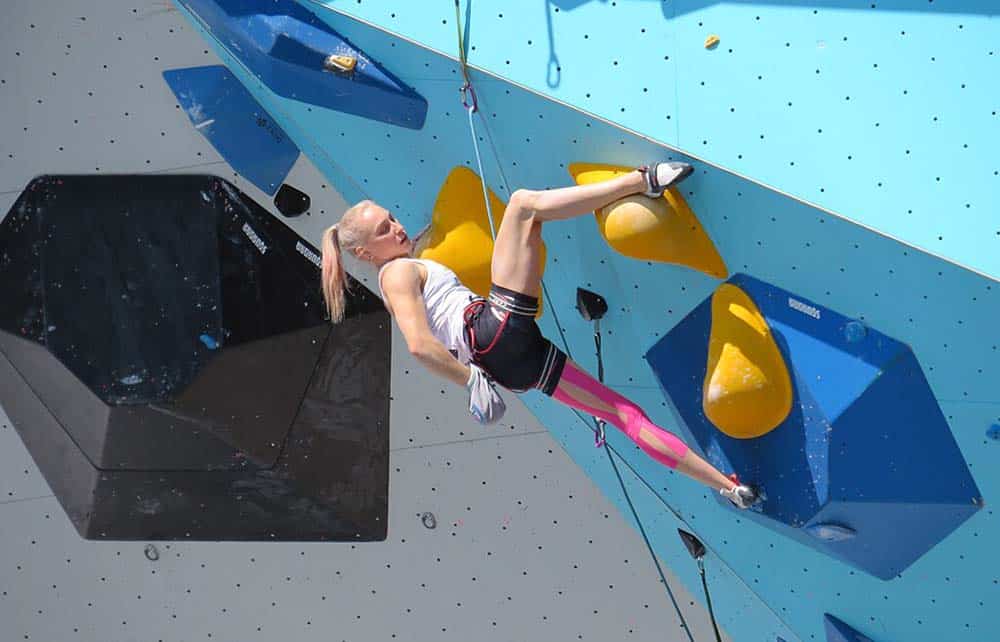 The year 2023 brought an unfortunate significant challenge for Janja Garnbret.
In February, she suffered an injury to her left big toe, which led to difficulty climbing and significantly impacted her training and competitive schedule. As a result, she had to skip the first three Boulder World Cups of the season, leaving fans and followers eager for her return. 
Despite the setback, Garnbret's ambition remains undeterred and she has been focusing on recovery.
Concerning outdoor projects, she has expressed interest in tackling one of the world's most challenging sport climbing routes, La Dura Dura, located in Oliana, Spain.
This incredibly difficult route, graded at 9b+, has only been successfully climbed by two of the best climbers in the world: Adam Ondra and Chris Sharma.
If Garnbret successfully completes this route, she will make history yet again as the first woman to conquer a route of this grade.
In the world of professional climbing, comparisons between top competitors and prodigees are inevitable.
Two notable climbers often compared to Janja Garnbret are Jain Kim from South Korea and Adam Ondra from the Czech Republic. Each of these climbers has made significant contributions to the sport and has achieved remarkable success in their own right.
Jain Kim, equally a decorated veteran in the climbing competition community, is known for her exceptional technique and elegance on the wall. The matchups between Garnbret and Kim in lead climbing competitions have led to some thrilling moments in the sport.
While their climbing styles may differ, with Garnbret's explosive athleticism contrasting Kim's fluid and deliberate movements, both sport climbers have displayed exceptional skill and determination in their respective careers.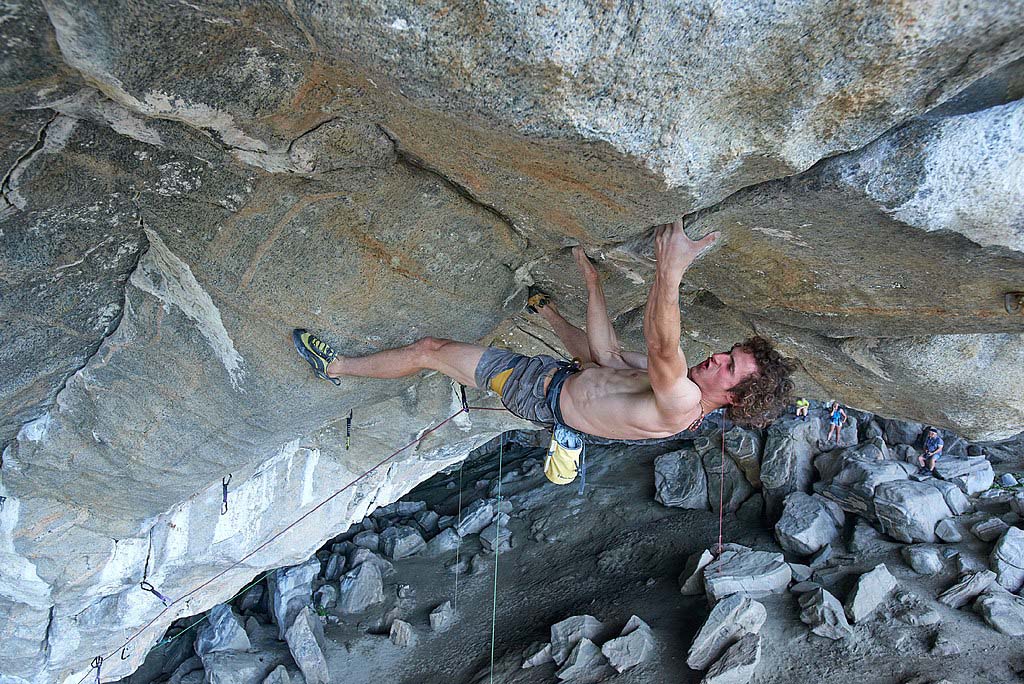 Meanwhile, comparisons with Adam Ondra, one of the most accomplished male climbers in the world, highlight the groundbreaking nature of Garnbret's achievements.
Like Ondra, Garnbret has consistently pushed the boundaries of what's possible in climbing. Both athletes share a relentless drive to overcome the most challenging routes, with Garnbret out-matching Ondra on the competition circuit. 
In terms of her standing in the climbing community, it's fair to say that Garnbret is among the best, if not the best. Her records speak for themselves: she is the most decorated World Cup climber in history, the first woman to win a gold medal in Olympic climbing, and the first woman to onsight 8c.
Despite these incredible achievements, Garnbret remains humble and focused on the journey rather than the accolades.
Partnerships and Sponsorships
Sponsorships and brand affiliations play a significant role in the career of any athlete, providing both financial support and equipment necessary to compete at the highest level.
Janja Garnbret has established partnerships with several prominent brands that reflect her status as a top athlete in her field.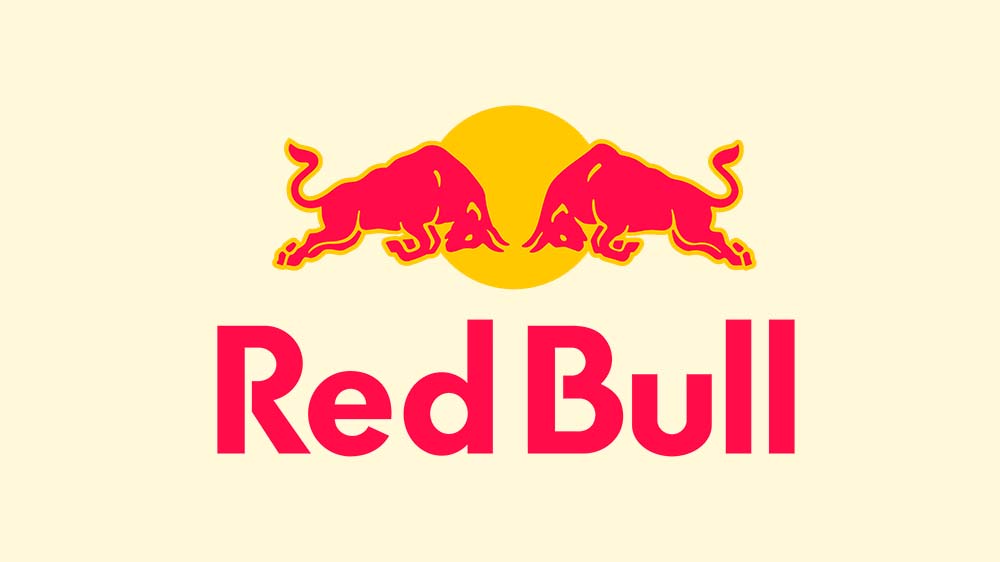 Garnbret has a partnership with Red Bull, a company known for sponsoring elite athletes across extreme sports. As part of the Red Bull team, Garnbret has access to a global network of resources and support to aid in her training, competitions and projects.
In 2020, with Domen Škofic, they climbed Europe's largest chimney tower as part of Red Bull Climbing for the project 360 Ascent.  The tower of the Trbovlje Power Station was equipped with an artificial route, with crux pitches containing up to 8B+ boulder problems.
You can check out the video below:
Five Ten, Camp and Rhino Skin Solutions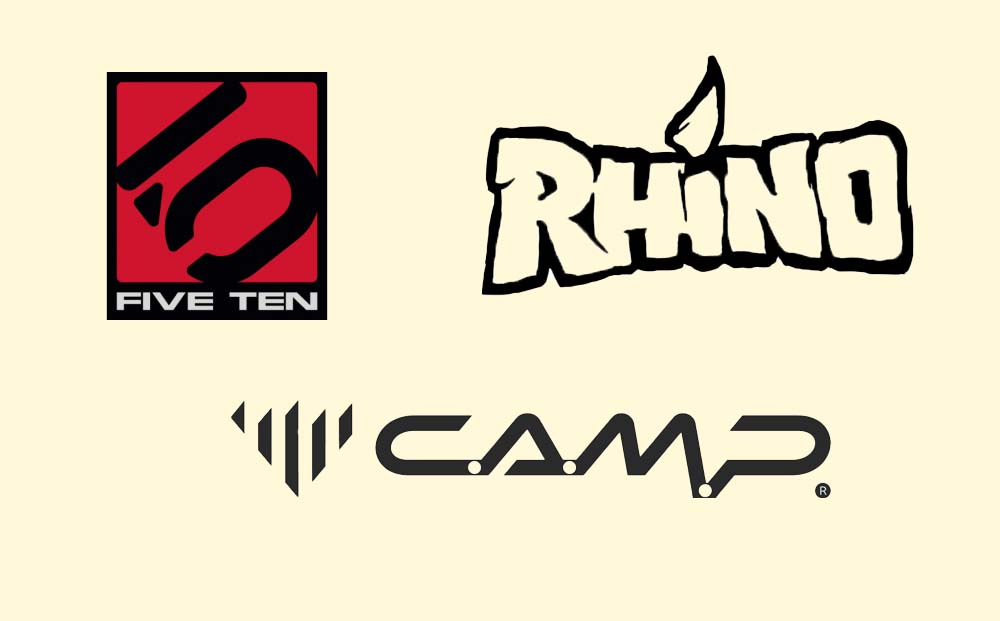 For climbing technical gear and clothing Janja Garnbret is sponsored by Five Ten and Adidas, leading manufacturers of climbing shoes and sportswear. Known for their quality, performance and exceptionally sticky rubber, her Five Ten shoes have been a staple in her climbing gear.
Her climbing gear is also complemented by Camp, a company that specializes in high-quality outdoor and climbing equipment.  Furthermore she also has a sponsorship with Rhino Skin Solutions, a provider of natural and plant-based sports skincare products for athletes.
Furthermore, Garnbret has sponsorship arrangements with non-climbing related brands Allianz and AHKlemencic. 
Janja Garnbret was closely linked with fellow Slovenian climber Domen Škofic.
The pair, who are both accomplished climbers, shared numerous adventures together, including the 360 Ascent project in 2020. The chimney has unfortunately been stripped since.
While rumors have swirled about a potential breakup, no concrete information has surfaced to confirm this.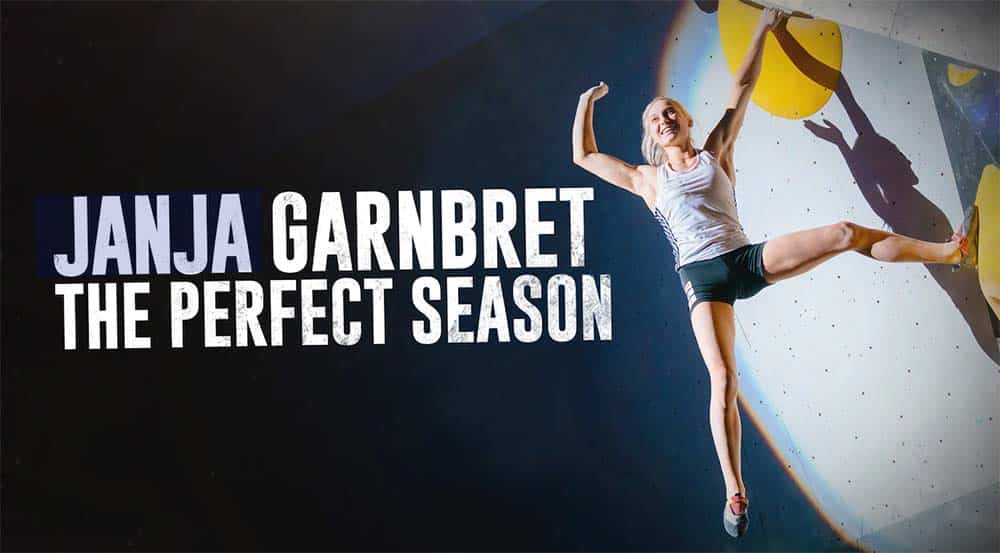 Garnbret's remarkable 2019 perfect season has equally been featured in Reel Rock 15, aptly named "The Perfect Season".
She was also featured in the 2022 "The Wall: Climb for Gold", a documentary following four female climbers: Janja Garnbret, Shauna Coxsey, Brooke Raboutou and Miho Nonaka as they prepare for the Tokyo 2020 Climbing Olympics.
Janja Garnbret has left an indelible mark on the climbing world.
Her incredible achievements, including holding the record for the most climbing World Cup gold medals won by any climber in history, being the first female gold medal Olympian in climbing history and being the first woman to onsight 8c, have set the bar high for future generations.
And yet, despite her dominance in the sport, she emphasizes the importance of enjoying the process rather than focusing on success alone, a message that resonates deeply in today's competitive world.
Featured image: © Lena Drapella/IFSC