Brooke Raboutou is a name that has been making waves in the climbing world since she started climbing at the youngest of ages.
She's reknowned mainly as a competition climber and was a member of USA Climbing at the 2021 Olympics in Tokyo. She was also the youngest women to ever climb 8c at the impressive age of 11 and is one of only few women to have ever bouldered V14.
Her natural talent, dedication, and hard work have made her one of the most promising young climbers in the world.
Brooke Raboutou was born on April 9, 2001, in Boulder, Colorado, to Robyn Erbesfield-Raboutou and Didier Raboutou, world champion and famous climbers.
Her mother, Robyn Erbesfield-Raboutou was one of the first women to break 5.14 (8b+) and was four times World Cup champion.
She equally founded and coached ABC Kids in Boulder, where Brooke started climbing at the age of four. This program was focused exclusively on training younger climbers.
Didier Raboutou, her father, was also a professional climber who competed regularly on the international scene and was also a three times World Cup winner.
He attended the first international climbing competition, SportRoccia, in Bardonecchia, Italy, in 1985, went on to win Arco Rock Master and international events at Vaulx-en-Velin and Bercy, France.
In 2007, at the age of 7, Brooke climbed her first 5.12a, which marked the beginning of her impressive climbing career.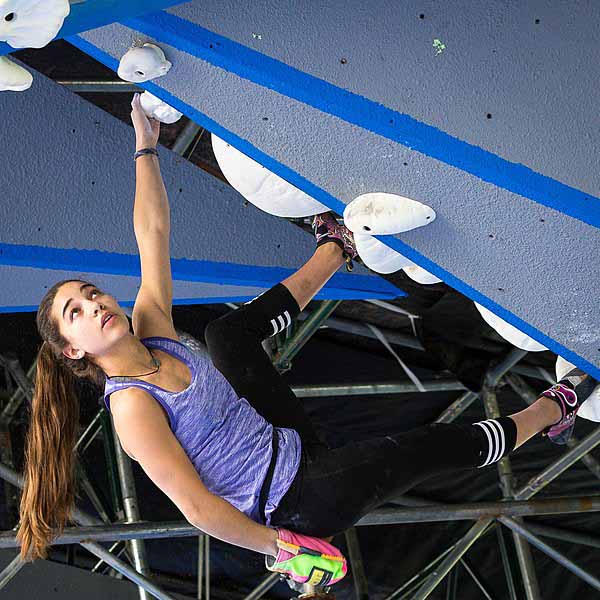 Given the climbing pedigree into which Brooke was born, her formative years have effectively been almost her entire life.
With such a background, it is no surprise that Brooke showed a talent for climbing at a very young age.
In 2010, at just 9 years old Brooke climbed a V10 and became the youngest female to climb 8a. 
The following year, at age 10, she sent a V11 and became the youngest female to climb 8b. Not content with these accomplishments, she also climbed an 8b+ at the same age.
In 2012, at age 11, Brooke again became the youngest female to send 8c.
That same year, with her brother Shawn, they became the first brother-sister duo to both climb 8c+.
In 2014, at age 14, after climbing Southern Smoke, 8c+, in the Red River Gorge, she became the youngest person to climb 5.14c in the United States. 
In 2015, Brooke won the International Federation of Sport Climbing (IFSC) Youth World Championships in lead climbing, becoming the first American climber to win the title.
The following year, at age 16, she competed in her first IFSC World Cup.
These early accomplishments set the stage for Brooke's impressive career as a professional climber.
Since her debut years competing in the youth competition scene Brooke regularly held podium positions.
She won various medals from 2016 to 2019, including the 2016 Youth B World Championship and the 2017 Youth A Combined Pan American Championship.
In 2018, she took the gold in the Youth A Lead category during the IFSC Youth World Championships. 
In 2019, she became the first U.S. climber to qualify for the Olympics in Tokyo, after finishing 9th in the Combined World Championships in Hachioji, Japan.
Despite the postponement of the Olympic Games due to the COVID-19 pandemic, Brooke continued to train hard and prepare for the event. In the 2021 Olympic Games in Tokyo, she finished 5th in the combined event, with her best individual event being bouldering, where she came in second.
In April 2023, she won her maiden IFSC Boulder World Cup gold medal. This marked the first time since 2018 that a competitor different to fellow American Natalia Grossman or Janja Garnbret had won a Boulder World Cup.
Looking ahead to the 2024 Paris Olympics, Brooke is excited about the decision to separate speed into its own event and combine lead and bouldering, which she believes will suit her strengths as a climber.
Apart from her achievements in competition climbing, Brooke has also sent impressive boulder problems and routes outdoors.
She has climbed 8c with her send of Souther Smoke in the Red River Gorge.
In May 2020, she climbed Muscle Car V14, at Coal Creek Canyon near Boulder, Colorado. Later in the year, she sent Jade V14, in Rocky Mountains National Park.
In April 2022, on a trip to Switzerland, she conquered multiple tough boulder problems, including Kings of Sonlerto 8A+, Lur 8B+, and Heritage 8B.
Brooke Raboutou has been climbing all her life, and climbing itself has been the foundation of her training.
As she progressed in the sport, she began incorporating more structured training techniques into her routine.
In recent years, she has incorporated less climbing-related exercises into her routine such as hangboarding, campusing and more general conditioning.
Despite the recent more structured training  approach, Brooke prefers not to have strict training plans.
She likes to keep things fresh and exciting by changing up her training routine frequently. For example, she might have a training plan for a period of 10 days, and an overall plan for the year, but nothing more than that.
This approach to training reflects her natural approach to climbing, which emphasizes exploration, experimentation, and creativity.
By keeping her training open and flexible, she is able to explore different techniques and approaches, which helps her to continually improve and develop her climbing performance.
This approach allows her to maintain her passion for the sport by keeping things fresh and exciting.
Brooke is sponsored by Adidas, La Sportiva and Petzl.
She's equally has been featured in various climbing publications, including Rock and Ice, Climbing, and also in mainstream media such as Popsugar.
She has been described as "born to climb" or "a natural," which is no surprise given her impressive track record and innate climbing ability.
Despite her busy climbing schedule, Brooke manages to balance her athletic career with her academic pursuits.
In 2018, at the age of 17, she enrolled at the University of San Diego to study business.
While climbing is her passion, she realizes the importance of having a backup plan, which is why she is pursuing a college degree.
In addition to her climbing achievements, Brooke is also known for her outgoing and fun personality. She often posts pictures and videos on her social media accounts, showcasing her love for climbing and her daily life. She also enjoys playing the guitar and creating music, another creative outlet for her.
He brother Shawn Raboutou is also a record breaking climber. In 2005, he became the youngest person to climb 5.14a at the age of 13. He's also one of the only climbers to have sent multiple V17's, the hardest boulder problems out there.
Overall Brooke Raboutou has accomplished impressive feats in the climbing world.
She has won several medals in the IFSC Youth World Championships and became the first American climber to qualify for the Olympics in Tokyo.
She set multiple records from the youngest of ages and in 2023, won her maiden IFSC Boulder World Cup, setting the stage for future success.
Despite these accomplishments, Brooke remains humble and down-to-earth, focusing on her passion for climbing and enjoying the process.
With her talent, passion, and drive, there is no doubt that Brooke Raboutou has a bright future ahead of her in climbing.