Why on earth do we have bouldering grades?
While the answer perhaps seems obvious, we weren't always in a time where we had a consistent, quantitative and supposedly objective grading system. 
In this article we cover just that and the most important points about bouldering grades.
What Are Bouldering Grades?
Bouldering grades are a classification system used to rank the physical difficulty to climb different boulder problems.
They put a qualifier to a boulder which allows climbers to be able to distinguish its difficulty, compare it consistently to other boulders and know where it will fall in terms of his or her climbing ability.
One of the aims of bouldering grading conventions is to put order to the madness, even though subjectivity will always remain.
They are generally open ended in order to allow more difficult grades to be added as the sport evolves.
A (Very) Brief Early History of Bouldering Grades
Back in the early days there was only madness. Chaos ruled the world. These were the times of the early 20th century.
One of the founders of climbing, John Gill, often referred to as the father of modern day bouldering proposed a "B" system back in the 1950's.
This system would only have three different levels which would depend on the number of repeats a climb had.
A climb with only one ascent would be B3 and B1 would have numerous. The issue with this close-ended system was that it required constant re-grading of climbs and ultimately wasn't adopted. 
After these times came the two grading systems which are mainly used today and which will be discussed further down: V scale and Font scale.
Factors Impacting Bouldering Grades
The primary and main factor driving a bouldering grade is the physical difficulty of begin able to get to the top of the boulder problem.
Technical ability comes secondary.
You can have 3 super straightforward moves technically, but if they are on tiny, razor thin holds then it will get a hard grade.
Physical danger is not taken into account. There are certain climbing grading conventions such as English trad grades that do consider this, but these are not bouldering grades.
A specific bouldering grade also refers to a difficulty range. Within that range you have "hard" or "soft" grades. So a problem could be a hard V7 or say soft 7B+.
A bouldering or even sport climbing grade in generally established in the following manner:
The first person to send the route gives it a grade.
This grade is then confirmed or not by subsequent people who repeat the climb.
In general climbs can be downgraded or upgraded (which does happen), but in general it does take time!
These grading issues can lead to heated debates about grading or the difficulty of certain climbs or boulders!
Main Bouldering Grades Used Today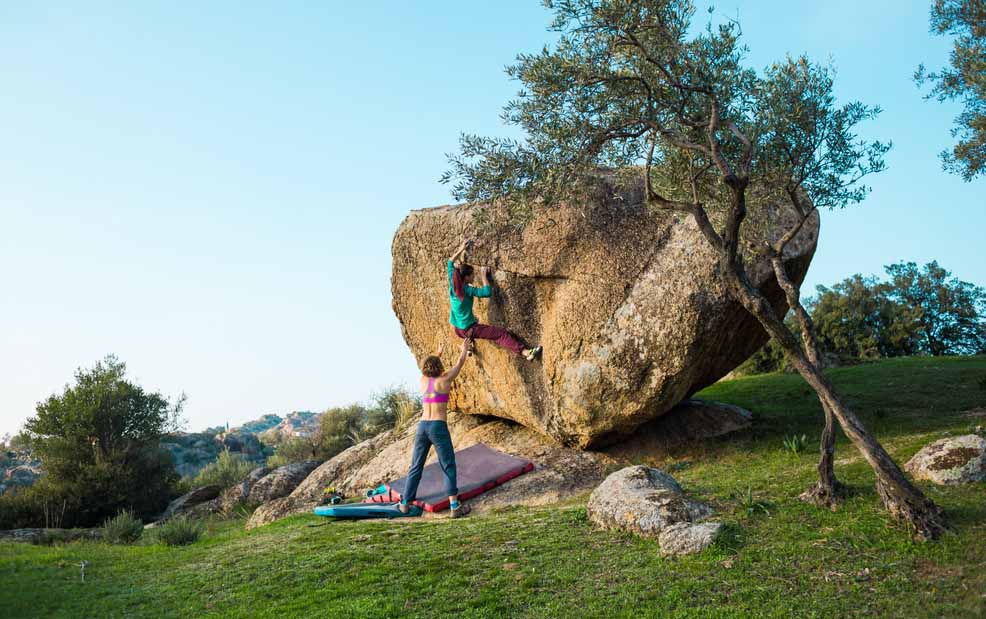 There are currently two grading systems used today:
Font grades.
V grades. Sometimes referred to as Hueco grades.
The Font grading system is named after the French bouldering location Fontainebleau.
The system is similar to the general French sport climbing grades which are composed of a number and a letter. Don't confuse bouldering with sport climbing though!
Letters go from A to C and are capitalized, differentiating it from the sport climbing grades where the letters are lower case. The number ranges from 1 to 9 currently, so you can have 6A, 7B, 8C etc. 
The hardest grade in the world is currently 9A.
Grades can be further differentiated by introducing a +, so 6A+ would be slightly harder than 6A.
The system is open ended such that as the sport continues to progress and harder problems are discovered the grades will be able to be added.
The Font grading system was developed by climbers in the Fontainbleau region near Paris, from which is obtains its name. The grades gave a way to distinguish the varying difficulties of the boulders.
Early climbers in the forest such as Pierre Allain had been using a colour coded system since the first half of the 20th century to differentiate the difficulty of climbs. Simple numbers or qualitative terms such as "easy', "difficult", "very difficult" were used to describe these difficulties.
By the second half and late 20th century these conventions had continually evolved and fully converted into the alpha-numerical grading system known today as the "Font" grade.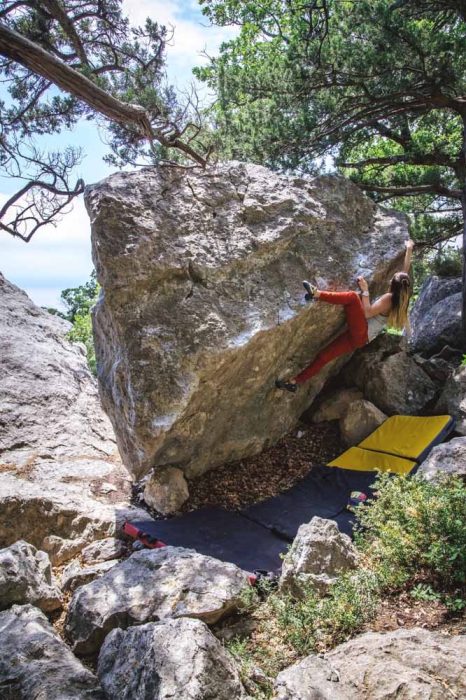 The V grading system, as it's name implies is made up of a "V" followed by a number.
So V1, V2, V3 etc in increasing difficulty. Simple.
At the lower end a "+" is sometimes used to differentiate grades, though this is quickly dropped in the intermediate levels.
The system takes it's name from it's founder, John "Vermin" Sherman, a Hueco Tanks, Texas, climber who developed this in the 1980's.
He initially drafted a climbing guidebook to Hueco Tanks park where the boulders were unranked. His publisher refused to publish the guidebook unless there was a system to differentiate the physical difficulty of the boulders!
The "V" scale or grade was subsequently born, sometimes referred to as the Hueco grading.
Bouldering Grades Conversion Chart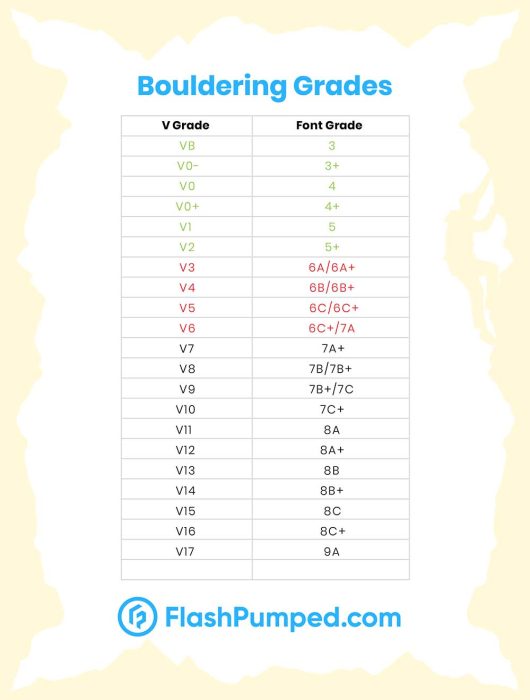 Converting bouldering grades from Font to V grade is not always as straightforward as might be expected.
In the upper ranges there is a direct match between the grades, however in the mid levels there can be less of a match.
For anyone who's climbed in Fontainbleau, they will be familiar with the specific style and technical aspect of these climbs. The grading system therefore incorporates this into the grading to a certain extent.
In comparison the V scale is based purely on physical difficulty. This means that in some levels certain V grades correspond to a range of Font grades and the difficulty range can be quite wide.
You may wonder what bouldering grades correspond to more qualitative skill levels such as beginner, intermediate or advanced?
With a pinch of salt, you can consider:
Beginner:  V0-V2/3-5+
Intermediate: V3-V5/6A-6C+
Advanced: V6-V9/7A-7C
Elite: >V10/7C+
Currently the hardest grade in the world is V17 or 9A. This level is reserved to the best boulders in the world, with less than a handful of people having climbed that grade.
The 4 boulders currently graded V17 are:
Burden of Dreams
Return of the Sleepwalker
Megatron
Alphane
Bouldering grades are great to be able to differentiate the difficulty of boulder problems and if you really want to, give yourself a long term objective once you're established.
And they definitely serve that purpose.
Given the level of controversy there can be even amongst professional climbers, in the end though you shouldn't really pay too much attention to the grade.
Some people will progress faster than other and some people will be better suited to certain types of problems. It's about the journey not the destination!