Amsterdam in the Netherlands is not the first place you would guess when thinking of a city with a high concentration of top end bouldering gyms.
Previously home to only 2 or 3 hardcore places, over the past few years it's seen multiple, ultra-modern, high-end bouldering gyms open up to cater for the masses of the ever-growing bouldering craze.
In this post we provide a review of 5 of the bouldering gym choices in Amsterdam. No matter which gym you choose, you're sure to have fun, meet new people and give your forearms a good blasting.
History and Evolution
Amsterdam's oldest bouldering gym is the Klimhal Amsterdam  – located in an old warehouse on Naritaweg in Sloterdijk, just above Spieringhorn in the West. Since then, 8 more locations have become available to any budding climber.
Nearly every district of Amsterdam has its own gym with the West being particularly spoilt for choice. Like many other European capitals residents and visitors alike are falling for the sport's hip and alternative image.
Popularity of Bouldering in Amsterdam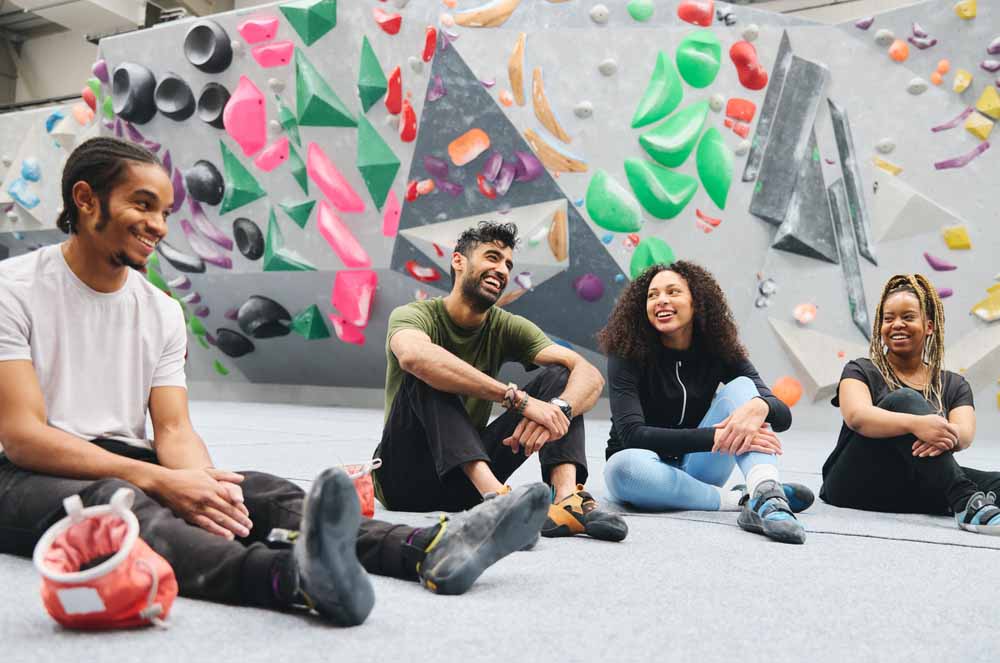 Many boulderers in Amsterdam swear eternal loyalty to their local climbing gym and have memberships to prove it. But in reality, once you've got bored of some of the routes, it's nice to visit different places to get the most out of their climbing experience and meet other friends.
This is one feature that makes Beest Boulders and Het Lab so popular with Amsterdam's boulderers. A membership to one of these venues gives you access to the entire Beest family, which you can even extend to include Klimmuur Centraal Amsterdam, if you fancy roped climbing. There aren't many memberships that give you access to such a wide choice of climbing gyms for such a price. 
If you are wondering which are the most interesting bouldering halls in Amsterdam then carry on reading.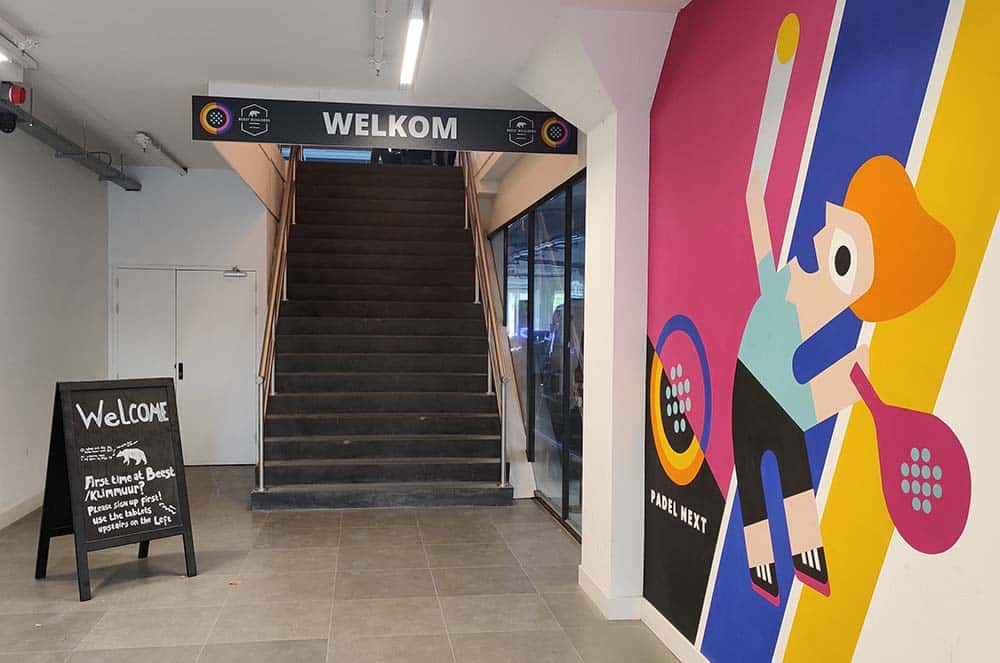 For a full review of Beest Boulders Amsterdam see our dedicated post of the gym.
Our favourite bouldering location in Amsterdam and also one of the newest kids on the block. This bouldering gym opened during the high of the COVID pandemic in Amsterdam and quickly became one of the most popular locations.
As part of the DeKlimmuur network the gym comes from the same family as nearby Het Lab and Klimmuur Centraal Amsterdam near to the central station. An added plus for members is the access to all these gyms, ensuring you never get bored of climbign the same problems over and over. 
The open plan venue of Beest, benefits from continuous bay ways running parrallel on both sides giving the space a bright and airy feel, a pleasant change from the usual industrial style buildings climbings gyms usually find themselves in.
With well set problems, lots of variety to choose from and a well equipped training area this location caters well for the masses regardless of what you're there to train.
For those looking to get some work in between after your session or between problems, the large cafe area has you covered. Although the strong relaxing vibe of the terrace may persuade you to sit back and relax for just that little bit longer.
We love:
The training area
The coffee area and couches
Great vide and tunes
We don't love: 
A bench, barbell and squat rack in the training area would be good.
You can see more information on prices here.
For a full review of Het Lab, see our dedicated post.
The older sibling of Beest Boulders and equally part of the De Klimuur network, Het Lab is one of the top choices for bouldering in Amsterdam.
It opened it's doors in 2017,  focusing only on bouldering and quickly became one of the most popular bouldering gyms in Amsterdam, getting packed to-the-brim by the after-work crew in pre-COVID times.
The building resembles an industrial warehouse with elevated windows and exposure roofing, your typical venue for bouldering gyms. With a total floor area of over 1500m2, this place has lots of room and uses it well without overpacking.
The volume of problems set are definitely geared towards the beginner and intermediate climber levels, as in most gyms. The grading generally feels correct and the problems aren't as reachy as they can be in many gyms in the Netherlands.
As well as being a bouldering gym Het Lab also has open plan working areas on the second floor and a large cafe area in the central floor. This area is mainly for relaxing, (co)working, plus meeting and events rooms for hosting classes. 
We love:
The old school chesterfields and fire pits to relax.
Good training area
Membership makes you part of the Beest familia. 
We don't love: 
It used to get very crowded but this has improved since Beest opened it's doors.
Find out more about prices here.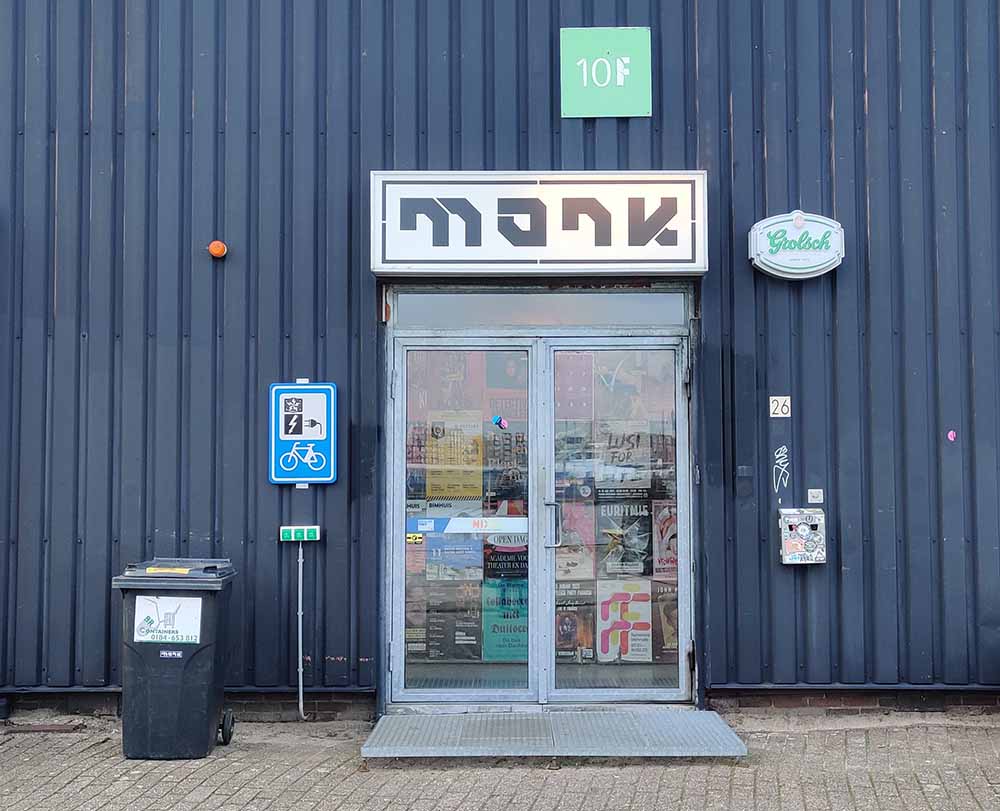 See our full review of Monk for more details.
As one of the oldest boys on the Amsterdam block, Monk has seen bouldering in Amsterdam develop from a tiny baby back in the day to the animal it is right now.
Although not the biggest of the bouldering gyms with 500m2 of bouldering walls, the high roofs with continuous ceiling windows reaching from side to side give it a light and airy feeling, which is a nice change for industrial type buildings such as this one.
Whereas most modern bouldering gyms tend to cater for the beginner climbers in terms of grading and route-setting, Monk is slightly more geared toward mid and advanced level climbers. They admit more granularity of levels through the 6A-7A grades, at the expense of having less in the beginner levels. As a result this is definitely a good place for the more serious climbers.
The upper floor is entirely dedicated to a well equipped training area, unfortunately like most gyms in Amsterdam it's lacking a barbell and a few additional weights to make it top notch.
We love:
The terrace on the IJ.
Bouldering diversity
We don't love: 
It's allllllll the way on the other side of the river.
See more information on prices here.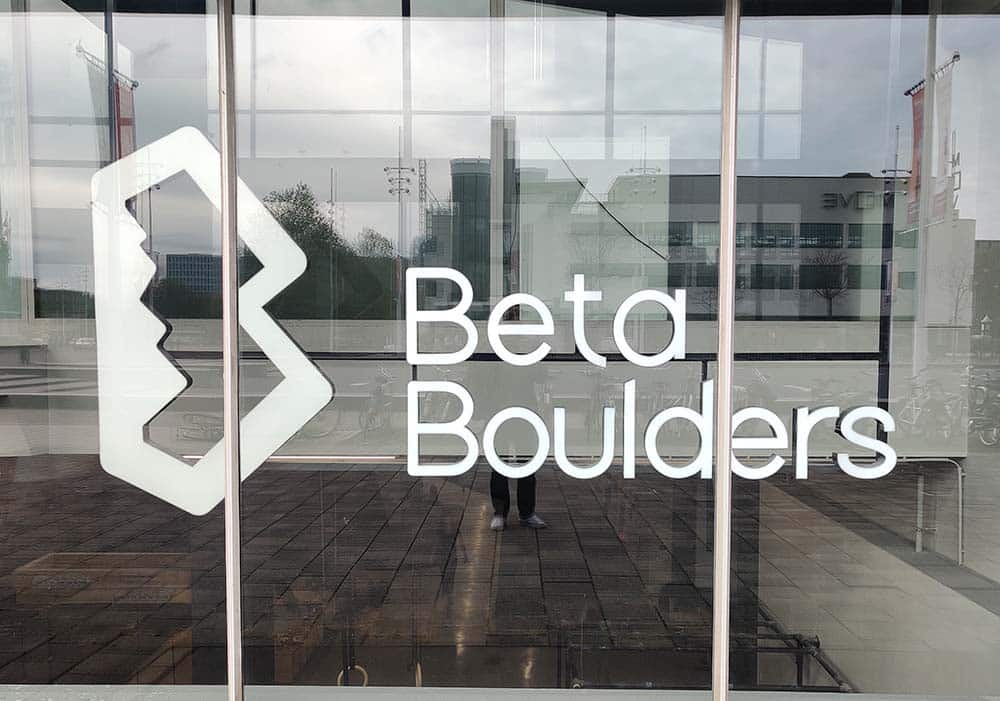 See our full review of Beta Boulders for more details.
The newest kid on the block. Like Beest Boulders, Beta had the unenviable task of opening their doors during the COVID pandemic. Given this less than desirable timing, the opening went well and the venue has quickly become one the popular locations in Amsterdam.
Strategically located in the not-so-well served southwest of Amsterdam, this place is perfectly catering for inhabitants from Zuid, how no longer have to commute as far to get some training in.
The gym is located in a modern, recently renovated office block, sharing space with the likes of Deloitte and Under Armour. They regularly reset the over 150 bouldering problems and have a unique dedicated Moonboard room with an additional training area containing hangboards, campus boards and additional training accessories.
We love:
The dedicated boardroom away from the kiddies.
The isolated co-working area.
We don't love: 
The low ceiling can make it feel cramped during the few hot days Amsterdam gets.
See more information on prices.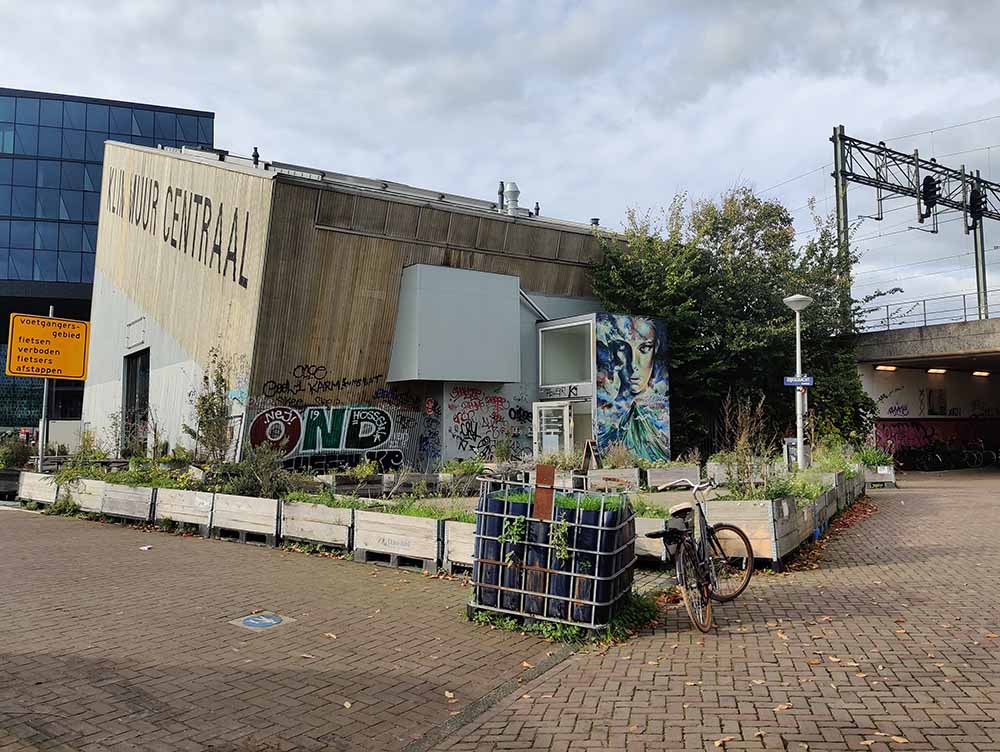 See our review of Klimmuur Amsterdam Centraal.
We included this climbing gym as it has a small bouldering area but in reality it's a roped climbing facility. 
For only bouldering it's probably the worst location in Amsterdam.
We love:
Value for money. Get a membership here and you also gain access to Beest and Het Lab for no additional charge.
For leading and top-roping.
We don't love: 
This location for bouldering.
Find out more about prices here.
Departing Thoughts on Bouldering in Amsterdam
There's really is a great selection of bouldering gyms to choose from in Amsterdam.
The quality of the venues and climbing is definitely on a par with any other city in Europe so you won't be disappointed.
There's many contenders for the top spot. All that's missing is for one of them to add a sauna or steam room to their facilities plus a barbell and squat rack and they'll be the best bouldering location in Amsterdam!
What's your favourite bouldering location in Amsterdam?