For climbers and boulderers a chalk bag is a must-have accessory, like a climbers best friend. With so many options available on the market, it can be challenging to find the best chalk bags that suit your needs.
In this article, we'll explore 8 of the best chalk bags available and help you find the perfect one for your needs and style of course.
Chalk Bag Build and Design
When it comes to building the best chalk bags, there are a variety of materials and design choices that manufacturers make.
Most chalk bags are constructed from durable, abrasion-resistant materials like nylon or polyester, which can withstand the rigors of being thrashed around, indoors and outdoors over the years.
Most have a fleece or other soft inner liner to keep the chalk from spilling out and distribute a thinner lining of chalk around the inside for the climber to use.
The classic closure system is usually a drawstring, which keeps the chalk from escaping.
Some of the best chalk bags feature additional pockets for storing small items like keys or your phone and most have a strap or cord to keep your hold brush.
They (nearly) all come with an adjustable waist-belt or in some cases clips to attach the bag to a harness.
Factors Making the Best Chalk Bag
Phone pocket
Brush cord or strap
Rim stiffness
Closure system
Weight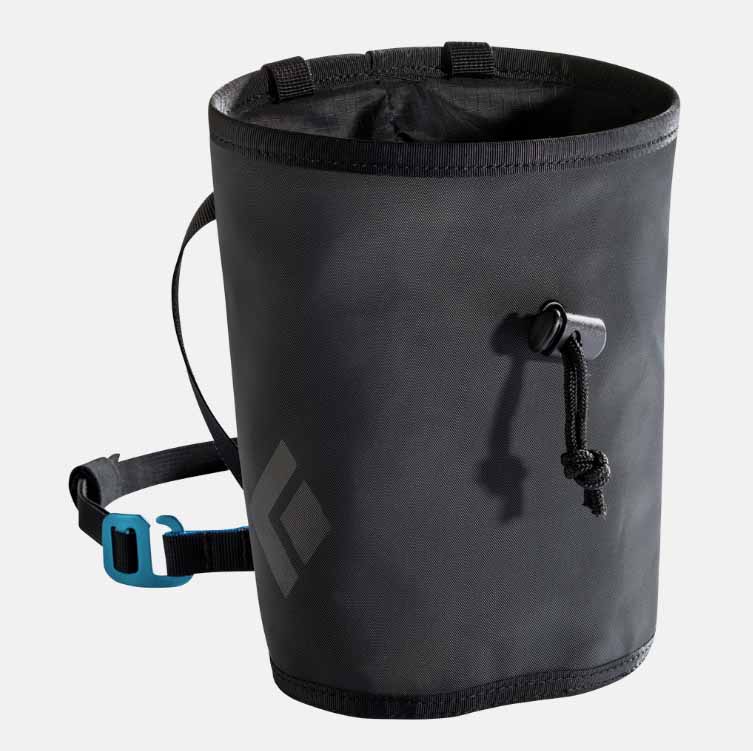 📜 Key Information
Price: 22 EUR
Features: Phone pocket, brush, holder, stylish metal closure
Weight: 123g

Pros

✅

Tough fabric

✅

Pockets

✅

Metal belt closure

Cons
Black Diamond offer multiple great chalk bags options. At 22 EUR the Creek is actually one of the more expensive although it remains by far very reasonably priced. 
The bag is made of high quality and highly durable Creek fabric which BD used for their top rated Creek backpacks.
The metal closure is a stylish little feature that sets it apart from some of the others on this list. These two featues though make it slightly heavier than the rest at 123g.
It features a brush holder and bottom pouch for your phone/energy bar. The ergonomic shape means that it is easy to get to the chalk without having to dip through the bottom of the bag.
A great and durable option for a reasonable price. It was a throw-up for our top choice between this and the Arc'teryx Ion.
📜 Key Information
Price: 23.45 EUR
Features: Brush strap, nylon belt
Weight: 80g

Pros

✅

Brush strap

✅

Light

✅

Soft lining

✅

Reinforced rim

Cons
Petzl currently have 3 different chalk bag options: the Bandi, Saka and Sakapoche.
The Saka is our favourite, with a slightly rectangular form in comparison to the cylinder and slightly smaller Bandi. The Sakapoche, like the name implies is the pouch and larger version of the Saka.
It's made from a combination of durable nylon and polyester, including the following features:
Fleece lining
Drawstring closure
Brush strap
Reinforced rim keeps the bag open for easy access to chalk
The liner is sewn into bottom of bag, like most on this list, to avoid flipping it when pulling hand out of the chalk bag.
This is quite a basic bag, doing the minimum well but doesn't have anything more to offer, such as a pocket, like some of the other comparably priced bags in this list.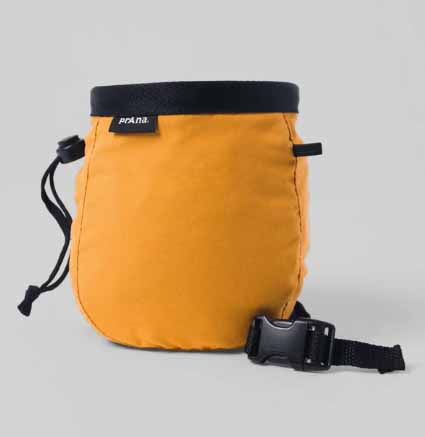 📜 Key Information
Price: 35 USD
Features: Brush cord, nylon belt
Weight: 90g

Pros

✅

Brush cord

✅

Light

✅

Soft lining

✅

Looks great

Cons
This is one of the chalk bags I've used most over the years so I'm bound to be slightly baised.
The size is great, not too small and not too large with a rim that's slightly stiff so that the bag remains ajar for easy access. The inside fleece lining is one of the nicest and overall the bag looks great, as you would hope from Prana. 
It's also Fair Trade certified and made from recycled materials, in true Prana custom.
On the more objective side it's definitely one of the pricier options at 35USD. On top of that the features are very basic, there's no pocket and the brush holder is a cord which isn't as stable as some of the thicker straps featured on competitor products. 
So overall a great looking and feeling bag but a bit over-priced.
📜 Key Information
Price: 30 EUR
Features: Phone pocket, brush strap, nylon belt
Weight: 75g

Pros

✅

Brush strap

✅

Phone pocket

✅

Light

✅

Soft lining

✅

Good rim

Cons

❌

Expensive

❌

Fiddly closure
With Arc'teryx, you know that you're getting the real deal.
Style, great design, highest quality materials and great finish with attention to detail. At a price.
The Ion chalk bag is no exception to this rule and there's a reason it's our top choice.
It features one of the best rims of the selection, is lightweight (75g) and has both the brush strap and well designed phone pocket on the back. The tapered shape is perfect for any hand size and it's not so large that you'll be rummaging to find those last pieces of chalk when you're running low.
The drawcord closure also features an additional locking-in feature. This is actually both a gift and a curse. It provides the firmest closing system but can be a bit fiddly at time. 
But overall at the given price, this is little pouch clearly edges out as the best chalk bag out at the moment.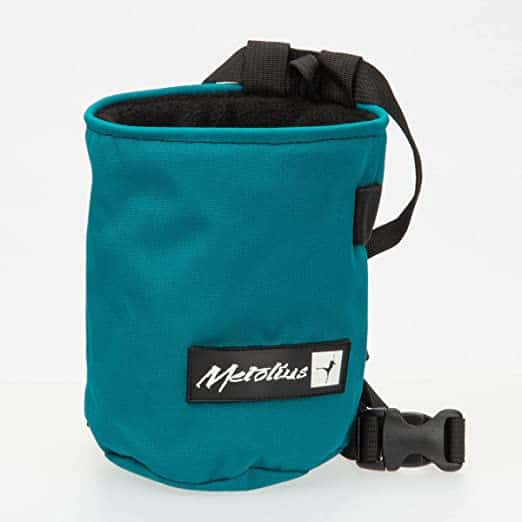 📜 Key Information
Price: 14.95 EUR
Features: Brush strap, nylon belt
Weight: 80g

Pros

✅

Brush strap

✅

Nylon belt

✅

Cheap

Cons
On the cheaper end of our selection the Metolius Competition chalk bag is extremely standard.
It has a brush strap, nylon belt with buckle and equally standard drawstring closer system. 
The brim isn't fantastic and has a tendency to close in on itself making it slightly annoying to get inside.
For the price though, it'll definitely gets the job done. A good choice for those who want to spend the very minimum.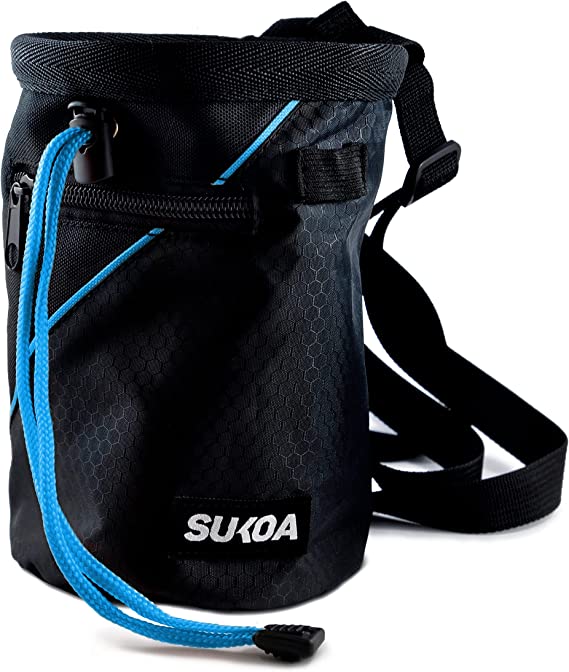 📜 Key Information
Price: 18.75 EUR
Features: 2 Pockets, Brush strap, nylon belt
Weight: 80g

Pros

✅

2 Pockets

✅

Brush strap

✅

Cheap

Cons
Our budget chalk bag of choice.
For one of the cheapest on our list you get all the bells and whistles from the more expensive picks.
It has not one but two pockets. Great for those that keep their phone with them, plus locker key or energy bar if required. There's the standard brush strap plus the closure draw-cord is well placed at the top of the bag. This means that it closes well, even when the bag is full of chalk.
The only slightly different side the bag is surprisingly tall in comparison to others. Is this a problem? Not really and given the low price, it's definitely a great bag.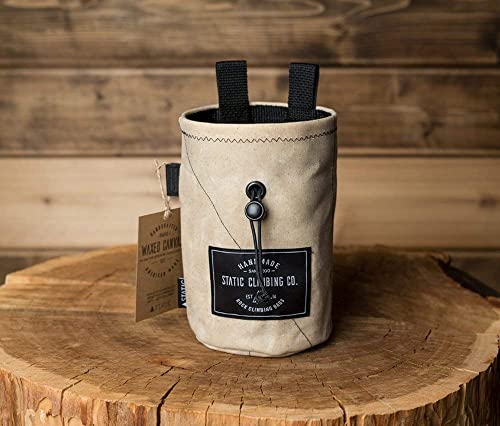 📜 Key Information
Price: 35 EUR
Features: Waxed canvas material, brush strap, nylon belt

Pros

✅

Brush strap

✅

Light

✅

Soft lining

✅

Reinforced rim

Cons
Price: 35 USD
Features: Brush strap, nylon belt
One of the priciest bags on our list but also one that stands out. Why? It features a fabric that is vastly different to its competitors.
Static's bags are made with a special waxed canvas and are all handmade in California. It leads to an aesthetically pleasing bag with a nice feel which will definitely stand the test of time.
But does it perform any better than the cheaper options? Not necessarily. It comes with a brush strap and tough drawstring but no pocket for the phone. It also doesn't come with a nylon belt which can come as a surprise.
Also the fabric feels great to touch but is quite stiff meaning the closure system doesn't work as well as bags with more technical material.
 Overall a good looking bag for people looking for a different style but a bit pricey.
In our opinion, the best chalk bags on the market:
Best overall: Arc'teryx Ion
Best budget: Sukoa chalk bag
Best of the rest: Black Diamond Creek
Are there other options out there? Of course. Nowadays there are lots of other brands producing great chalk bags. We had a look at some of the best brands and some of what we consider top performers.
Ultimately, the best chalk bag is the one that suits your individual needs and preferences, whether that means a particular material, design, or feature set.
What's your favourite chalk bag that you've dragged around over the years?