We looked at 5 of the best beginner climbing shoes on the market, perfect to get any new climber started.
The first purchase any beginner climber has to make must be a pair of climbing shoes.
It's not that wearing sweaty, humid rental shoes isn't pleasant, but let's face it, going barefoot in a shoe that someone else has just worn isn't very enjoyable.
At first it's not easy knowing how to pick them. They're meant to be a bit tight, but not too much. Some say a little painful perhaps but such things being so subjective it can be very difficult to get the first pair just right.
In this post we go over 5 of the best beginner climbing shoes on the market discussing what makes them good when you're just starting out.
A Brief History of Climbing Shoes
How they've changed over the past 50 years!
Some of the earliest pairs of climbing shoes in fact, started as boots. One of the first and most famous were the "Super Gratton" produced by French brand EB, one of the first makers of climbing shoes.
Jumping forwards over the decades and these have evolved into much more precise and technical pieces of gear:
Everything has changed, other than the fact that it's some type of rubber sole and upper fabric with a closure system!
There are now religious arguments about who makes the best rubber, whether leather or synthetic uppers are best or how stiff a sole you need.
When you're getting started, it's good to remember your footwork isn't going to be perfect. Those high tech sensitive shoes will get trashed quite quickly and something more durable is a good option.
Go for the low cost, sturdy choice at the beginning and invest in something fancy once your footwork has improved. 
Important Factors for the Best Beginner Climbing Shoes
Let's review the 5 main factors that should be considered when choosing the best beginner climbing shoe.
There are two main factors considered when talking about the shape of climbing shoes:
How downturned they are.
How turned/skewed/asymmetric they are. 
For downturned, shoes are generally referred to as either:
Flat
Slight downturned
Aggressively downturned
This is effectively how curved they are under your foot arch and make your toes point downwards.
Flat shoes are more comfy and are great for slabs.
The more overhanging you go, the more downturned will help. It basically makes it easier to place your feet and provides support.
Concerning the asymmetry:
Slightly asymmetric
Moderately asymmetric
Aggressively asymmetric
This is how skewed towards the big toe the shoe box is. 
The more asymmetric, the more tension is pushed towards the big toe meaning you can be much more precise with your foot placements. 
The downside to this is that it also means a more uncomfortable shoe as your toes are pushed towards the big toe in the shoe box.
Your shoe is made up of a rubber sole and heel (there's also a mid section of the sole, the "mid-sole") and then there's the remaining top part that has to be some type of fabric.
This is what the "uppers" refer to. These can be either leather or synthetic. They can also be lined or unlined.
Good old leather smells less, aborbs humidity and is breathable. Plus it has been tested by the times but will stretch much more.
Synthetic has the advantage of not stretching, is lighter, but tends to make your feet sweat much more.
This has the role of making the shoe more or less rigid or stiff.
A rigid shoe will provide more support to your foot when you're on a steep wall, meaning your calves won't get tired as quickly.
Closure System: Slip-ons vs Lace-ups vs Velco
Climbing Shoe Sensitivity
As the name implies this is how well you can feel the rock through the shoes.
A thick sole with a hard rubber will create an insensitive shoe. You won't be able to tell if your feet are placed well but they tend to last longer.
With a sensitive shoe you'll be able to be more precise with your feet as you can feel the footholds well. This can provide more confidence in your feet when on those small footholds.
Sensitive shoes will tend to wear out faster as it generally means a softer or potentially thinner rubber.
Best Beginner Climbing Shoes: Our 5 Top Choices
1) La Sportive Tarantulace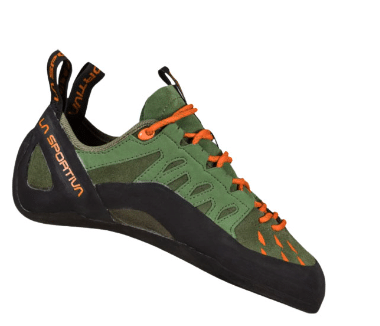 Comfort:4.5/5
Price:4.5/5
Performance:4/5
Sensitivity:3/5
Tech specs:
Rubber: 4mm FriXion
Upper: Leather
Downturn: Slight
Asymmetry: Slight
The go to beginner shoe.
For a first shoe you need comfy, durability at a low price range with a bit of performance.
The Tarantulace is difficult to beat on this point.
It's super affordable and is one of the cheapest ones we've listed.
It has a flat sole and semi-stiff profile, which gives lots of support on slabs and verticle wall. It also has the slightest downturn which means it also performs on off-verticle.
The main trade-off here is the lack of sensitivity. There's a reason it's not sensitive: La Sportiva have used the hardest and most durable rubber known to man and 4mm of it.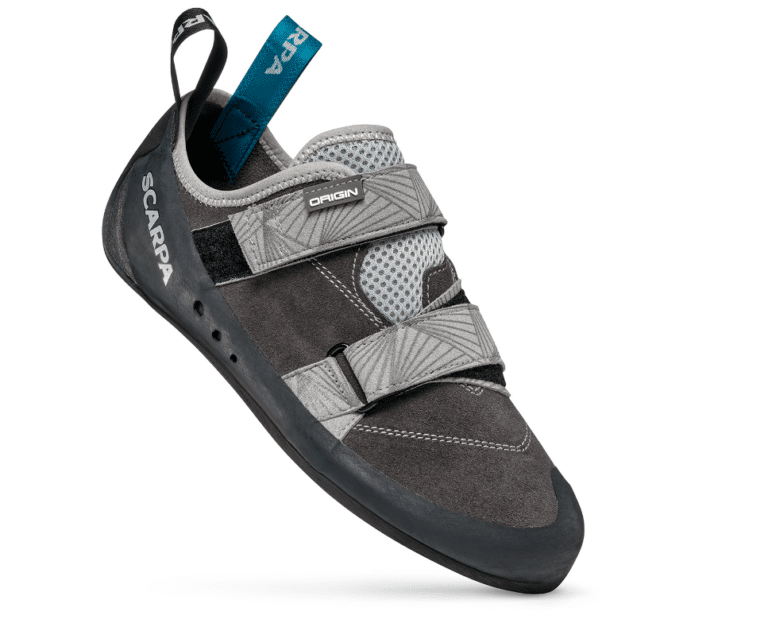 Comfort:5/5
Price:3.5/5
Performance:4/5
Sensitivity:4/5
Tech specs:
Rubber: 4mm Scarpa Vision
Upper: Leather/synthetic
Downturn: Slight
Asymmetry: Slight
It's difficult to beat the design of this shoe for beginners.
The only reason it didn't get first place is the price.
Affordability is definitely a factor for your first pair of shoes, especially if you're mainly indoor climbing as you'll be wearing through them extremely quickly.
The finish on the Origin's is super high standard and it feels like you're wearing tiny baby seals on your feet! On top, these can really take a beating and will definitely last.
The shoe is sufficiently sensitive to reassure you and stiff enough to provide good ankle support.
A great choice.
Comfort:5/5
Price:4.5/5
Performance:3.5/5
Sensitivity:3.5/5
Tech specs:
Rubber: 4.2mm TRAX
Upper: Synthetic
Downturn: Flat
Asymmetry: Slight
Where the Origin's disappointed on price these make up for, being 15€ less expensive.
This is one of the top selling beginner shoes world-wide for good reason. It fits like a glove, looks great and is durable.
The model has been updated multiple times over the years and maintains the same high quality TRAX rubber, giving a good balance between sensitivity and stiffness.
4) Black Diamond Momentum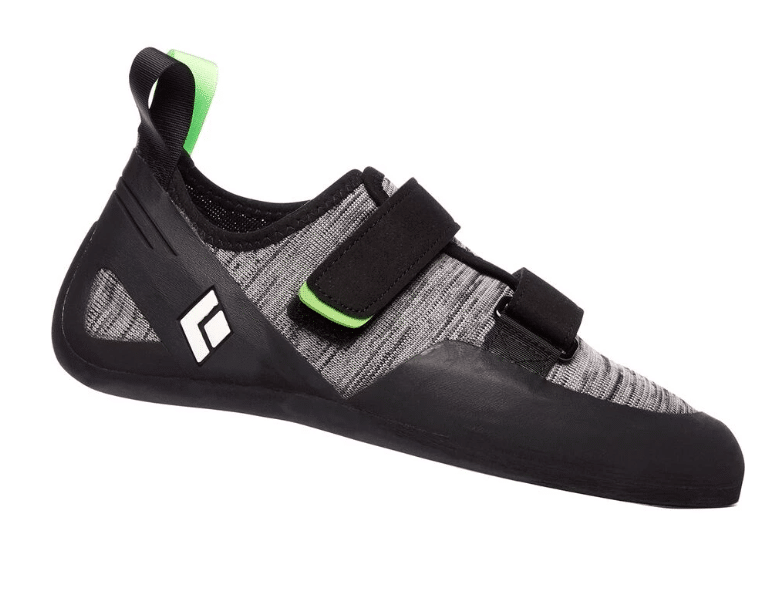 Comfort:4.5/5
Price:4/5
Performance:3.5/5
Sensitivity:4/5
Tech specs:
Rubber: 4.3mm NEO Fuse
Upper: Synthetic
Downturn: Flat
Asymmetry: Slight
The newest shoe in our range.
Black Diamond have been knocking it out the park gear-wise for years but only launched their climbing shoe range in 2017.
The Momemtum is their entry level shoe, designed with comfort and durability in mind.
On this side it does well. You can really keep these on all day and they'll be completely in their element on easy multi-pitches or a day pulling on plastic.
The rubber is very high quality and provides good sensitivity, which is nice for a beginner shoe. The sole is equally flexible which also make it more comfy. This also means it doesn't provide much support to perform well on steep walls.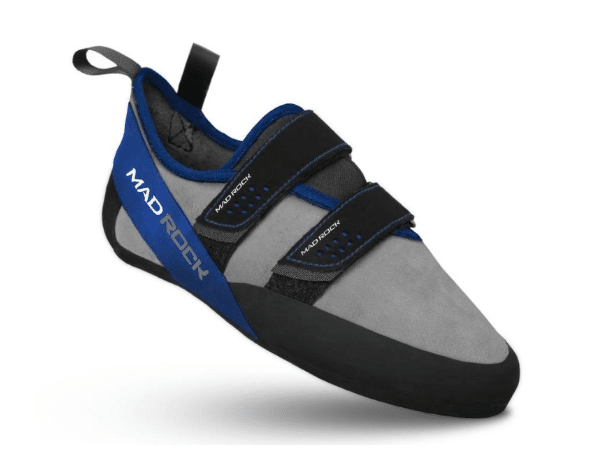 Comfort:4.5/5
Price:5/5
Performance:3.5/5
Sensitivity:3.5/5
Tech specs:
Rubber: 3.8mm Madrock Science Fricton
Upper: Leather/Synthetic
Downturn: Flat
Asymmetry: Slight
Cheap and cheerful.
If you want the cheapest pair to begin with or simply a shoe to train in, these will do the job.
They're comfy, have a long lasting rubber and are also leather lined. They have a flat profile and medium stiffness meaning you have a bit of support, but will still have to make an effort on steeper terrain.
There's also no aggressive downturn (similar to all the shoes in this review), so your feet will thank you for wearing these after a long day at the gym or crag.
With any of these shoes you can't go wrong to get you started.