Alex Honnold is a California born climber, thrown into the media limelight as the Rock Star of Free Solo, the Academy Award winning documentary focusing on his 2017 free solo ascent of Freerider on Yosemite's El Capitain.
Alex Honnold was born on August 17, 1985, in Sacramento, California. His mother, Dierdre Wolownick, worked as a French teacher and consistently tried talking to her children in French so that they would pick it up. It never stuck.
He spent many summers outdoors in California and was always passionate about nature and the wilderness. He initially started climbing at age 5 and by age 10 was hooked, climbing multiple times a week.
He attended Mira Loma High School in California, where he performed well academically on the International Baccalaureate Program, and went on to study civil engineering at the University of California, Berkeley in 2003.
While at university his family went through multiple difficult events. His maternal grandfather passed away and his parents divorced in his first year of studies. Sadly, his father, Charles Honnold, equally died suddenly of a heart attack.
All through his adolescence he continued to climb. At Berkeley he eventually started skipping classes in order to climb more and more. After the death of his father, his mother allowed him to drop out and follow his own path.
The same year he effectively moved into his mother's minivan. This became his base for the next few years, allowing him to drive around wherever he wanted and climb continuously.
After Berkely he basically spent the next 14 years primarily living a "van-life". When his mother's donation van died on him, he downgraded to a bicycle and tent for a short period. 
In 2007, he finally invested in a Ford Econoline E150. This became his pied-a-terre and allowed him to focus on climbing full-time.
Freerider and Salathé Wall
In 2007, when still relatively unknown he made a one-day free ascent of the Freerider and Salathé Wall on El Capitan in Yosemite National Park. 
This is the wall that he would return to approximately ten years later and accomplish one of the greatest climbing feats the world has ever seen.
Alex's ability to push himself to new heights was further showcased in 2007 with his solo of two routes in Yosemite:
Astroman, 5.11c, on Washington's Column.
The Rostrum North Face, 5.11c, on Rostrum.
This accomplishment had only ever been performed by legendary climber Peter Croft in 1987.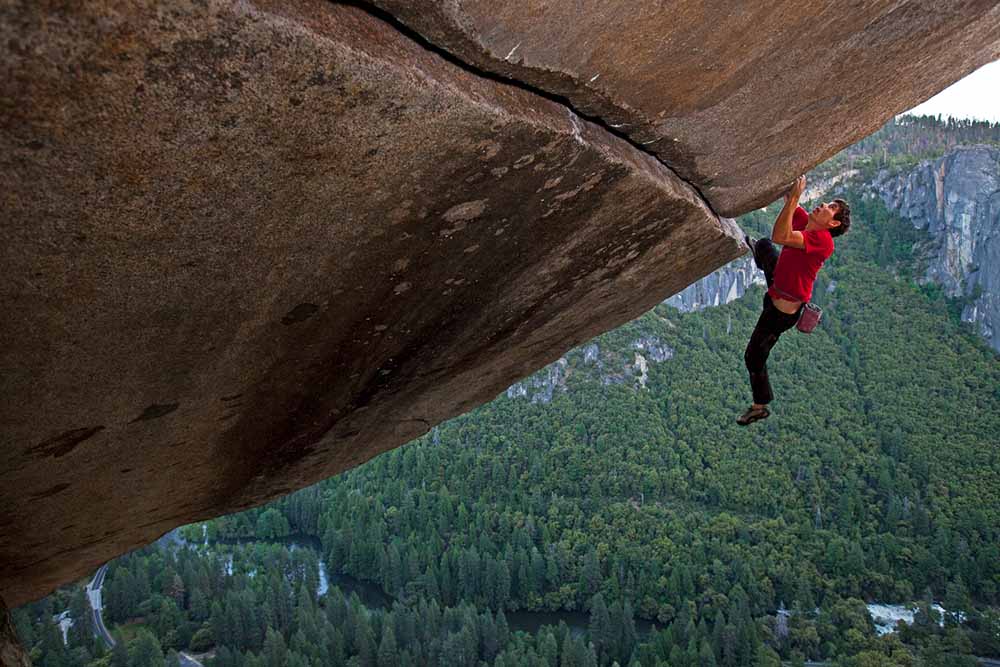 While Alex performed regular sport climbing and bouldering for training, over his formative years he developed into one of the strongest free soloists the world has ever seen.
In free climbing equipment is used to protect against a fall, but not to aid in upward progress.
Climbers place protective gear such as cams, nuts and quickdraws on their way up. The climber then uses the rope to protect against a fall, but they still have to climb the rock using their own strength and skill.
With free soloing on the other hand, the climber ascends without any ropes or protection, relying solely on his or her own strength and skill to avoid a fatal fall.
In soloing on the other hand, aid is generally used to assist in the most technically difficult pitches. It is often a combination free soloing the easiest and less dangerous pitches and then using aid in the more technical or dangerous parts. 
Free soloing is the most dangerous form of climbing because there is no safety net in case of a mistake or slip. A fall is deadly.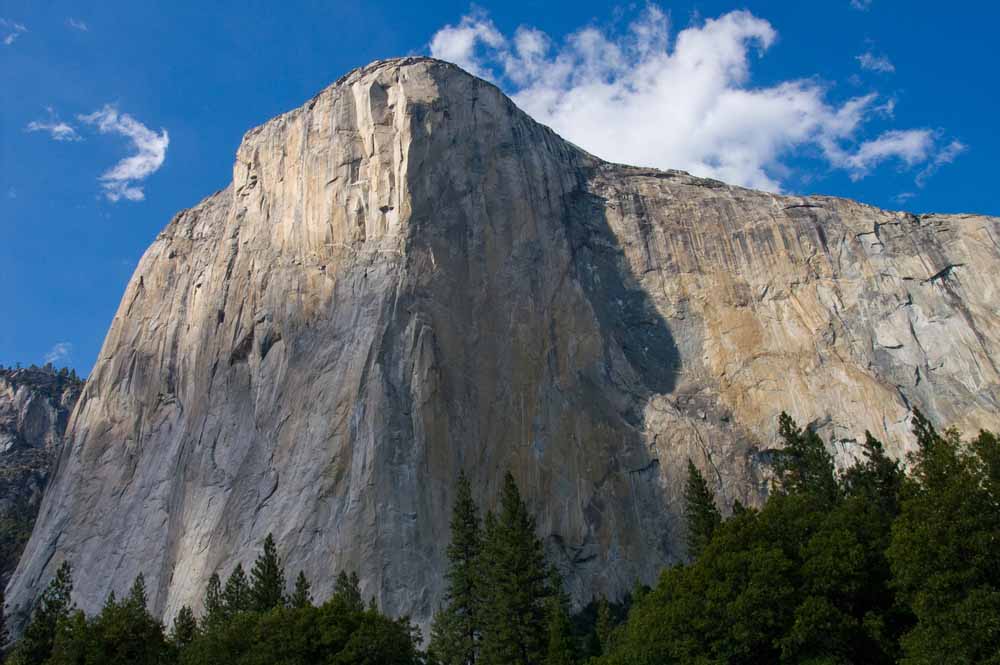 After matching Peter Croft's legendary feat in 2007 by free soloing both Yosemite's Astroman and the Rostrum in a single day Alex moved to break ground for himself.
Moonlight Buttress and Half Dome
The following year, in 2008, Honnold continued to push boundaries in the climbing world.
He free soloed the 1,200-foot finger crack that splits Zion's Moonlight Buttress, a climb rated 5.12d, which had initially been aided by Jeff Lowe in 1971. This was a significant accomplishment, as it was one of the hardest free solos ever done up to that point in time.
Later in 2008, Honnold made another breakthrough by free soloing the Regular Northwest Face of Half Dome in Yosemite, a climb rated VI 5.12a and measuring 2,200 feet in height.
This was a major milestone in Honnold's career and it further cemented his reputation as one of the most talented and fearless climbers in the world.
It is widely considered to be one of the most challenging free-solo climbs in the world. Peter Croft called this "the most impressive rope-less ascent ever done" at the time.
This pushed him into the limelight as the ascent was featured in the film Alone on the Wall and he appeared on CBS News' 60 Minutes.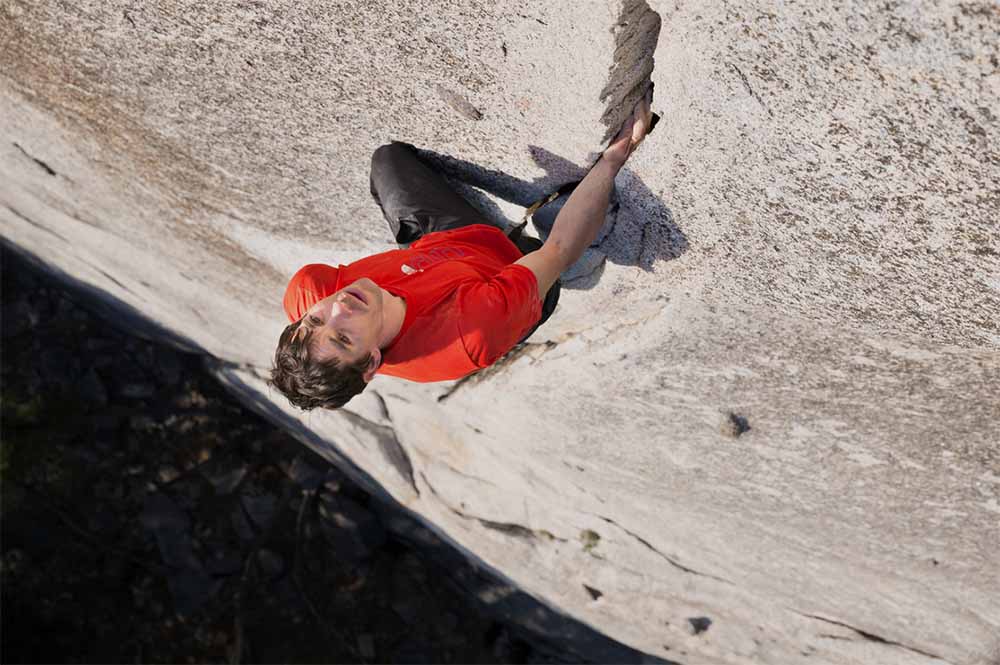 The Triple Crown of climbing is a feat that involves climbing the three tallest big walls in Yosemite National Park:
El Capitan
Half Dome
Mt. Watkins
All in under 24 hours.
Alex Honnold achieved this feat on June 6, 2012, becoming the first person to do so in under 24 hours.
He began his quest at 4pm by climbing Mt. Watkins, which is 2,000 feet tall, in just 2 hours and 19 minutes.
Next, he moved on to El Capitan, which is the tallest big wall in Yosemite, standing at 3,000 feet tall. He climbed the Freerider route, which is a 5.12d (although he didn't free climb it). Despite the difficulty, Honnold was able to complete this climb in just 6 hours and 46 minutes.
Finally, he ascended the Regular Northwest Face of Half Dome, at 2,200 feet tall. He completed this climb in just 3 hours and 56 minutes, an impressive time for a climb of this magnitude.
Overall, he completed the Triple Crown in a record breaking total time of 18 hours and 50 minutes.
In 2014, Honnold teamed up good friend Tommy Caldwell to attempt the Fitz Roy Traverse in Patagonia, Argentina.
The traverse involves climbing seven peaks in the Fitz Roy range, covering over 4,000 meters of elevation gain and 5.5 miles of technical climbing. The route is notoriously difficult and dangerous, with unpredictable weather conditions making it extremely difficult to complete.
Despite these challenges, Honnold and Caldwell managed to complete the traverse in just four days, becoming the first climbers to do so.
Their accomplishment earned them the prestigious Piolet d'Or award. This is bestowed to recognise the most significant mountaineering achievements of the year.
The Fitz Roy Traverse remains one of the most impressive climbing achievements of recent years. Honnold and Caldwell's ascent continues to inspire climbers around the world.
Even with all this Honnold wasn't done.
In 2017, he achieved what many thought was impossible and made history again:
He completed the first free solo ascent of Freerider on El Capitan.
The climb, which is rated at 5.13a or 7c+ in French grading, took him just under four hours to complete. This is widely regarded as one of the greatest accomplishments in the history of climbing.
The climb was featured in the documentary Free Solo, directed by Elizabeth Chai Vasarhelyi and Jimmy Chin. It chronicled Honnold's journey to accomplish this incredible feat, including his preparation and the impact of such a dangerous discipline on loved ones.
It was extremely well received and won numerous awards, including the Academy Award for Best Documentary Feature.
Throughout his climbing career, Honnold's accomplishments have been nothing short of extraordinary. From his early free solos of Astroman and the Rostrum to his groundbreaking climbs of Moonlight Buttress, Half Dome, and El Capitan, Honnold has pushed the limits of what is possible in climbing.
His dedication to the sport and his fearless approach to climbing have made him a legend in the climbing world.
Alex Honnold is known not only for his daring free solo climbs, but also for his remarkable speed ascents on some of the world's most challenging big walls.
He has set several speed climbing records, demonstrating both his physical and mental stamina.
In November 2011, he attempted to set a new record time on the Nose route on Yosemite's El Capitan.
He partnered with Hans Florine, a veteran speed climber, for the attempt.
The record at the time stood at 2 hours, 36 minutes, and 45 seconds, set by Dean Potter and Sean Leary in November 2010. Despite a valiant effort, Honnold and Florine missed setting the record by just 45 seconds.
Undeterred, Honnold and Florine attempted the climb again in June 2012.
This time, they set a new record time of 2 hours, 23 minutes, and 46 seconds (some sources cite 2 hours, 23 minutes, and 51 seconds…), beating the previous record by more than 13 minutes.
Honnold's ability to climb efficiently and quickly, combined with Florine's experience and expertise in speed climbing, proved to be a winning combination.
In June 2018, Honnold teamed up with climber Tommy Caldwell to again make history by, again, breaking the Nose speed record.
They completed the climb in an astonishing 1 hour, 58 minutes, and 7 seconds, becoming the first climbers to ever complete the challenging route in under two hours.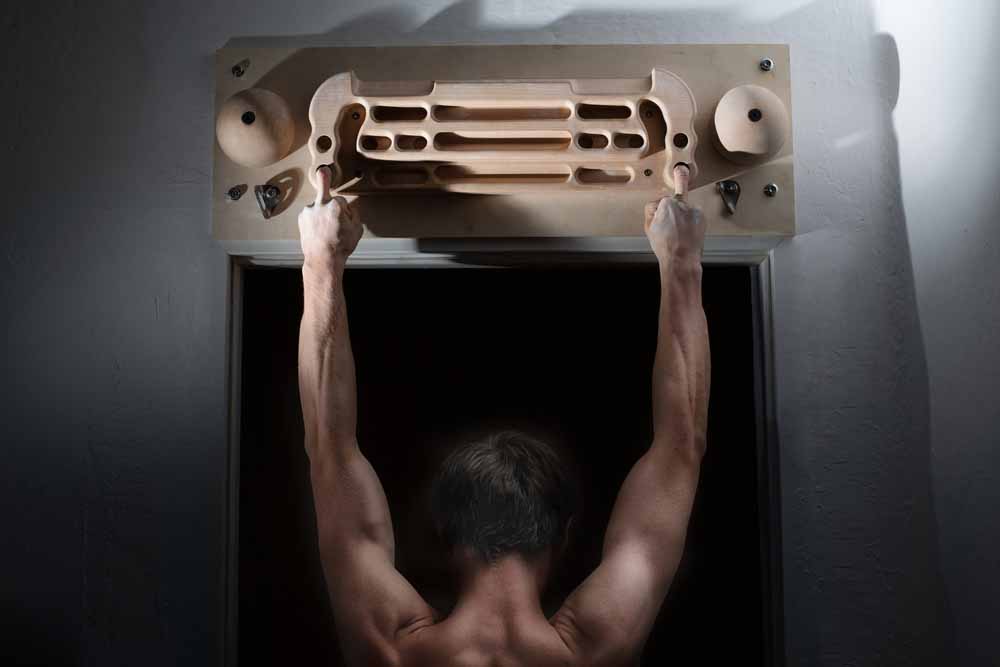 Other than simply climbing a lot, Alex is known to have a Beastmaker 2000 mounted in his ProMaster van. This allows him to maintain strength when he's working endurance projects and performing big-wall climbs.
He's equally followed training plans with Lattice Training, which he states helped him break into 9a sport climbing territory.
Alex Honnold has been sponsored by a number of outdoor and adventure companies throughout his climbing career.
One of his longstanding sponsorships was with Clif Bar, a leading organic and natural foods company that specializes in energy bars and other snacks for athletes and outdoor enthusiasts.
Clif Bar announced in November 2014 that they would no longer be sponsoring Alex Honnold, as well as other climbers including Dean Potter, Steph Davis, Timmy O'Neill, and Cedar Wright.
The company stated that they came to the conclusion that these climbers were pushing the boundaries of the sport too far and taking risks that Clif Bar was no longer willing to support.
Other than Clif Bar, Honnold has worked with a number of other top-tier brands in the outdoor and adventure space, including The North Face, Black Diamond, La Sportiva, Anda and Stride Health.
These companies have provided him with essential technical gear, footwear and equipment for his climbs, as well as financial support and exposure through various marketing and media initiatives.
Alex Honnold has not only made a name for himself in the world of climbing but also in philanthropy.
In 2012 after returning from a trip to Africa, where he saw first-hand the impact of energy poverty on communities, he co-founder the Honnold Foundation, a non-profit organization that aims to promote solar energy access worldwide.
He finances the foundation by donating one third of his income to the projects.
Through the Honnold Foundation, Alex has funded and supported multiple projects that provide sustainable energy solutions to underprivileged communities.
Some of the projects include the installation of solar-powered water pumps in rural areas of Malawi, the provision of solar-powered lighting in schools in Haiti, and the installation of solar panels in a hospital in Angola.
In September 2020, Alex announced that he had married long-term girlfriend Sanni McCandless.
The pair met during a book signing of Honnold's in 2015 and Sanni features in the prominently in Free Solo.
In 2022 the couple announced that their daughter June Honnold was born.
Here's a non-exhaustive list of films featuring Alex Honnold: 
Progression(2009)
Alone on the Wall (2010)
Honnold 3.0 (2012)
Valley Uprising (2014)
A Line Across the Sky (2015)
Africa Fusion(2016)
The Dawn Wall (2017)
Free Solo (2018)
Queen Maud Land(2018)
The Nose Speed Record (2018)
Climbing Blind (2020)
Fine Lines(2019) 
Reel Rock Film Tour: 6, 7, 10, 13, 14, 15